Halloween is just around the corner, and it seems like every other Facebook notification is an event invitation for a costume party. You might love dressing up, but if you're running seriously low on cash and can't drop the big bucks on an expensive costume, each invite can be a huge bummer. That's why Her Campus found 10 fabulous DIY Halloween costumes for collegiettes on a budget made from items you already have in your closet!
1. '80s Workout Girl
You can't go wrong with a flashy workout costume from the '80s. Halloween costumes can be so itchy and all around uncomfortable, but in colorful gym clothes, you'll definitely be comfortable! If you have any bright-colored spandex items, this is your chance to wear them. If you don't own anything like that, have no fear! Just slip on some leggings, throw on an off-the-shoulder top, cozy up in some leg warmers or long socks and tie your hair up in a high ponytail, and you're good to go!
2. Hippie
Want a Halloween costume that will make you feel groovy? Look no further! This costume can be as simple as a tie-dyed tee and a pair of jeans. If you don't have a tie-dyed shirt, you can make one without even buying a kit. Follow these instructions to turn an old white T-shirt into a tie-dyed tee using food coloring and vinegar. Straighten your hair and wear it down with a headband or headscarf. Complete your look with a handmade protest sign with a peaceful saying like, "Make Love, Not War."
3. Waldo
This cute and classic costume is great to wear in a large crowd or at a big party!  All you need to pull it off is a red-and-white striped shirt and hat, circular glasses and a cane (or just a long stick).  You can put a girly twist on this look with a short blue skirt, or keep it comfortable in the chilly fall weather with jeans.
4. Marilyn Monroe
If you're someone who likes it hot, you can channel the glamour of this classic Hollywood icon with just a simple, sexy white dress; red lipstick; large stud earrings and curled hair.  Though this isn't the warmest attire, a little extra wind will only add to the costume's effect!
5. Rosie the Riveter
With the gender-equality movement HeForShe gaining popularity, it's a great time to represent feminism through Rosie the Riveter. This costume can be so powerful, yet it requires very little effort to create! Just pair a chambray or denim button-down with a red bandana. For an added touch, apply some red lipstick!
6. Grumpy Cat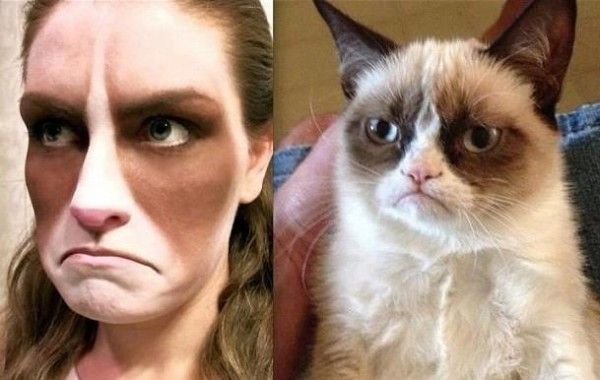 If Halloween isn't really your holiday and you practically have to be dragged out by your friends, channel your lack of spirit by dressing up as Grumpy Cat! As far as clothing, all you really need is a white or tan T-shirt and pants. For your makeup, start by powdering your entire face (white eye shadow works). Next, apply the darkest brown makeup you own, whether it's eye shadow or bronzer, around your eyes and down your cheeks. For your nose, apply pink blush. Then, use eyeliner or lip pencil for whiskers. Lastly, don't forget to frown!
7. Old-School Britney
Pay homage to the princess of pop by dressing up like Britney from the "...Baby One More Time" days. All you'll need is a plaid skirt, a white button-down shirt (knotted in the front to show off your waist) and a grey sweater to complete this look. Put your hair in braided pigtails with ribbons at the ends. Extra credit if you wear knee-high socks. A great group costume would be Britney through the ages – each girl dresses in an iconic Britney outfit!
8. Wednesday Addams
All you need to be Wednesday for Halloween is a white button-down, a black dress or a sweater and pants. Braid your hair in pigtails and finish the look off with heavy, black eye makeup and a dark lip color.
9. Ariana Grande
Ariana Grande was one of the most talked-about celebrities this year, so we have a feeling there will be a bunch of Ariana-Grande-inspired costumes this Halloween. The best part about dressing up as her is that there's no one look you need to embrace. Just choose an outfit that is sparkly, sexy, girly and chic! A circle skirt would work great, as would a fitted peplum top or a dress with a sweetheart neckline. Just be sure to rock her signature sky-high ponytail, your pair of highest heels and thick, winged eyeliner. Bonus points if you never let anyone see the right side of your face.
10. Minnie Mouse
Dressing like Mickey's main squeeze for Halloween couldn't be simpler. All you'll need is a red dress and black tights. Cut out circles of white felt or paper for polka dots and glue them to your clothes. Make a pair of mouse ears out of cardboard or paper and glue them to a headband. Draw on a mouse nose using black eyeliner, and top off the look with a red bow in your hair.
Which homemade Halloween costume is your favorite? Let us know in the comments below!