Despite tweeting that, "ties are officially cut," between he and his former Drake and Josh co-star Josh Peck after finding out that he wasn't invited to Josh's wedding (way harsh, Tai), Drake Bell has opened up about having some regrets about the way he handled the situation. 
In a Facebook Live chat with Entertainment Tonight Drake reassured fans that he feels bad about the way he handled the situation, saying that he wishes he'd texted Josh instead of making those now-deleted tweets about the whole thing.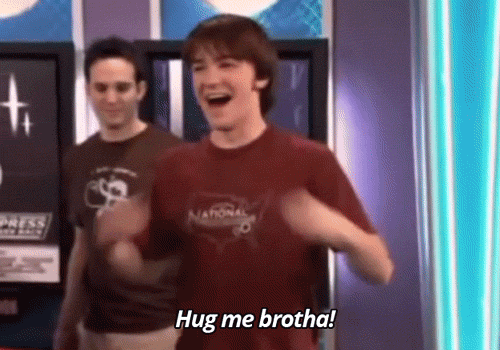 "We've been so close, it was just one of those things where you know, I'd been talking to him, and he's been telling me about the engagement," Bell told Entertainment Tonight. "And then I saw on social media, the wedding, and I didn't hear about it. So, it was just one of those things where it was just like, 'You didn't even tell me?! I had to find out on social media?' And then you're like, 'You know what!? Fine!' and then I'm like, wait, I probably shouldn't have done that."
In short, he summed things up by saying, "I should have just texted that to him, you know. I was just being cranky."
Considering Drake also told People that there were "no hard feelings" between the two about the whole thing, it sounds like it's all good. Phew. Much like IRL brothers, even TV brothers get into a fight once in awhile, but they always make up in the end. Meanwhile, I'll just be over here waiting not-so-patiently on a Drake and Josh reunion.