The end of the Obama administration just keeps getting more emotional. As if the president's comforting farewell address wasn't enough to turn us into teary-eyed messes, President Obama awarded his final Presidential Medal of Freedom to none other than Joe Biden on Thursday in a touching tribute to his vice president.
According to the New York Times, the president surprised Biden by bringing he and his wife Jill into the White House's East Room for what the vice president was told was a private goodbye. Instead, Obama had organized a ceremony to present Biden with the honor and invited his closest friends, family and colleagues to the event.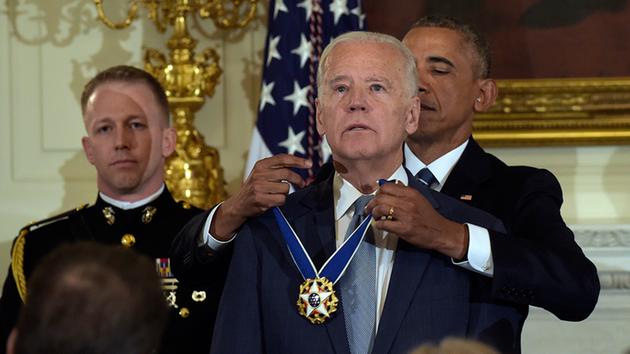 As he presented the award, President Obama referred Vice President Biden his "brother," calling him an, "extraordinary man with an extraordinary career in public service." 
"To know Joe Biden is to know love without pretense, service without self-regard, and to live life fully," Obama said.
As he realized he was about to be given the highest civilian honor with distinction, Biden teared up, turning away form the audience before allowing himself to openly cry while the president hung the medal around his neck.
Those of us who are well-versed in our Obama-Biden bromance memes know that the president and vice president's relationship goes beyond simply a professional one - over their eight years in the While House together, it has become widely known that Obama and Biden are also very close friends. As Obama joked, "This also gives the internet one last chance to talk about our bromance."
All joking aside, it's nearly impossible to watch Obama's beautiful tribute to Biden without getting emotional. Watch a clip from the ceremony below: