Back in 2012, Wasser was just a 24-year-old woman trying to break into the modeling industry. One day, she came down with flu-like symptoms after using super-plus Kotex tampons. She got into bed to try and sleep it off, but things took a turn for the worst. No one had seen or heard from Wasser until days later, when a friend found her lying on her bedroom floor just minutes away from death. Before she knew it, she was waking up in a hospital bed. The first memory she has after waking up is of a doctor telling her mother that her right leg would have to be amputated.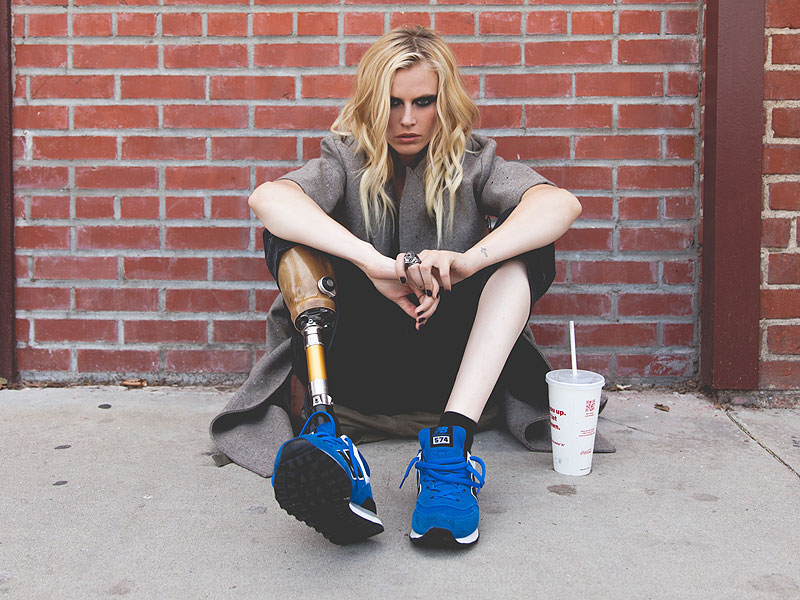 During her interview with Vice back in June of this year, Wasser opens up about the hardships and extreme pain she went through post-amputation. "It took me a while to figure out if I was still worthy, if I was still pretty," Wasser admitted. "I wanted to kill myself when I got home," she adds. "I was this girl—and then all of a sudden I don't have a leg, I'm in a wheelchair, I have half a foot, I can't even walk to the bathroom. I'm in a bed, I can't move, and I felt like those four walls were my prison."
But, sure enough, the now 28-year-old is back on her feet and standing tall. We got to see a bright, cheerful smile from the model in Nordstrom's holiday catalogue, as featured below.
She is seen in Nike gear, including in this close-up of her modeling Nike sneakers. 
Today, Wasser makes it her mission to educate women on the dangers of using tampons and just how harmful they can really be. Most women aren't even aware of what TSS is, and she believes she can make a difference in this world one step at a time. She's advocating for the cause and using her experience as a lesson for every woman out there. She's changing people with her story, and we're happy to see Wasser gaining back her confidence and doing what she loves, as she begins to model again.