Whether you and your campus cutie have been going steady since freshman year or you hooked up at his frat house party last month and you've been inseparable ever since, by the time February rolls around, you start feeling the pressure to come up with a fun date idea for you and your guy on Valentine's Day. Don't fret! Here are six date ideas for Valentine's Day that are fun and on a collegiette's budget!
Take a dance class together
Ballroom dancing? Yes! Tango for two? Sultry – definitely yes! Irish step? Er… sure, why not? So why not skip the sweaty dance floor in his frat's basement for once and take a dance class together? You can oftentimes find a class to try out together at the gym or on campus with a student group. The workout will get your blood pumping, and even if he doesn't exactly have Justin Timberlake's dance moves and you're tripping over his feet – that's okay! You'll be having too much fun laughing with each other to care.
Host a picnic… indoors!
It's absolutely freezing outside, so having a picnic out on the grassy campus lawns is out of the question. So why not bring your blankets indoors? Spread a blanket out on the floor, light some candles (battery-operated ones if you live in a dorm hall that doesn't allow them) and cook up some food to share. It doesn't have to be fancy, but he'll appreciate something a little more romantic than your Ramen noodles special. It's way less cheesy (not to mention, cheaper) than the dinner-and-a-movie combo and it's a good way to enjoy a homemade meal together. Bon appetit!
Stargaze at the planetarium
Ok, we'll admit that we got a little inspiration for this idea from Friends. And while the rocky relationship between Ross and Rachel isn't exactly what we're approving, we think that their first date at a planetarium was still a cool idea. It beats having to get bundled up to sit out in the freezing winter night, but see if you can sneak in a thermos of hot cocoa to simulate the experience of stargazing outdoors anyway! Many museums, art galleries, and other cultural institutions have reduced (if not free) admission for college students to take advantage of! Some colleges are lucky enough to have a museum on campus, so check one out.
Attend a poetry slam
If you're dating the angsty artist type, then this is a date that he will most definitely appreciate! And even if he isn't exactly Shakespeare's biggest fan, these modern day poets who take the stage often take urban themes and translate them into exaggerated, funny, and heartfelt performances – so it's definitely not the snoozefest that your Intro to Poetry class is! Most likely, one of your favorite local cafes or bookstores will be hosting a poetry slam.
Get a massage together
Stressing that upcoming midterm? Chances are, he's stressing the big game. So why not propose that the two of you unwind with a good massage? Check out health services on your campus to see if they offer massages – some offer them to students and faculty at a much cheaper price than you would find at a spa.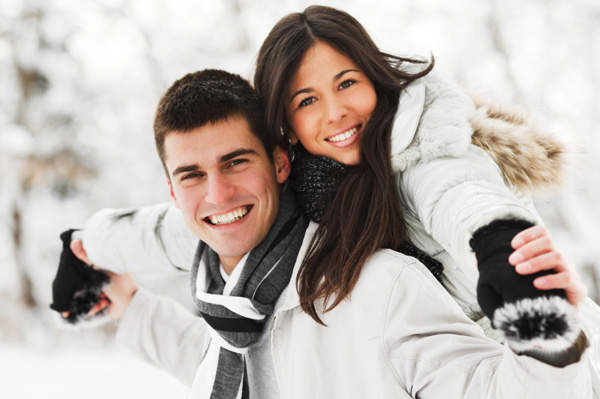 Spend a snow day
Just because we're responsible, grown-up collegiettes doesn't mean that we can't act like little kids every once in a while and what better way to do that than to drag your Valentine's Day date outdoors for some wintry fun? Did someone say, "classes are cancelled"? Well no, not exactly (although this is perfect if you actually get a real snow day on V-Day… so jealous of you). But you can still spend the day sledding, building snowmen, and making snow angels. And if a snow ball fight should happen to ensure and you "just happen" to fall on top of each other… well, you can thank us later.