Name: Ryan Sehrer
School: JMU
Year: 2014 (freshman)
Hometown: Annandale, VA
Major: Justice Studies
Involvement on Campus: ACJA (American Criminal Justice Association), Intramural sports official
Interests: Redskins, Caps, the beach
Fun fact: Played trumpet in jazz band
Name: Tyler Snyder
Age: 20
School: WMU
Major: Criminal Justice
If you could be any cartoon character, which would it be?
Luigi
What is in your CD player right now?
Kid Cudi
What actor would you want to play you in a biography about your life?
Brad Pitt
What was your favorite class in high school and why?
Team sports, it was an easy blow off class
Name: Andrew Spark
School: Leeds
Age: 19
Degree: Criminology and Criminal Justice
Hometown: Skipton
Relationship Status: Single
You can usually find me... In the Union common room chomping on a £2 meal deal
Name: Ryan Gallup
Hometown: Bronson
Age: 20
School: C Mich
Major: Criminal Justice        
Relationship Status: Single
If you were stranded on an island, what three things would you bring?
My laptop, a toothbrush, and a picture of my family.
Boxers or Briefs: Briefs.
Where is your favorite place to hang out on campus?
The RFOC.
Blondes or Brunettes: Brunettes
What is the craziest thing you have ever done?
Bridge jumping? That's pretty crazy, right?
What qualities do you admire in the opposite sex?
Good sense of humor, independence, intelligence, and class!
What's your favorite movie?
The Shawshank Redemption
Any awesome or hidden talents?
I can solve a Rubik's cube! I can do a standing backflip and I can do double backflips on a trampoline/diving board!
What is your ideal or dream date?
Going to a nice restaurant for dinner then a concert, of her choice, at night.
Who is your Hollywood crush?
Katy Perry, hands down.
Name: Stephen Moran
Age: 20
School: Montclair
Year: Junior
Major: Criminal Justice
Sign: Gemini
What made you interested in attending Montclair?
It's a growing school with a lot to offer. And it's close to home.
Where do you see yourself going in life with your career?
Hopefully going onto law school and becoming an attorney.
If you could switch places with anyone for a day, who would it be and why?
Michael Jordan, because I would love to know what it feels like after accomplishing so much in life and overcoming even more. 
What's the best quality a girl can have?
Spontaneity.
What do you think is the biggest misconception girls have about guys?
That guys aren't into serious relationships.
What's a quote that you live by?
Fall down seven times, stand up eight.
Name: Niklas Svensson
School: RIT
Year: Second Year
Major: Criminal Justice
Relationship Status: Single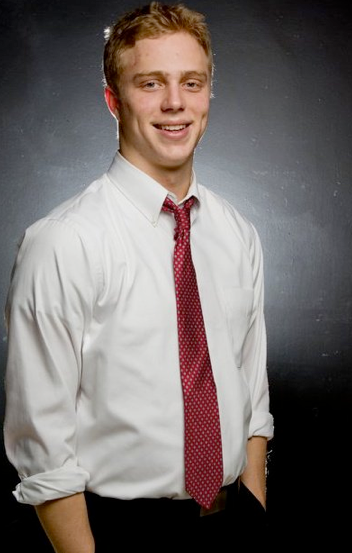 Campus Involvement: RIT Ambulance and RIT Telefund
Interests: Skiing, swimming
Dream Date: with Candice Swanepoel
Dream Job: Federal Agent
Interesting Fact: I was born and lived in Sweden and speak the language.
Name: Luke Somogye '14
Age: 19
School: Illinois State
Major: Criminal Justice
Hometown: Orland Park
Affiliations: Criminal Justice Society
Relationship Status: Single
Ideal Date: Breaking into an abandoned house and setting up a nice candlelit dinner.
Favorite Foods: bratwurst, Potbellys, Chipotle
First thing you notice about a girl: Her feet.
Last song played on iPod: "Hit em' Up"– Tupac
Celebrity Crush: Jennifer Aniston
Where you see yourself in ten years: Working on S.W.A.T
Random fact about yourself: I work at Jamba Juice in the Rec center… come say hi!
Name: Roosevelt White but I go by my middle name Tre
School: Arizona State
Year: Junior/Senior (credit wise)
Major: Criminal Justice
Relationship Status: Super Single
Hometown: Lawton, Oklahoma
In three words, how would your friends describe you? Goofy, energetic and dog lover.
Are you in Greek Life? If so, which fraternity and why? Yes. Theta Chi (ΘΧ) and because I love everyone in my chapter. We all have different ideas and goals but we work together to make a difference. We are a brotherhood.
What is the most attractive thing about a female? I like to smile, so I love teeth however I love pretty, polished nails and toes.
What would be your ideal date? 
If I get to learn some things about my date, she makes me laugh (or vice versa), she is completely herself, maybe go listen to poetry or have dinner, but at the end of the date I would like to walk Tempe Town Lake.
What do you like to do in your free time? 
Workout, sports, chill with some fraternity brothers, eat (I love food), watch Luther, or just hang out with my puppy, Kobe.
What is your favorite ASU memory so far? Pledging my fraternity and meeting all of my awesome friends.
What is your favorite thing about ASU girls? 
The majority of them are beautiful, very diverse and they are all here for one reason - to graduate.
Who is your celebrity crush? 
Scarlett Johansson, Katy Perry and Candice Swanepoel.
What is your favorite song right now? 
It's not really a song but Lil Wayne's mixtape, Dedication 5, has been on repeat since it came out.
What is your biggest pet peeve? 
The Duck Face, tangled headphones or people who blame everyone else for their own failures. 
Name: Aaron Nichols
School: Arizona State
Year: 2015
Major: Criminal Justice and minor in Russian
Hometown: Long Beach, California
Activities: Golf
Relationship Status: Single
What do you like to do for fun? Any Hobbies?
Bowling, golf, hanging out, eating at In-and-Out, and tickling random strangers.
How would you describe yourself in 5 words?
Sexy, weird, random, awkward, and sexy.
Tell us an interesting fact about yourself.
I'm right-handed, but can play guitar left-handed.
What do you love the most about ASU?
The women.
What is your all-time favorite movie?
Oh, um, let's see… You didn't prep me for this so now I gotta think. I'll go with Salt Lake City (SLC) Punk. That's a classic.
Favorite T.V. show?
Walking Dead.
Favorite Artist/Band?
Devotchka.
Who is your celebrity male and female crush?
Ryan Gosling (smiles) and Sasha Grey.
If you could have any superpower, what would it be and why?
Teleportation, so that way I can be anywhere I want.
What is your biggest turn on/ turn off?
Biggest turn-off is superficiality. Biggest turn-on would be the quiet, nerdy-girl look. Or actually, it would be someone that can be true to themselves and not worry about what's the status quo.
Describe your ideal date.
Chucky Cheese! Just kidding, that's probably not fun. Um, an ideal date would be paintballing. I love paintballing ladies. (winks)
What is the first thing you notice about a girl?
Keeping it PG, I would probably say her smile.
Can you tell us your favorite pick-up line, and if it has worked on someone.
I don't think I've ever used a pick-up line. I just do random weird lines, but I like, "What's cookin' good lookin'?" which I actually do say a lot.
And lastly, how do you feel about being our first Campus Cutie?
Very honored.
Name: Drew Woodford
School: WVWC
Year: Sophomore
Major: Criminal Justice
Hometown: Clarksburg, W.Va.
Relationship Status: Single
Activities: Running and Shooting Sports
Favorite Movie: ACT OF VALOR (BEST MOVIE EVER)
Favorite Food: Lasagna
Dream Date: Late night surf at Queensland, Australia.
Celeb Crush: Alana Blanchard (a surfer, lol)
Turn-ons: Runners
Turn-offs: Egos
Country or City Girl: Country
Blonde or Brunette: Blonde for sure
Best feature on a girl: Personality
Hidden Talent: Shooting Sports. I was trained by an ex-Marine and ex-Paratrooper with the use of shotguns and high-power rifles.
Name: Colin Sullivan
Hometown: Shalimar, FL
Relationship Status: Single
School: Ole Miss
Major: Criminal Justice
Class Year: Junior
Greek Affiliation: Sigma Chi Fraternity
Favorite Hobbies: ROTC, loving America, playing sports, and reading William Faulkner.
Colin has a great heart and he's one of the best friends you could ever have. His determination to be an officer in the army is admirable, yet he can break from the seriousness and be silly and always make you laugh. Most importantly, Colin loves Ole Miss so much and is a sweet Southern gentleman. 
Name:Jonathan Hockey
Age: 24
School: App State
Class: Exchange Student
Hometown: Melbourne, Australia
Major: Criminal Justice
What's your number one song played on iTunes?
Misery Business by Paramore...embarrassing!
If you could date any celebrity, who would it be?
If I could date any celebrity, it would have to be Selena Gomez.
Describe yourself in 3 words.
Athletic, confident, and nerdy!
What's your favorite thing about Appalachian?
This is cliche but it would have to be the people.  I love meeting everyone and making new friends everyday!
Name:Patrik Loftus
School: UCF
Major: Interdisciplinary studies, studying psychology and criminal justice

Age: 21
Hometown: Born in Boston, but raised in the Tampa area. 813 represent!

What's your favorite part about UCF?
I like that it's a circle and really easy to get around because I get lost very easily.

What are your hobbies?
I like to do pretty much anything, hang out with friends, go to the beach, anything outdoors, really.
What are you passionate about?
I have always loved helping people, which gave me an interest in criminal justice, where serving and bringing justice in those in need is the main priority.
What do you find most attractive in a girl?
A girl that is confident with who they are, not afraid to be a little different, and, most importantly, has a sense of humor
.
Who is your celebrity crush?
Aubrey Plaza from "Parks and Recreation," I love her dry/sarcastic sense of humor, and she is also cute as can be!

What would be your ideal date?
My ideal date would be doing something outdoors together that we can both have a good time doing, eating dinner at a restaurant on the beach, and then taking a bike ride on the beach enjoying the sunset and each other's company.

What's the nicest thing you've ever done for a girl?
I have done a lot of really nice things for girls in the past, but the one that really stands out to me is the one time I opened the door for this girl. She was really impressed, and it felt great to be a gentleman.
Name: Jimmy Timmons
School: Mercer
Major: Criminal Justice and Sociology
3 words that describe you: Loyal, affectionate, giving
Personality or Looks: Both but more so personality than anything
Where would you take a girl on your first date? 
Depends on the girl and what she's interested in. Something that is engaging, interesting, and that we both can enjoy. Ultimately, I would take her to a setting that will allow us to get to know each other better.
What's a deal breaker? Being conceited, lack of personal hygiene, cigarette smoker, and someone who can't get along with my friends
Celebrity Crush: Melanie Iglesias
Name: Nick Henderson
School: Rowan
Year: Junior
Major: Criminal Justice
Sign: Leo
Where you can find Nick: On the baseball field
Fun Fact: Yes ladies, Nick's a model. Enough said.
If you were given a superlative what would it be?
Best smile.
Whats your weirdest habbit?
I'm kind of, I don't know, not OCD about it but I like to be neat. But that's not really weird.
What's your best pickup line?
You're so beautiful you made me forget my pickup line.
Describe your perfect Rowan girl?
A girl that's chill but knows how to party still, outgoing, nice smile and humble.
Whats the mosting confusing thing that girls do?
I just never understood when a girl and a guy, at 4 in the morning, are walking back to your place and then she's like 'No, (gives the not interested gesture).' You know what I'm talking about.
I think we all know what he's talking about here girls. We've all done it.
Do you have any relationship advice?
Be yourself.
Name: Devonte Davis
Age: 19
School: App State
Class: Sophomore
Hometown: High Point, NC
Major: Criminal Justice
Relationship Status: Single
When you're not in the classroom, where can we find you in Boone?
Hanging out with my friends, playing video games, or lounging.
Favorite thing about Appalachian State University:
Being in a fraternity.
Biggest turn-on: A girl that loves sports and is not shy to approach me to talk.
Biggest turn-off: A girl that is stuck up and always has a negative attitude.
Celebrity crushe(s): Jessica Alba and Kim Kardashian.
Favorite Ice-Cream Flavor: Cookies and cream.
Biggest pet peeve: Girls that lie.
What is your perfect date?
A nice movie, dinner, and good conversation.
What do you look for in a girl?
Someone that is cute, funny, able to hold a conversation, nice body, somewhat athletic, intelligent, loves to have fun but also has self control and someone I could be able to be with in front of my family.
Name: Chris Ewing
School: Suffolk
Year: Junior
Major: Criminal Justice
Relationship status: Single
Zodiac Sign: Leo
What are you looking for in a girl: A girl that can make me laugh and like me for who I am.
Biggest pet peeve: Dirty people. Also when people don't tell me how they really feel.
Favorite activity in Boston: Bruins games
Ideal first date: Taking a girl to the beach
Where do you see yourself in 10 years: Just happy
If you could travel anywhere in the world where would it be and why: 
Azores which is in Portugual, mainly because its where my family is from.
Favorite Music: I like a little bit of everything- classical, rap, and country.
Something most people don't know about you: I was born in Harlem.... My family owns guns.
Man Crush: Christiano Ranaldo
If you were locked in a classroom with one person from Suffolk, who would it be: Sam Nasseta
Most embarrassing moment: When I had to tell my mom I got caught smoking pot for the first time.
Favorite Store: Cabellas
Hobbies: Fishing, Drinking on the water with my friends, going to the beach, playing golf.
Name: Chris Toompas
School: WVWC
Year: Senior
Major: Criminal Justice
Hometown: Philippi, WV
Relationship status: Single
What are your favorite hobbies? Going to WVU football and basketball games, shooting guns, fishing, and riding.
If you could spend the day with anyone, who would it be? My deceased Grandfather
Celebrity crush: Amy Adams
What's your favorite ice cream flavor? Mint Chocolate Chip
Camaro, Camaro? I do love muscle cars and trucks, and of course motorcycles.
What kind of Harley do you drive? It's a black Harley Sportster 1200.
If you could describe yourself in one word, what would it be? Respectful
Hidden talent: I can kinda get by playing the guitar and singing some country music, and I play the Sax in my church's worship band.
Who else do you know that has their own Harley? Chris is truly one-of-a-kind! You can catch him checking out Aladdin's ice cream selection after dinner every night. Keep your eyes peeled for him, ladies!