In an effort to reduce the amount of increasing coronavirus cases among Americans, universities across the country have moved to remote online courses. Many universities have also mandated that students move off campus, and return to their respective home states as a safety precaution, dismantling student communities that thrive on social interaction. Two computer science students recognized that these suspended classes would not only disrupt their semester, but dating culture for all students. As a result, they co-created OKZoomer.
Patrycja Gorska and Ileana Valdez wanted a virtual dating agency, that would connect students who are still looking for love remotely. As the pair puts it, they are "still committed to helping you be social during social distancing!" Similar to the nature of other dating apps, OKZoomer utilizes information like preferred gender, location, and graduation year to match users randomly. However, unlike any other platform, this website that Gorska and Valdez created utilizes a Google form to organize emails and submissions. This weekly form closes every Friday at 2 p.m. to users who are in search of a blind date or even a new friend. From there, Gorska and Valdez create individual Zoom links that are emailed out later on that evening for students to interact with their matches.
"We just wanted to create something for students who now lack in person contact and left behind many of their friends," says Gorska. "Many of us will be lonely during these next few weeks but hopefully, we'll be able to help students forge new connections."
So cause corona is limiting social activity, 2 yale students created a dating experience called Love over zoom where you go on a blind date with other college students. im cryingggggg

— DA GOOF (@AhnuieeOne) March 14, 2020
According to the data OKZoomer provided, this online dating site has amassed 7,100 unique users from over 350 unique schools ranging from Yale, NYU, UCLA, and many others.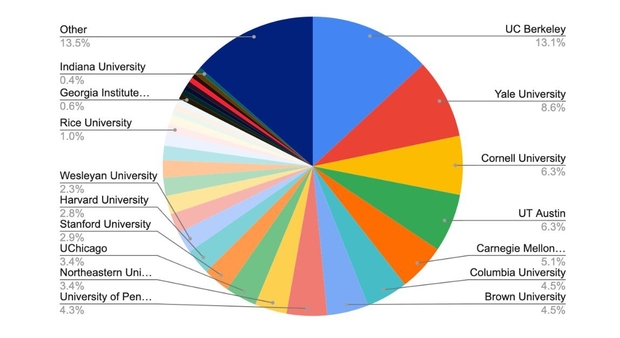 Across the board, this is the first time that college students have had their semesters disrupted by a national emergency and it's incredibly unsettling. For many universities, spring break and study abroad programs have been suspended on short notice, on-campus housing has been removed, and in the grimmest instances, many international students don't have the resources to actually return home. OKZoomer is a comforting response to college students who just want someone to talk to – platonic or romantic.