When I tell people I work remotely, they imagine this utopian world — one where I lay in bed in my pajamas, answering emails with one hand and scrolling through Netflix with the other. "You work from home? You must never have to get dressed!" they say, wide-eyed and amazed at the thought. 
So imagine my roommate's surprise — who has joined me in WFH life due to the increasing spread of coronavirus (COVID-19) — when she saw me walk out of my room in jeans and a sweater.  "Where are you going?" she asked. The obvious answer is nowhere – I'm practicing social distancing, of course – but I cannot function as an adult with responsibilities and shit to get done without dressing myself. So here I sit, with jeans on and a headband in my hair, writing my best advice for feeling like a working human in a time where it would be much easier to crawl into a ball and hide under the covers. 
I'm sorry, but, you should really get dressed. 
When I wake up in the morning and change from my pajamas into an outfit, I feel like I am ~going to work~. Laugh, sure, but it works — I feel polished for meetings, and it adds some normalcy to my day. 
Once I wrap up work, I'll hang in my clothes for a bit longer to make dinner or spend time with my roommate, much like I would do if I were coming home from an office job. Finally, when I change into my pajamas for bed, it feels like it's time to go to bed. Trust me when I say I have days in sweats or leggings, but I still always change into something new in the morning. Adding more of a timeline into my day with something as simple as getting dressed is crucial to my productivity. 
Make your damn bed. 
I work in a small apartment, meaning my office is also my bedroom. Mhm. If I were in an actual office, I wouldn't want a disheveled disaster behind me all day, and the same applies here. Plus, studies say bed-makers feel more accomplished, and not to brag, but, I believe it. So really, take five minutes (of the many minutes stuck inside) to put your bed together.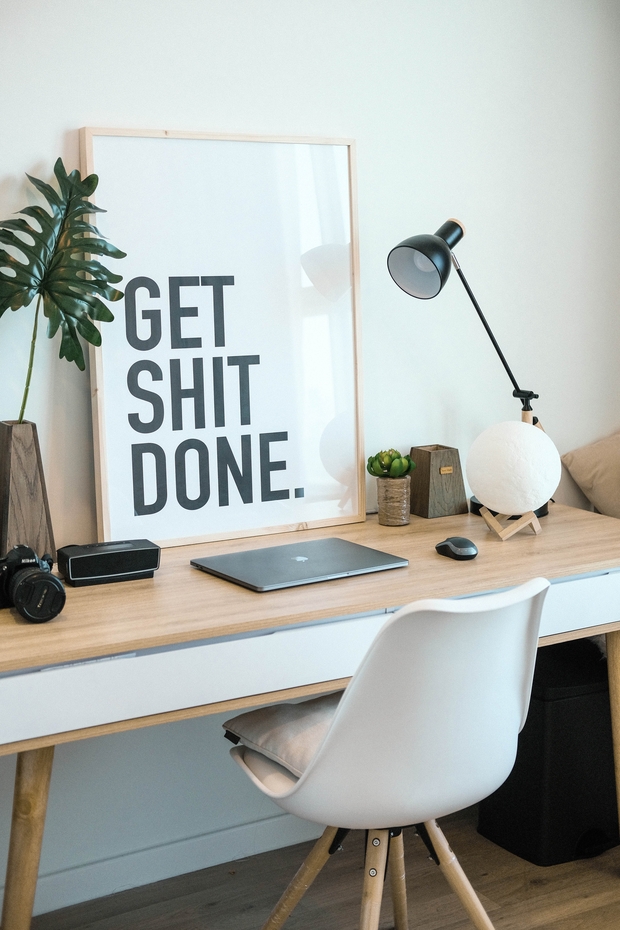 Do literally anything you'd normally do if you were leaving the house. 
Maybe I'm in a vulnerable state right now, but I'll let you in on a secret about myself: when I have a day of team meetings — which for me means video calls on Google Hangouts — I spritz myself with Viktor and Rolf Flowerbomb perfume (my go-to, tyvm) like I would when I was heading to my office job. No, no one else can smell it, but since when do I do anything just for others? I do it for me, because it makes me feel good. So, whatever your version of my perfume spritz is — maybe it's winged liner or a red lip — do it for yourself. 
Make! A! Real! Lunch!
Listen, self-quarantine has made me crave quite literally nothing other than cookies and wine, but none of us can function on that alone (trust me, I've tried). So, I must carry on as though I'm not staying inside to reduce the spread of a national pandemic, and eat real food. I always make sure to take 15 minutes around noon to whip up a salad, or throw anything frozen from Trader Joe's in the microwave. Like the tips I mentioned above, this just helps to keep me on a routine and adds normalcy to my day-to-day. 
Close your laptop and leave where you worked all day, if you can. 
When you're working from home, it becomes ridiculously easy to sit on your laptop forever. You don't see coworkers leaving the office or have a commute to embark on, so you're doing your thing and suddenly realize it's 7PM. This was something I really struggled with when I first joined WFH life. Now, I have a to-do list of tasks each day and when I finish them I force myself to close my laptop and leave my office bedroom. If you don't have another room to go into, close your laptop and put it away so you don't feel like you are living where you work.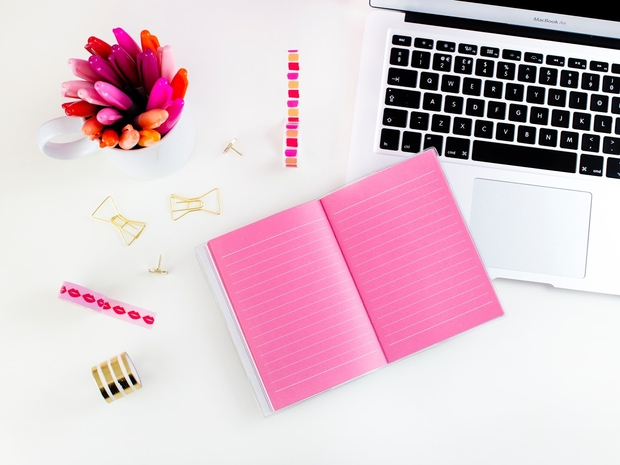 Okay, yes, I will admit that this all reads as sort of obvious, no? But the thing is, it's not as easy as it sounds. Holding myself accountable to this list isn't nearly as fun as laying in my bed and answering emails from my pajamas. That being said, carrying on in a time of uncertainty is necessary, and these small tweaks in my routine make a big difference in my productivity and well-being. Plus, those wine and cookies will be there after your productive day of work.