Don't get me wrong: Lululemon is fire. It's often easy to overlook the fact that leggings are $100 with that tiny Lulu logo there to validate your taste, but unless you have an unlimited budget there's no way you can completely stock your gym wardrobe with these pieces. For the average college student, here are some alternate brands that maintain style without totally draining your college fund.   
1. Target
C9 Champion® Embrace Perferated Capri, $34.99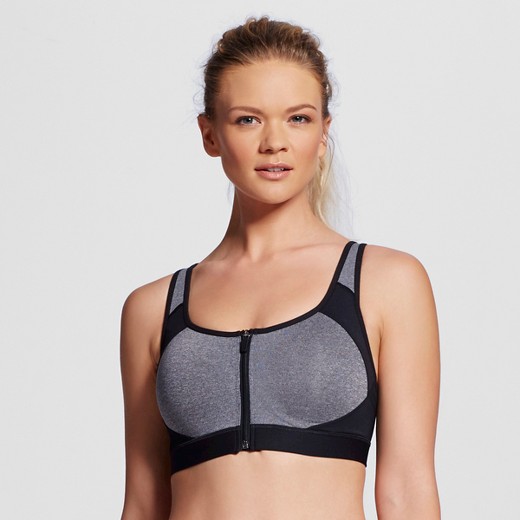 C9 Champion® Power Shape High Support Sports Bra, $24.99
An obvious choice for basically anything at a reasonable price, the C9 by Champion line at Target keeps up with the trends but at a much more modest price. Zip up sports bras? Check. Sheer cut-out leggings? Got 'em. Not to mention there are constantly discounts on Cartwheel, and if you don't know what Cartwheel is, well, you're obviously not a true Targetaholic…but for real, download the app. All that plus a constantly updated clearance rack? Yes please.  
Collegiettes love Target too. "I have tank tops and workout leggings from Target that have held up just as well as the big name brand clothes such as Nike," Amanda Goecke from Carthage College said.
2. Fabletics
Nyla 3-Piece Outfit, VIP Price $69.95
Branxton 2-Piece Outfit, VIP Price $49.95
If you're even semi-active on Facebook you've probably been bombarded with advertisements for Fabletics, Kate Hudson's cute AF activewear brand. While reviews about the way VIP membership works have been mixed, if you're someone who goes shopping at least once a month it's definitely worth checking out. You get charged $49.95 a month as a VIP member to spend on a total outfit or separates. Plus, there's usually a sign-up bonus, like a major discount on an outfit (think less than 30 bucks for the whole shabang) or two pairs of leggings for $24. You can also opt out each month and not get charged if you need to. 
3. H&M
Normally I reserve H&M for trying out edgier pieces before investing in a higher-end brand, but it turns out they have a pretty fresh activewear line too. Who knew? The prices are perfect for the college student on a budget, and the black, gray and white color scheme makes their line incredibly wearable for everyone. 
4. Aerie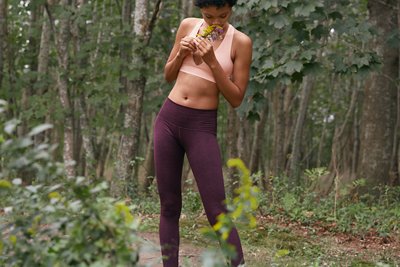 Aerie Play High-Rise Legging, $34.95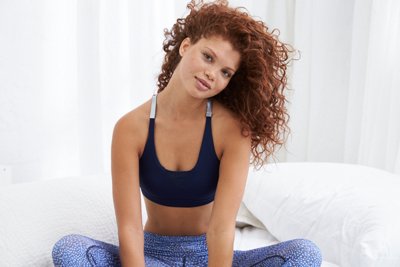 Aerie Chill Shine Strap Sports Bra, $29.95
Hello, high school me who went to American Eagle on the regular. Right next door at Aerie there are not only soft sleep shirts and cute underwear, but also basic athletic wear with a nice range of colors and styles. Generally, they just sell leggings and sports bras, but Lord knows I don't have time to get complicated when dressing for the gym anyway. Plus we love the message of #aeriereal.  
5. Outlets or TJMaxx
Under Armour Compression Crossback Bra at T.J. Maxx, $14.99
Under Armour Fly By Capris at T.J. Maxx, $19.99
If you really are a brand snob, no judgment, but there are options for buying those signature Nike or Adidas goodies at a lower cost. Outlet malls are pretty much in any major city, and everything inside is usually discounted at least a little bit. Lola George from University of North Texas, who works as a personal trainer, said she often goes to outlet stores for her workout clothes.
TJ Maxx is another great place for discounts on name brands. Morgan Mullings, a sophomore at Saint John's University, said, "Tj Maxx and Marshalls definitely have the BEST variety of cheap workout clothes. They have so many different brands and everything is marked down, more than any other store I've been to!"
6. Girlfriend Collective
Toasted Apricot Girlfriend Mid-Rise Legging, $68
Remember that tempting offer for free leggings (actually free leggings for the cost of shipping, but no need to sweat the deets)? Well the offers gone, but the company has launched its full website and it is nice. They offer a pretty streamlined selection of just leggings and bras, but in a variety of super chic colors. The price is a little bit higher than others on this list, but they use eco-friendly material and ethical practices to deliver affordable, functional, minimalist athletic wear. 
If you don't feel like splurging for yet another Lulu tank top (which, TBH, when do you ever feel like splurging?), resist the cute aesthetic and chipper employees of the Lululemon store and try out some cheaper options. You can still achieve that effortlessly chic just-after-the-gym look without having to dish out the cash.