Celebrities are always sporting unique outfits that keep us on our toes and wondering what the next trend will be. From Rihanna's Swarovski crystal dress to Kylie Jenner's double denim, celebs in the limelight always find new ways to test the limits, but sometimes they go too far. Here's a list of 12 times celebrities had us talking, but not in a good way.
1. Kylie Jenner's nonexistent sweater
Kylie, where'd the other two-thirds of your shirt go?
2. Katy Perry covered in pizza
Don't get me wrong, I love pizza, but this is just a little cheesy.
3. Lena Dunham's very bold skirt choice
Oh, sweetie no. 
4. Cara Delevingne decked out in Bart Simpson
This is the most extra. 
5. Lady Gaga's notorious meat dress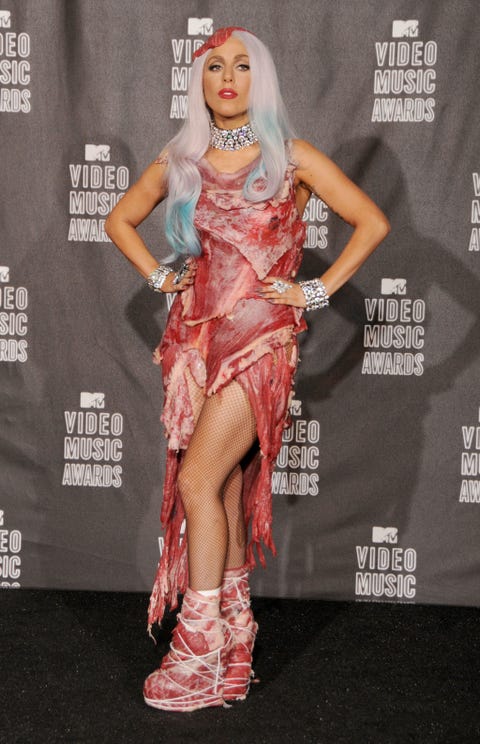 This look was iconic in the absolute worst way. 
6. Cole Sprouse's Coachella look
If his goal was to look like a tourist and a dad, he succeeded. 
7. Z LaLa's octopus dress 
I'm just slightly confused, to say the least.
8. Miley Cyrus's various ensembles at the VMAs 
 

Every single outfit was just too damn much. 
9. Adrienne Bailon's confusing AF dress

Someone get this Cheetah Girl a new outfit, please.
10. Zac Efron sporting a crop top
This outfit may have been worn for a film, but it scarred me for life. 
11. Nicki Minaj's "Roman Holiday" 
Love the song, not the look.
12. Justin Bieber's skirt
I'm not quite sure this is flattering on his figure.