Let's be honest, when you look back at photos of your middle school makeup, you can't help but cringe. Part of you wants to burn all evidence, and the other part of you wants to shake your mother and ask her how she let you out of the house with foundation that was that orange. Aside from the tragic era of too much lip gloss and overly-straightened hair; do you know what was always on point? Your stationery game… all thanks to Lisa Frank.
The brand that you were obsessed with ten years ago (and TBH still are now) is trying to release a makeup line so that you can relive your middle school days, but, you know… with better beauty choices. The queen of the '90s, unicorns, and everything that we seem to be obsessed with in 2017, Lisa Frank, launched a Kickstarter with vegan and cruelty-free makeup brand Glamour Dolls in hopes of making her (and your) dreams come true.
The company aims to raise $30,000 to launch at least six makeup products, including a a lip balm, matte mousse (LOL throwback af), liquid liner, "unicorn lippie," highlighting powder, and a vegan leather makeup bag. In typical Lisa Frank fashion, this isn't just going to be any old makeup line. Currently, the brands have already released an angled makeup brush that is everything you hoped it would be. Covered in unicorns, finished with a rose gold handle and pink-dipped bristles; this gorgeous piece of nostalgia retails for $4.99 on pre-order, meaning that it would be a bargain… even for your middle school self!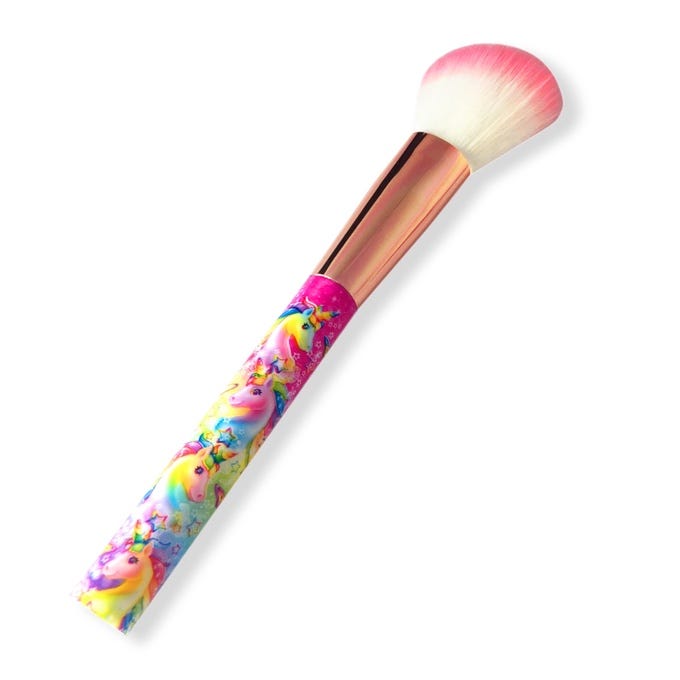 There's a twist with the Kickstarter… not only will those who contribute eventually get to own these inevitably adorable products, but they will get to be involved in the entire process, including voting during the naming process of the products, and giving an input on what shades will be created. After donating, you will also "unlock new products" and get exclusive, behind-the-scenes access and insider scoops into how the products are actually made. So what are you waiting for? You're not fooling anyone if you try to pretend that you're not fangirling over this collaboration!