Get excited: ~iconic~ duo Miranda Priestly and Andy Sachs are officially headed to Broadway. 
Entertainment Weekly reports that Elton John and playwright Paul Rudnick are teaming up to create a musical adaptation of The Devil Wears Prada, which will be based on a combination of both the 2003 novel by Lauren Weisberger and the 2006 movie starring Anne Hathaway and Meryl Streep. According to the New York Times the project has been two years in the making, but only just now were the film's producers able to find the writers who will make it a reality.
"Re-imagining The Devil Wears Prada for the musical theatre is super exciting," Elton John told Entertainment Weekly. "I'm a huge fan of both the book and the feature film, and a huge aficionado of the fashion world. I can't wait to sink my musical teeth into this hunk of popular culture."
Our favorite chick flick is in good hands too - John composed the musical adaptation of The Lion King, and won a tony in 2000 for the music in Aida. Now all we have to worry about is whether or not our favorite Miranda zingers will be included. (Below are some of her best, in case you needed a refresher.)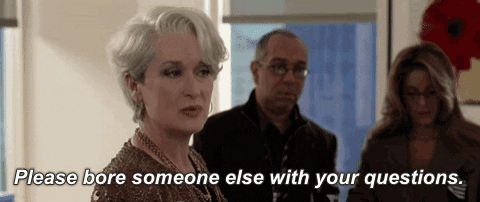 For the uninitated, the quotable film follows Andy Sachs, a recent Northwestern journalism grad who takes an assistant job at Runway magazine to work for the terrifying yet hilarious Miranda Preistly - and as you might imagine, her personal life goes haywire as she tries to succeed completely out of her element in the fashion industry.
While the producers haven't announced when they're aiming to have the musical ready for stage, we're hoping it will be sooner rather than later. Or, in the words of Miranda: