Saying "I love you" to your SO is a huge, exciting and very romantic step in your relationship. But many collegiettes find themselves in relationships where the simple "I love you" while you're out to dinner or watching a movie may not make the cut. You need a wonderful way to say it for the unique and special relationship you and your SO have. Even if you don't hold a boom box over your head or have a horse-drawn carriage to sit in, you can tell your SO how much you love him or her in a heartfelt way. Whether you've said those words before, or you aren't ready to say them yet, there are so many ways you can show your SO you care.
1. Brew an "I love you a latté"
Show him or her how much you care with some sweet latté art. It's an adorable way to show your SO that you're in love.
"I've always thought it would be adorable to visit a coffee shop with your SO, get the barista to make one of those white hearts on the top of his or her coffee while he or she is waiting at a table and wait for your SO to see it," says Ashley McDonald, a senior at Central Michigan University. "That would be the perfect way to say 'I love you.' Men need to take note of this."
If caffeine and a heart don't spell "I love you," what does? And if the coffee-shop scene isn't for you and your SO, try this one at home.
2. Plan a surprise trip for your SO
Let your SO know that you're open to doing things that you weren't before you started dating, especially things that your SO likes and you haven't tried before!
"If your partner is a big 'acts of service' person, [see] if you can figure out a way to serve them, like scheduling a mission trip or doing something in your city, like going to a homeless shelter," says Jay Hurt, a relationship coach and author of The 9 Tenets of a Successful Relationship. "Do something you didn't know they are open to."
Try planning a trip for your SO that will surprise him or her and show how committed you are to your relationship—whether you want to go to a soup kitchen, try a new roller coaster your SO loves even if you are scared of heights or take him or her on a romantic weekend getaway, your SO will know you love him or her with this sweet gesture. Find something that your SO wants to try or loves doing, and do it with him or her!
3. Give your SO a meaningful gift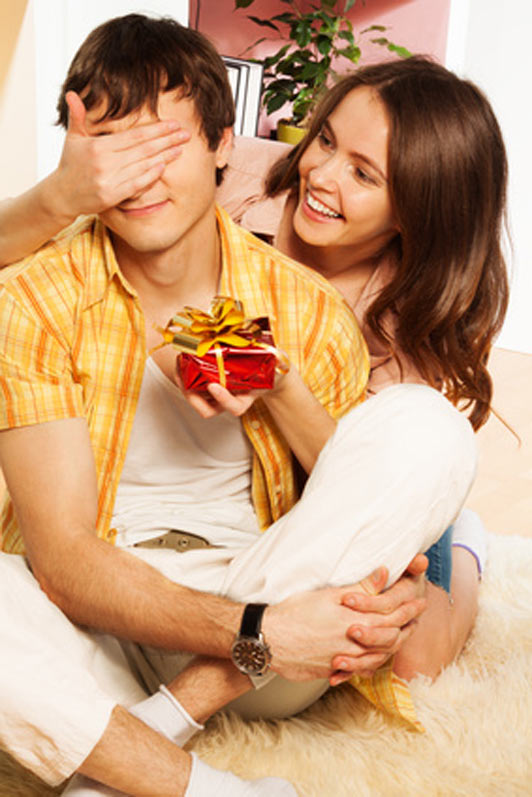 Cashmere sweaters and cuff links are nice gifts, but try getting your SO something more significant when you tell him or her you're in love.
"[See] if you're able to give them something that really speaks to them," Hurt says. "If they're into fashion, and you're able to buy her a specific Prada bag that she just happens to have been looking at and she thinks you have no idea that she's looking at, then that's a way to say, 'I love you.'"
Don't worry now that the winter holidays are over—this can apply to birthdays, anniversaries and Valentine's Day! Small acts of kindness and cute DIY gifts are always appreciated, no matter what time of year.
4. Sing your SO's praises
Though saying "I love you" can be an intimate, personal moment, one way to let your SO know how much you care is praising him or her in front of your friends in a natural way.
"If you're at the beginning of a relationship and it's the first time, and you speak really highly of your SO, that's a way to make them really feel warm and fuzzy and loved," Hurt says.
Laughing at your SO's jokes, praising his or her outfit and giving him or her random compliments in front of friends can let your SO know that you're comfortable with how amazing he or she is and you want to show it off!
5. Leave little love notes
Nothing tells your SO that you're thinking about him or her like love notes! They are a thoughtful way to let your SO know that you care and that you're happy you're together.
"In the past, I've left little notes for my boyfriend where I know he won't find them for a while," says Aja Frost, a sophomore at California Polytechnic State University. "For example, I'd hide one in a pair of his socks or in a box of cookies. The notes would usually have an inside joke or a sweet message or a drawing. I know he thought they were super cute and held on to them!"
You know your relationship is built to last, so why not let your SO know? Saying "I love you" can be one of the sweetest and best moments in a relationship—make sure that the first time you say it (and every time thereafter) is special, unique and catered to your SO!