There are constantly articles and quizzes on my timeline reminiscing on the glory that was the 90s. From the movies, to the clothing (that're making a comeback nowadays), to the music, the 1990s bring up a lot of good memories and strong emotions. So I decided to embrace my inner 90s kid and live my life like it was 1999. *cue Prince*
Despite the huge debate over who qualifies as a 90s kid and who are truly unworthy of that title, I consider myself one of these chosen few. I was born in the middle of the 90s, and though some may say that I don't, I do remember so many things related to the 90s and literally lived it. Maybe it's because my parents were young (in their early 20s) when I was born or maybe they were just really into pop culture, but I was constantly surrounded by hit music from this decade, as well as movies. And man, did my mother love to dress me up in the most 90s outfits! The butterfly clips, big sweaters, overalls, big sweaters, bright color blocked jackets, you name it and I probably have a picture of me wearing it.
I mean, look at this hat. Is this not straight out of Full House?
With that in mind, and the fact that I am in love with all aspects of the 90s, I was more than ready to dive into this week.
Monday
On my first day of this challenge, I immediately Googled images from 1999 (the year I obviously remember the most) and typical trends. I'm currently abroad and was super worried I wouldn't have clothes to wear that were 90s-esque, but I surprisingly did. And out of all the things I forgot to pack, I still managed to have my plastic choker and mood ring with me. I obviously haven't strayed from my 5-year-old self too much.
Monday, I wore a bright orange shirt which was inspired by Sarah Michelle Gellar (my favorite actress from the 90s and one of my favorite actresses of all time) and my two 1999 jewelry pieces. I also donned some lilac eye shadow to channel my inner pop princess (this trend was very big with Britney and Christina in 1999).
And speaking of both Britney and Xtina, their respective debut albums dropped in 1999, probably spawning the root of their "feud," but supplying me with bomb music for the week. I went HAM the weekend before this started, just compiling a pretty comprehensive look at the hit music of 1999. Looking at the Billboard Hot 100 of that year, I added the first 50 or so, then added full albums that came out that year (Goo Goo Dolls, Backstreet Boys, *NSYNC, Destiny's Child, Will Smith, Red Hot Chili Peppers, Third Eye Blind, etc.). I don't think there was a better time to be alive than this year if you are a music fanatic.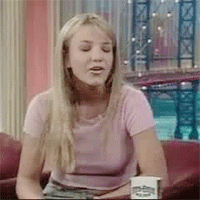 No one noticed too much of a difference in my appearance, except certain friends that knew what I was doing. The choker did stand out though, considering the plastic accessory isn't too common in Italy.
Tuesday
Tuesday I wore a striped dress, channeling a bit of the 1970s but adding my chunky heeled boots, choker (yet again) and denim jacket for those 90s vibes. For makeup, I tried to go with a Cindy Crawford look by using brown lipstick and brown eyeshadow. Elle.com reminded me that a coco lip was a "mainstay" in the 90s. While my only experience with makeup back then was my toy one with plastic tubes of lipstick and my fairy palette with the world's worst shades of light blue, pink and purple, I'd like to think 1990s Alani would approve (if she could even appreciate the concept of mocha brown vs. crimson brown vs. brown).  
Today, I was reflecting on my first crush of my young life; Justin Timberlake. While there were many feuds during this decade (see Britney and Christina), there probably weren't many more important that *NSYNC vs. Backstreet Boys. To this day, many harbor strong opinions (me being one of them), but the first man I ever fantasized about sharing my juice box with was JT. So it was no surprise that I chose replay that whole album. "Tearing Up My Heart" still hypes me up and "(God Must Have Spent) a Little More Time" still gives me the feels. I also fondly remembered the Justin Timberlake greeting card I would keep on my vanity (there was a little embarrassment at this memory as well…).

Wednesday
Wednesday I put the choker away for a hot sec and decided to wear one my favorite clothing items of all time: my dark blue flannel. I cannot thank whatever fashion god there is enough for making these never truly go out of style. But let's be honest. I'll be wearing these until I die. I paired it was some not so 90s leggings (my baggy jeans were in the wash), a Her Campus "Fight the Patriarchy" tank and a Cubs hat to show that Chi-town pride (which was coincidently bought in the late 90s as well).
Today was the day that I also watched some Buffy the Vampire Slayer, my favorite show of all time. My mom was kind of a fan back when it was on in 1999, however I didn't discover it until freshman year of college, and I still wonder what life was like before this iconic show. I ended up watching the season finale of season 2, again, which technically came out in 1998 (in 1999 Buffy was between season 3 and 4), I figured it still counted.
Thursday and Friday
Thursday I wore a patterned crop top on top of another tank top, giving me that Kathryn from Cruel Intentions look (although not as…sultry). This was also something I did a lot in the early 2000s. I went with some very glossy lip gloss (very 1990s smackers, although this one was from Ulta) and some light brown eyeshadow.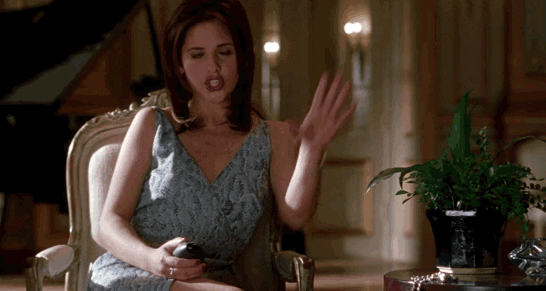 One of my least favorite things about makeup in 1999 was that no one used highlighters (from what I could tell) and thick eyebrows were definitely not a thing, at least not for most. So, my two favorite parts of my makeup routine had to take a backseat this week, but I guess that gave me more time to do other stuff in the morning.
Friday we traveled and were going to the Rome Film Festival, so I wore light wash jeans and my Star Wars tank. Star Wars is one of my favorite, if not my most favorite, film franchises ever, and it fit very well with my 1999 theme because that was the year Star Wars Episode I: The Phantom Menace came to theatres in America. My parents took me to a midnight screening, I kept shouting "wow" at the screen and then conked out before Obi-Wan got to kill Darth Maul. The lip gloss made a comeback today as well.
The weekend
The weekend saw a bit of a decline in my outward 1999 life. Saturday I kept it simple with a dark green shift dress which wasn't too 90s, but I was running out of clothes. And Sunday consisted of me just blasting my amazing 1999 playlist all the way home.
Despite running out of 1999-themed clothes and not being able to find butterfly clips to really go back to my 90s roots, I kept the year alive. This week definitely challenged me, but definitely put me in a good mood. In the hustle and bustle of being a 21st century woman and also a full-time student, it was nice to think back on how life used to be in the 90s, and in my case, that was filled with memories of belting Will Smith's "Miami" in the front room and wearing corduroy jumpers to school. I also felt so inspired that I took my 1999s look well into Tuesday of the following week.
If you want to jam out to some nostalgic songs, my 1999 playlist that got me through the week is below.