The latest software from technology giant Apple—iOS 10—was just released for download in the U.S. on Tuesday, and will be shipped out with iPhone 7 and iPhone7 Plus next week. If you haven't already heard, "new" doesn't necessarily mean "better" for thousands of Apple users around the world, who are complaining about the software update and yearning for the simpler times of iOS 9.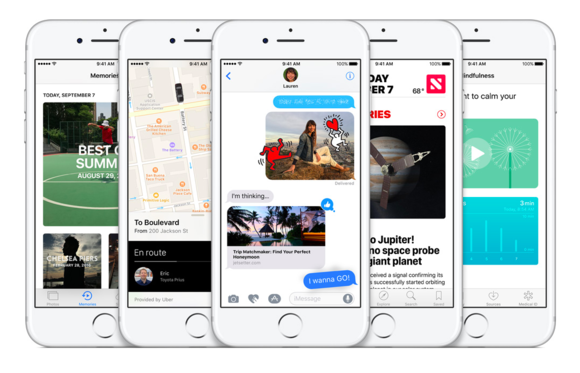 iOS 10 Update 'Bricked' Users' Phones and iPads
The first problem with Apple's newest update became apparent for some users right away when, upon trying to download and install iOS 10, their iPhones and iPads "bricked." Essentially, they became unusable after trying to download the software. An error message alerted users that they would need to plug the device into a computer and restore the entire operating system before it would become usable again.
According to The Verge, an Apple spokesperson said in a statement, "We experienced a brief issue with the software update process, affecting a small number of users during the first hour of availability. The problem was quickly resolved and we apologize to those customers."
Ive: Tim, got an idea

Tim: Yes?

Ive: What if we brick all the phones with iOS 10

Tim: Go on

Ive: An Allluminum brick

Tim: I like it

— Brad Sams (@bdsams) September 13, 2016
tried to update to iOS 10 and now i have a really expensive brick i get to carry around for the rest of the day.

— dwhere (@DWhere) September 13, 2016
Despite the so-called "quick" solution to this problem, people were still pretty annoyed when they were in class or at work, away from their PCs and Macs, unable to even get their phones to turn on. Even worse, people were still reporting on Wednesday that the update bricked their phones.
iOS 10 didn't brick my phone! pic.twitter.com/CRoJkcDqh8

— Zack Bennett (@ZackTN) September 13, 2016
Besides the obvious downfalls of an update that sends iPhones and iPads into the first-world terror that is known as "recovery mode," iOS 10 users seem happy with their shiny, new software. It packs Star Wars stickers, cool new emojis, customizable widgets and even balloons that pop up on a message screen when you send someone the text "Happy Birthday!"
Other common issues that people have been experiencing seem to be fixable, at least, with a quick change of simple settings.
Bad Battery Life
Tech Radar suspects that iOS 10.1, Apple's first bug fixing update for iOS 10, will fix many mini-problems that iOS 10 has. Until then, techies suggest going into your settings and turning off background app refresh.
Settings > General > Background App Refresh
You can pick and choose which apps you don't need to be constantly updating, or you can shut off the feature for all of them. You can also turn off Fitness Tracking, if you want, within the privacy tab of settings, or you can opt to keep WiFi off if you're not at home. Of course, dimming the brightness on your device doesn't hurt, either.
You Hate the New Unlock Feature
One of the hardest features to get used to in iOS 10 is the new way you have to unlock your iPhone or iPad. Instead of swiping right to unlock, Apple's latest software makes you press on the home button in order for Touch ID to unlock your phone.
*swipes phone to unlock*

*notification center appears*

*holds down home button*

*unlocks phone*#iOS10pic.twitter.com/fLnLJwuSpB

— IG & SC: SirAbiola (@SirAbiola) September 14, 2016
Can't come to grips with IOS 10 man, keep trying to swipe to unlock when you can't 

— Zyzz (@KyleHawkes14) September 14, 2016
It definitely will take some practice and going against current muscle memory to learn the new unlocking technique. However, if you're a stickler for stagnation and routine, you can go back to the good ol' days pretty easily. Go to:
Settings > General > Accessibility > Home Button, then turn on "Rest Finger to Open."
Voilà! You may now happily unlock your iPad or iPhone by simply resting your finger on the Touch ID fingerprint sensor, without having to press down on it.
Songs and Ringtones Have Vanished
One of the more terrifying problems is to go into your Music Library or your Ringtones settings and see that all of the iTunes purchases you've begrudgingly made are suddenly, gasp, gone.
This issue, which is fairly common with all of Apple's updates, is thankfully a quick fix. Simply plug your iPad or iPhone into your computer, go to iTunes, and sync "Tones" to your device.
Most of the problems associated with iOS 10 are thankfully fixable and reversible. However, having your iPad or iPhone get bricked by the software would not be fun. If you decide to wait for Apple to iron out the bugs with its newest software before you make the switch, you're not alone. Business Insider reported only up to one-third of Apple users have decided to download the new iOS, while the rest are waiting it out a few more weeks. 
Our verdict? Feel free to download iOS 10 without fear, but make sure to back-up your device beforehand and have your PC or Mac nearby if anything goes wrong.
Downloading IOS 10. Wish me luck. If you never hear from me again just know

— Susan Orlean (@susanorlean) September 14, 2016