The Notebook may as well be the relationship bible. After all, we consider Allie and Noah's love to be one of the greatest of all time. We can't think of a better couple to represent what happens when you fall for someone. Here are the 15 stages of falling in love, as told by The Notebook.
1. The initial sighting
You lock eyes with a cutie on campus, in class or at a party.
2. Introductions
You introduce yourself, or are introduced by a mutual friend.
3. "Just friends"
The two of you start hanging out as friends, but there is a definite connection.
4. Flirtation
Mutual flirting commences.
5. The first date
You go on your first official date, probably to the movies.
6. And the second…
Multiple other dates follow.
7. Crushing hard
At this point, you can't stop thinking about him or her.
8. It's inevitable…
Your friends tease you about being such a cute couple, but you have yet to DTR.
9. Relationship Status: In a Relationship
Finally, one of you gets up the guts to ask.
10. The cutesy stage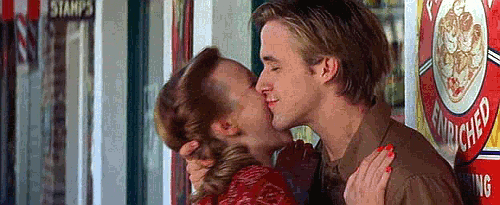 You start being couple-y and you can't keep your hands off each other, much to everyone else's amusement/annoyance.
11. The first fight
Eventually, the honeymoon stage ends and you experience your first real argument.
12. Tough decisions
You both have to make some changes in order to move forward in your relationship.
13. Slowly, and then all at once
You realize that you're falling in love with this person.
14. Three words, eight letters
The moment finally arrives when those words are exchanged.
15. Going strong
You're in a long-term relationship with the person you love, and you couldn't be happier.
No relationship is perfect, even Allie and Noah's. All couples go through rough patches, but hopefully the tough times only make your love stronger.