St. Patrick's Day: a time for shamrocks, leprechauns and green beer galore. What was once a minor holiday in our youth became a major one when we hit college, since we're always looking for a reason to celebrate! St. Paddy's Day is a fun holiday where you can have fun with your makeup in ways you normally wouldn't. HC is here to help find that perfect festive look—while staying stylish, of course!
1. Green eye shadow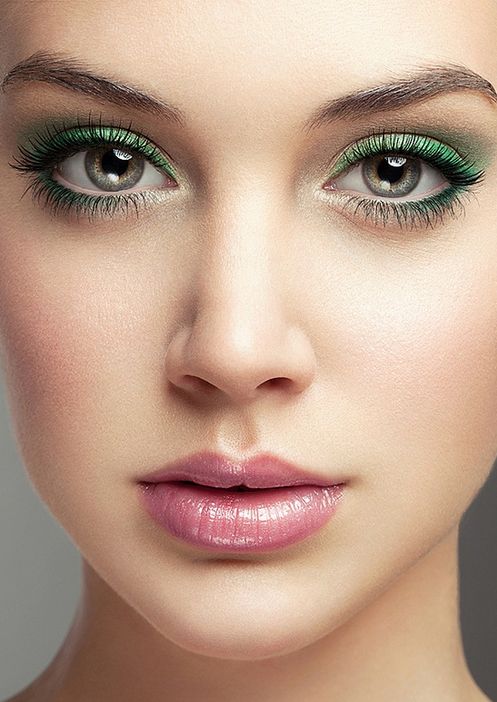 Green eye shadow is a bold beauty look, and it's exactly what Andrea Ducharme of The Makeup Artists, a collaborative of professional makeup artists and hair stylists, suggests trying if you're a daring collegiette. "Take a great lime-green eye shadow and put it all over the lid and fade it out into the crease," Ducharme says. Then, line your upper lid with emerald eyeliner.
Green eye shadow actually looks good on green-eyed girls because it creates a soft and sultry look. It also looks great on brown eyes because brown is a neutral color, so there's a lot of room for experimentation with makeup.
Ducharme suggests using CoverGirl Flamed Out Shadow Pot in Lime Light ($4.99) for the eye shadow and M.A.C Fluidline Eyeliner in Sassy Moss ($16) for the eyeliner.
"I like to keep the lower lash line clean for this look and then add a pair of false lashes," Ducharme says. "The easiest to use are Revlon Runway False Lashes ($3.99)."
Since the green eye shadow will be prominent, it's best to keep the rest of your face neutral so you don't end up looking like a clown. "Keep the rest of the face a peachy-bronze on the cheeks and have a nude lip," Ducharme suggests.
2. Golden eyes
If green eye shadow isn't for you, you can try a subtler beauty look. Gold is perfect for St. Paddy's Day because it compliments green well and also incorporates the pot-of-gold-at-the-end-of-the-rainbow theme. "Instead of green, use a gold shadow all over the lids and then under the lower lash line too," Ducharme suggests. "I would still do the false eyelashes, and then a dark emerald green eyeliner would be really pretty."
Gold eye shadow looks particularly good on brown- and hazel-eyed girls because it enhances any gold flecks they may have in their eyes already. If you choose a gold eye shadow with brown undertones, it will play up blue eyes. Gold also tends to look best on warmer skin tones.
To pull off this look, Ducharme recommends M.A.C Pigment in Old Gold ($21) for the eye shadow and CoverGirl Liquiline Blast Eyeliner in Green Glow ($8.49) for the eyeliner.
Since the gold eye shadow isn't as daring as the green, you have more room to play up the rest of your face. Ducharme says to go for a bold lip, like "a really fierce, gorgeous, matte orange-red lipstick." To pull off this look, try Maybelline Color Sensational Lipstick in Vibrant Mandarin ($7.49).
You can also play up your complexion "with a little bit of face highlighter, like a shimmery, tinted moisture on the cheekbones." The slight shimmer will look great with the glimmer of gold on your eyes! Try out e.l.f. Essential Shimmering Facial Whip ($1) to complete this look.
3. Irish curls
Your hair is a great way to tie in the Irish theme of the holiday! "I think of curls when I think of Irish girls," Ducharme says. "Do a corkscrew curl for your hair; you can tie in the whole Irish step dancer thing into it. Wear your hair down; don't do the pony or you will actually look like an Irish dancer."
The best way to make these curls is to use a curling iron. The thinner the iron, the tighter and more corkscrew-esque the curls will be. If they come out too tight for your liking, run your fingers through the curls to loosen them up.
To finish off the look, take some kelly-green ribbon and wear it as a headband.
4. St. Paddy's Day nails
St. Paddy's Day nails are fun because there are a million different ways to paint them. Ducharme's favorite look is to "put on gold nail polish and then paint a shamrock on the ring finger." Use a nail art pen, such as Sally Hansen Nail Art Pen in Green ($7), to easily draw on the shamrock.
Another idea is to paint four of your fingers green, and then paint your ring finger white. Again, draw on a green shamrock to the white nail for an added Irish element. Or, instead of drawing on a shamrock, you could buy nail decals like these from Hot Topic ($3.38). Essie's Pretty Edgy ($8.50) is a great green to use for this look. OPI's Alpine Snow ($9) is a crisp white shade that will provide the perfect base for whatever nail art you decide to try.
5. The scent of the Irish
Perfume is the finishing touch for any beauty look. Although it's not visible, it can make a big impact. If you truly want to encompass the Irish theme of the holiday, try finding an Irish scent. And no, this does not mean smelling like an Irish pub! A great one to try out is Clover by Demeter ($20 for 1 ounce). It has a leafy-green and clean scent reflective of the Irish countryside. It's a simple perfume, but it will really pull together your Irish-themed look!
With these HC tips, you'll be sure to find the right balance of festive and chic without looking like an ad for Lucky Charms!