Name: Trent Johnson
School: William and Mary
Nicknames: Tango
Major/Minor: Government/History
Relationship Status: Recently Single
Hometown: Hampton, Virginia
Clubs/Activities: ROTC, Sigma Chi Fraternity, Pershing Rifles, The Queens' Guard and Loafing
Most exciting memory from this summer: I spent 29 days at the U.S. Army Leadership and Development Assessment Course (LDAC) at Fort Lewis, Washington State.
What are you most looking forward to as a senior? Spending one last year with my friends before I commission into the Army, pass-fail classes, 12 credits per semester, and mug night.
Favorite TV Show: "House of Cards" on Netflix
If you could spend the day with anyone, either living or dead, who would it be and why? I would want to spend the day with Juicy J, no explanation needed.
Fun Fact: I speak Chinese.
Name: Kyle Likens
School: Ohio U
Year: 2014
Hometown: Orville, OH
Relationship status: taken 
What he does on campus: He is in the Army ROTC program and also in the Marching 110.
Intrests: Loves to hang out with friends, play music and workout.
Why he's our Campus Cutie: "He is such a great person! He is loved by everyone he meets. I enjoy spending time with him! He enjoys making people laugh and he is very good people's person!" 
School: Mercer
Major/Minor: Biology (Pre Med) / Military Science, Math, and Chemistry
Relationship Status: Single
Housing: Mercer Hall
Favorite Color: Blue
Involvement on Campus:ROTC, Alpha Phi Omega Service Fraternity, BBB, Mercer ASIA, ACS
Hometown: Augusta, Georgia
About The Man: In his free time, Aaron enjoys shooting hoops and playing soccer. He is passionate about art in all mediums and has a tendency to listen to hip hop, R&B, instrumentals, mix tapes and jazz. Want to catch this cutie? He says the keys to his heart are kindness, humor and food, which can be satisfied with a nice homemade hamburger or a triple-layered PB&J. Just don't come near him with needles, they're his one fear!
Why He's a Campus Cutie: You know what they say about guys with big feet! ;) Aside from that, Aaron is a genuine, nice guy. His smile is contagious, and have you seen his ROTC body?! To top it all off, this "Chris Brown Look-Alike" is a perfect gentleman.
Name: Marcus Lauria
School: Wake Forrest
Year: Sophomore
Hometown: West Chester, Pa.
Relationship Status: Single
Major: Physics
Minor: Math and possibly Middle Eastern and South Asia Studies (MESA)
Personal Motto: The pain of discipline is far less than the pain of regret
HC (Her Campus): So you're a member of ROTC. What's that like?
ML (Marcus Lauria): I love it—it's definitely a huge time commitment though. We workout three to five days a week in the morning, have classes every week, and a lab where we perform military skills. It's just been a great experience so far…I was in Africa over the summer for an ROTC program, which was insane. We trained with the Togolese military and helped them learn conversational English for a month.
HC: What influenced your decision to take part in ROTC?
ML: My dad was on track to be a Navy SEAL but had an accident that kept him out of it, so he's instilled those values in me. When I began to research ROTC my junior year of high school I realized very quickly that it was the path I wanted to take. My older sister did it and my best friend from home is in it now too, which is really cool.
HC: What else are you involved in on campus?
ML: I'm the process of becoming a member of Pi Kappa Alpha right now. I'm also a captain on the club basketball team—that's was always my sport throughout high school. So those and ROTC are the three big things I'm involved in.
HC: So what's a typical day like for you?
ML: I wake up around 5:30 a.m., go to PT (physical training) at 6 a.m., workout, study or do some last second homework, go to class, usually go workout again either at the ROTC department or the Miller Center, and then study.
HC: So it seems like you are a pretty athletic guy. Do you have a more sensitive side?
ML: I mean, I am definitely a huge Taylor Swift fan and a lot of my buddies mess with me for that. But I wouldn't actually say I'm too, too sensitive.
HC: Now for the stuff everyone really wants to know—what qualities do you look for in a girl?
ML: For me, the number one quality is a girl who is really into fitness. Also someone who understands my sense of humor, and definitely a really nice smile.
HC: What normally makes for a good first impression of a girl?
ML: Someone who is outgoing and who can make me laugh right away.
HC: What are three adjectives you would use to describe yourself?
ML: I'd say outgoing, hardworking, and funny.
HC: What is something people might be surprised to know about you?
ML: I have never had a girlfriend…that's a good one. I played a lot of basketball in high school so I guess I never had time for that or found the right girl. I'm also kind of a big science nerd sometimes.
HC: What is your biggest pet peeve?
ML: People complaining when they have no reason to be complaining. I feel like most people here are in a very good position and sometimes take a lot of stuff for granted.
HC: Who has been the most influential person in your life?
ML: Definitely my dad. I mean, since I could walk he had a basketball in my hand and made sure I was knocking out absurd amounts of pushups every day. He's the one person I can always talk to no matter what is going on.
HC: What is one thing you want to do before you graduate?
ML: It would be really cool to take home first place at the ROTC Ranger Challenge Competition, which is like a big physical competition with events for tons of different military skills. We compete against all the ROTC programs in the surrounding states.
HC: Where is the coolest place you have ever traveled? What's your dream destination?
ML: Definitely Africa. It was an awesome experience to be around the Togo military for 30 days. One place that would be really cool to go is Paris.
HC: Okay, now a couple of short questions. What's your go-to pick-up line?
ML: Um, I don't really think I have a go-to pick-up line.
HC: (Laughs) That might be a good thing. Favorite off campus spot?
ML: Chipotle because that's really the only place I go to eat off campus.
HC: Ideal first date?
ML: Maybe I'm kind of boring but I guess just like going to dinner somewhere and then going back home and to watch a movie and hang out.
HC: Favorite workout?
ML: My favorite workout is a CrossFit workout titled "Nasty Girls." It's three rounds of 50 air squats, seven muscle-ups and 10 power cleans.
HC: Where do you see yourself in 10 years? Do you see a plan for the rest of your life?
ML: If everything works out like I want it to, I'll be an officer in the Army Corps of Engineers and hopefully be married.
Name: Colin Sullivan
School: Ole Miss
Hometown: Shalimar, FL
Relationship Status: Single
Major: Criminal Justice
Class Year: Junior
Greek Affiliation: Sigma Chi Fraternity
Favorite Hobbies: ROTC, loving America, playing sports, and reading William Faulkner.
Colin has a great heart and he's one of the best friends you could ever have. His determination to be an officer in the army is admirable, yet he can break from the seriousness and be silly and always make you laugh. Most importantly, Colin loves Ole Miss so much and is a sweet Southern gentleman. 
Name: Max Fowler
School: South Carolina
Year and Major: Freshman, Excercise Science
Hometown: Lugoff-Elgin
Relationship Status: Single

Activities: Playing the Guitar, Writing Songs, Winning, Making Films, Running, Lifting Weights.
Favorite Part of Columbia: Five Points, where he can often be found at the Village Idiot(even on Monday nights ladies).
Hogwarts House: Gryffindor
Food: Grouchos's STP Dipper
Desireable Traits in females: Sense of humor and a great smile.
Desired Celebrity: Jessica Alba
Why Max is our Campus Cutie:
This freshman stole our hearts after performing his original songs at the campus Starbucks and when we found out he balanced his ROTC duties while pledging Sig Ep this Columbia Hall resident proved to not just be a pretty face but the All-American we unrealistically dream of.
Name: Marquis Moore
School: Bowie
 
Year: Junior
 
Major: Communications
 
Hometown: Fort Bragg, NC
 
Relationship status: Single
Likes:Music, people, traveling, running
Dislikes:Dairy products, haters
 
Favorite spot on campus:CMRC
 
What's the best thing about living in Maryland?The city life
 
What campus activities are you involved in?SGA, ROTC, Iota Phi Theta Fraternity, Inc.
 
Who is your celebrity crush? Robyn Rihanna Fenty
 
What's your idea of a perfect date?Long walk on a beach, candle light dinner, deep conversations
 
What do you look for in a girl?Fair skinned, athletic, smart, goal oriented, natural hair, and beautiful
Name: Ryan O'Leary
School: Vermont
Year: Junior
Orignally from: Millbury, MA
Major: Nursing
Relationship Status: Single
College Life
What are your favorite courses you've taken at UVM?
Any class with Whitfield for history, or Stuart Whitney for nursing.
What is your campus involvement?
Army ROTC and undergraduate student leadership council for the College of Nursing and Health Sciences.

If you could choose another major, what would you chose?
Athletic training
Best study spot?
The lantern in the Lofts, or Bailey/Howe 2nd floor.
Weirdest thing you've encountered at UVM?
The amount of people who walk barefoot to class regardless of weather.
What is your dream job?
I would love to work in pediatric oncology.
Favorite things to do on the weekends?
Go downtown with friends, grab some food, and maybe see a movie.
Favorite Movie?
Tough question… Gladiator and Last of the Mohicans.
Favorite TV Show?
Wish Prison Break was still on!
Boxers or briefs?
Boxers.
Biggest pet peeve?
Smoking- very unattractive.
What are your plans for the summer?

I'll be in Washington state for army training for 2 months, then I'll come back to school a week or so early to relax.
What is one strange thing about yourself that most people would never guess?
I've never been to a concert… definitely want to this summer though. Country most likely.
If you were a Ben and Jerry's flavor, what would you be and why?
I don't know that many flavors, but I LOVE chocolate chip cookie dough.
You're stranded on a desert island, and can only bring 3 items... What do you bring?
A kayak, fishing rod, and guitar.
Girliest movie you've ever watched?
If you haven't seen The Notebook or How to Lose a Guy in Ten Days, you're lying or haven't had a girlfriend.
If you could have one superpower what would it be?
Flying would be sick.
Love Life
Favorite pick-up line?
I kind of let things happen, I don't use lines. I just like to have a good time! If I can make her laugh, I'm happy.
What would be the perfect first date?
Dinner and something fun, like mini golf or go-karts. Having fun and opening up... maybe ice cream after?
If you were serenading a girl, what song would you sing?
If I could sing, or play the guitar… I have no idea
What do guys worry about on the first date?
What is she thinking? How is the date actually going? Is she into me? That kind of stuff.
What is the biggest mistake someone could make on a first date?
Being disrespectful, and/or not being yourself.
What are your feelings towards Tinder?
Heard of it, don't know much about it.
Sweetest thing you've ever done for a girl?
Flowers?
Biggest turn-on?
A girl who likes sports/fitness, movies, and has a sense of humor.
Biggest turn-off?
I don't care how attractive you are, if you smoke then you're not for me; or if you're stuck-up.
Who's your celeb crush?
Mila Kunis, Jennifer Aniston, and Jennifer Lawrence
Any tips for the single kids on campus?
Be yourself.
Now let's hear what some of Ryan's friends have to say about him…
"Saw him come out of the shower once.... Damn."- Matt '14
"Yea, I'd be the jelly to his peanut butter sandwiches"- Jordana '14
"Ryan O'Leary is someone even your grandmother would have a crush on"-  Liz '14
"Freshman year, Ryan and I were going to a party downtown with a bunch of girls, and we were struggling to communicate with words. I resorted to the army hand signals that Ryan taught me, and he instantly knew where to go"- Scott '14p
Name: Rob Costa
School: Tufts
Hometown: Wellesley MA
Class year: 2015
Major: History
Relationship status: Single
Zodiac sign: Leo
Spirit animal:
German Shepard. I'm a huge dog fan, and I had a German Shepard when I was little. They're really well disciplined but also fun loving.
Tufts affiliations:
I play football, I'm a brother at DU, and I do army ROTC.
Best thing about Tufts:
DU. I love it.
Pet peeve:
Probably someone with bad manners.
Favorite song/band:
I love country music; it's definitely my favorite. Favorite band is tough, probably Luke Bryan or Eric Church.
Favorite holiday and why:
Christmas, because of all the food, friends and family around. And the presents, you can't pass that up.
Proudest accomplishment:
Probably getting an army ROTC scholarship to go here.
Guilty pleasure:
Probably my movie choice—romantic comedies and stuff like that. [My favorite is] probably How to Lose a Guy in 10 Days.
Ideal date:
Nothing too crazy, probably just a nice dinner at a kind of quiet restaurant.
Describe your ideal girl:
Someone who's funny, who doesn't really take themselves too seriously, and someone who just wants to have fun.
Turn ons and turn offs:
Let's start with turn offs. Probably someone who I can't really trust, and someone who is kind of nagging. For turn ons, I guess being spontaneous and adventurous.
Tell me something that only a few people know about you:
A hidden talent would definitely be my dance moves. Not a lot of people have seen them, but they're there.
Why did you rush?
Obviously there's the football thing. A huge portion of my team is on it, and it added another social aspect to Tufts. I've gotten a lot closer with some of the guys.
How do you like living in a frat house?
I like it for the most part. Sometimes it can be a little much when you have 20 guys running around and you have stuff to do. It's a lot of distractions but it definitely evens out because it's also a lot of fun.
Why did you join ROTC? Do you like it?
I've always kind of wanted to be in the army, and I've always wanted to serve my country. My dad was in the army for 31 years too, so it kind of runs in the family. I love it. It's best decision I've ever made.
Name: Jamie Rucinski
School: Franklin and Marshall
Hometown: New York City
Class: 2014
Relationship Status: Single
Activities on campus: Men's squash, orchestra/philharmonia, club ice hockey team, Courtney Adams music scholar, Army ROTC at nearby Millersville
Claim to fame: One of only 3 male flute players on campus. (One of 2 until this year). The few, the proud, the male flutist!
Favorite movie: We Were Soldiers
Favorite spot on campus: Steinman College Center
Where do you see yourself in 10 years?: As an officer in the US Marine Corps probably. But definitely working and maybe starting a family.
Number one thing you look for in your dream girl: I'm going with patience. I'm not difficult, but if a girl can't put up with some minor flaws then she's not truly into me.
Best pick-up line: "Oh, you're leaving?"
Why he's our Campus Cutie: Jamie has a serious commitment to both our country and our campus! Be sure to look for him at the next orchestra concert! 
This week's campus cutie is junior IrajYusufiy.  The European-born stud likes to have a good time with his brothers of Phi Kappa Psi when he isn't busy with ROTC or his responsibilities as president of The Off-Campus Student Organization.  This 20-year-old is even in the National Guard!  The business student still finds a way to make grades a top priority with a packed schedule.  He's single and looking for a girl with a good heart- he would walk miles in the dark to get to the girl he loves!
Name: Iraj Yusufiy
School: TCNJ
Hometown: Lawrenceville, New Jersey
Age: 20
Birthday: May 18, 1992
Relationship status: Single
Major: Business Marketing, Finance minor
Nickname: AJ, or some of my friends in my frat call me "I Rage" because I like to rage
Dream job: Something where I travel a lot, that's why I want to hopefully own my own business one day
Short term goals: Get good grades, good grades are always nice.  I'm going to be doing a leadership course for ROTC; I want to do good in that.
Long term goals: Having a good business, buying a house for my parents, and graduating, graduating would be nice.
Campus organizations: Phi Kappa Psi, ROTC, President of the Off Campus Student Organization
Favorite food: Sushi, either volcano roll or California roll
Favorite movies: Good Will Hunting, Troy, Forrest Gump
Favorite TV shows: Scrubs, Big Bang Theory, Game of Thrones
Quirks: I have to stick a pillow in between my legs at night or else I can't sleep, and I crack my neck a lot
Pet peeves: People that eat with their mouth open, that really gets to me
Role model: My great-grandfather.  My family is what it is today because of him.
Fun fact: I'm in the National Guard
Celebrity crush: Emma Stone especially after the new Spider Man; Jessica Alba, can't go wrong with Jessica Alba, and definitely Mila Kunis
Embarrassing moment: I peed in the middle of the classroom in first grade and I didn't even get in trouble
Proudest moment at TCNJ: Rushing a fraternity, I'm really glad I made that decision
Describe yourself in 5 words: Surprising, responsible, patient, funny every now and then, patriotic
Worst characteristic in a girl: Dishonesty
Worst thing a girl could do on a date: Talk about her ex
Best characteristic in a girl: Being able to hold a good conversation
Ideal first date: Atlantic City or Princeton so you can just enjoy the town
Your ideal crush: Somebody that I can talk to; that I have things in common with but not everything in common; I'm big on brunettes; someone who can look good without makeup on all the time, and someone goodhearted who wants to help other people, and if she's a good dancer that's a plus
Craziest thing you've done for love: In high school before I had a license I walked 5 miles at midnight to a girl's house
Sweetest thing a girl could do for you: Cook for me
Name & Year: Matt Green-Hill, 2015
School: William and Mary
Major: Government
Hometown: Baltimore, Maryland

What is he involved in on campus?
ROTC, Intermural sports, Volunteering
What is he interested in?
Writing Poetry by the fireplace, Listening to what she has to say, Sailing during sunsets, Cooking, Romantic Movies and plays, Going to the gym, Gardening (Planting his seed in gardens.) Deep Conversation, Healing Hearts, Saving lives...etc...etc
Why was he nominated as a Campus Cutie?
"Matt Green-Hill is simply the best! He is kind, sweet, gentle, and funny. He knows how to treat a woman. I must say my experiences with him have been... well.... BREATH TAKING. Ladies I must warn you to lock your hearts away because Mr. Green-Hill is known for stealing them. He loves to listen and has a swagger that is paramount to that of Brandon Eason. His aura takes over the space he is in. I love to look at stars and if you do to then be prepared because his eyes are constellations. Light brown and captivating. I heard that one time he got arrested......The police tried to charge him for being DROP-DEAD-GORGEOUS!....Some say that he's the founder of Tall Dark and Handsome. With a LIBIDINOUS physique that melts girls away, He has more than all the attributes necessary to be campus cutie though they should make another category for him...He is one of a kind....Original...and MMM MMM MMM good!" -Anonymous
Stalk him on Facebook Here
Last plug for this Campus Cutie: "His taste is not of a particular brand but a particular quality one that only his heart can come to appreciate..The mint "condition" of women." -Anonymous
Name:Josh Ernisse
School: Cornell
Year: 2014
Major: Electrical and Computer Engineering
Hometown: Buffalo, NY
Relationship Status: Single
Favorites:
Book: Heart of Darkness by Joseph Conrad
TV Show: Top Gear
Music: alternative, classical, reggae
Food: My dad's homemade pizza
Class at Cornell: Multivariable Calculus (MATH 1920) and Transition to Java (CS 1130)
Quote: "I wish to have no connection with any ship that does not sail fast; for I intend to go in harm's way." - John Paul Jones
This patriotic stud is only a freshman at Cornell, but as a member of NROTC - that's N for Navy and ROTC for Reserve Officers' Training Corps -, he already has the necessary leadership skills and sense of duty to make any man crush-worthy. He joined NROTC because he missed the lifestyle after his dad retired from the Air Force: the commitment to serve his country and defend our freedom has always been a part of Josh's life. But when he's not performing his duties as class leader, doing drills or community service in NROTC, Josh can take you sailing or engage you in a rousing game of lacrosse, soccer, or paintball. According to Jenna* '12, Josh deserves to be this week's Cutie because he is "intelligent, buff, disciplined, responsible and goal oriented! Not to mention he's a fan of being a mile high..." She means that Josh's favorite thing about his naval career is flying fighter jets! Although it might be safer to keep "joining the ROTC mile high club" off of your Big Red Ambition to-do list, do let your heart take a dive for this dedicated Dare Devil!
Fun Facts:
Why NROTC? My dad was Air Force, and when he retired I missed the lifestyle. I also wanted to serve my country by risking my life defending the freedom that we have. I actually applied to Air Force and Navy ROTC, but the Navy offered me full tuition no questions asked. I respected that and took the Navy scholarship.
Proudest Accomplishment: Earning 10% of the total scholarship money awarded at my school while getting into Cornell and NROTC
How do you spend your summers? I spend as much time at my cottage jet skiing/boating on the St. Lawrence as possible. I also have NROTC training for month during the summer, which involves being active duty on a ship or on land learning about how the Navy works.
What do you look for in a girl? Attractive, intelligent, and a good friend.
Best things about Cornell: The location, difficult classes, and the new friends I've made
Which of the 161 Things are you most looking forward to? 17. Go to the Fuertes Observatory on North Campus and gaze at meteor showers
Thoughts on Charlie Sheen? Charlie Sheen is all over the news because he's a celebrity drug addict, while Andrew Wilfahrt 31, Brian Tabada 21, Rudolph Hizon 22, Chauncy Mays 25, are soldiers who gave their lives with no media attention. There are more important people than Charlie Sheen, a lot more.
Career Prospects: Fly fighter jets in the Navy, then retire from the military and fly into space for a private space flight company. 
*Names have been changed.
Name: George Molina
School: Portland
Hometown: Wilsonville, Oregon
Major/Minor: Business
Year: Senior '14
What do you like best about UP?
I like the staff best.  We have good teachers, school is well taken care of, P-Safe knows what they're doing. The staff is outstanding!
What do you have planned for Halloween?
I'm going be with my fellow ROTC cadets and play zombies! That's basically what I'm going to do and I'm pretty excited about it.
If you could only dress up as one thing for the rest of your life, what would it be?
I would dress as James Bond because I would always be classy, and it's also best to over dress for any situation.
What's your idea of a perfect date?
Well, it would start at Disneyland and we'd set out really early in the morning. After that, we'd have a nice seafood dinner, like fresh crab right next to the Pacific Coast. We'd end the night with fireworks and the latest blockbuster movie. This would be the perfect date on the spot!
What about women's fashion confuses you?
Not much really, except Uggs. I think that clothing is meant to accentuate the features of the body and Uggs do the opposite. I understand comfort, but fashionwise, it doesn't bring out anything specific in the woman wearing them compared to another woman wearing them.
Describe yourself in three words.
Motivated, empathetic, leader.
Name: Andrew Heymann
School: Yale
Year: 2015
College: Saybrook
Major: Electrical Engineering and Computer Science
Hometown: Lake Oswego, OR (Outside of Portland)
Meet our Campus Cutie Andrew Heymann- he's your typical modest Yale student- reserved at first, but once you get talking he turns into one of the most impressive people you've met. He's travelled all around the world and after college he will work in Explosive Ordinance Disposal for the Navy, and to top it all off he's a Yale varsity athlete. Even after that impressive resume, he still upholds that he doesn't have any talents, but at least he's unbelievably helpful: when I asked him how to spell his hometown he started by telling me "L-A-K-E..."Read on to hear more about our extremely well-rounded campus cutie!
HC: What activities are you involved with on campus?
AH: The swim team, Naval ROTC, Sig Ep. Those are the major ones. I don't really have time for smaller commitments outside of those, especially with my major.
HC: Do you have any favorites? Are you allowed to pick favorites?
AH: I really like the swim team. They're all favorites, you can't really pick. The things I like about ROTC are not the same as Sig Ep. The kinds of friends that you develop in each one are completely different.
HC: How did you become part of the NROTC?
AH: Its something I've been interested in for a long time. I actually applied to the Naval Academy, got in there, and then chose Yale because there was speculation that the ROTC was going to be reinstated after being removed a long time ago. Based on speculation, and being recruited by the swim team, I choose here. And I don't regret it at all; everyone here says "you made the right decision". The Naval Academy and ROTC programs both produce officers, just ones with very different leadership styles.
HC: What's your favorite part of doing NROTC?
AH: I guess its kind of cool having a job locked up, so I don't have to worry about jobs per se. But I still have to figure out what I want to do, you have to pick where you want to specialize.
HC: What kinds of specialties are there?
AH: So there's, you know, surface (you go on a surface boat), there's aviation. Right now I'm applying for E.O.D., which is explosive ordinance disposal, like Hurt Locker. So that should be really cool, it works really well with my major and with swimming, hopefully I'll get to participate in underwater work. But you get to real-life problem solve under a ton of pressure.  Plus it works in line with robotics, and I get to keep swimming and work out a lot. I'm the worst at a desk job, I could never see myself working in the city.
HC: Do you have a favorite Yale memory so far?
AH: There are definitely things that stick out. I went to Dominatrix last year, which was out of control, I'll never forget that! Also have a lot of good memories with the swim team.
HC: What's the best part about being on the swim team?
AH: Having a bunch of guys that have a common goal is a pretty powerful thing. Every day in practice you're working towards being part of something bigger than just your individual performance. Swimming is pretty physically demanding so knowing that you're not doing it for yourself anymore, but for something bigger than yourself is pretty powerful. I could go in there feeling terrible, but I'll swim fast because I know that it isn't for me, we're trying to put together something bigger here. Its been a burden though, Yale has most wins of any college team in the nation, its hard to live up to.
HC: Embarrassing moments at Yale? Or just in life in general?
AH: I daze off in class a lot and I twitch when I fall asleep. I've knocked computers off of tables, books, I've slammed things. Its embarrassing every single time it happens. It happened just the last day of class- I knocked my computer off the table!
HC: Why are you so exhausted in class?
AH: I'm exhausted all the time. I just never sleep, ever.
HC: I'm the opposite! Favorite place to get food on campus?
AH: This is disgusting, but we go to Main Garden a lot, which is that drug-den looking Asian restaurant across from Alpha Delta. Just me and the rest of the swim team go there all the time. It's disgusting! We only get one thing, General Tso's Chicken, it's the only thing I've ever tried there. Great place to go after a hard practice.
HC: Any secret talents?
AH: No.
HC: What? Nothing?
AH: Swimming [laughs]. I honestly can't think of anything: I can't sing, I can't play guitar, I'm a terrible dancer!
HC: Any vices or guilty pleasures?
AH: I still watch Survivor; it's the only show that I watch. And I wanted to apply this summer, I'm finally old enough, but then realized that I have to go do a Navy thing this summer.
HC: One day you'll do it?
AH: One year, when it's in its, like, 80th season, I'll get around to doing it. I just wanna see behind the scenes. Part of me is convinced that if these guys are starving they just hand them a candy bar or something, I'm sure its shot in Chicago or something.
HC: Best date?
AH: I like eating outside, I really like Kitchen Zinc- good place to go. Anything that involves being outside: walking and talking. I'm not a big movie person because I fall asleep during them.
HC: What are you most looking forward to doing over winter break?
AH: I'm just so excited to see my family. Living far away from home, I don't get to see them a lot. I've got two little brothers who I'm a pretty big mentor to, and I've got my sister, she's a sophomore at Georgetown right now. Just being able to be there for them and see them is really important. Especially because I'm going to the Navy and I'm not going to be able to see them and they're worried about the dangers, so every time I get to see my family, it's extremely important.
HC: If you didn't swim, do NROTC and do Sig Ep, what would you do?
AH: I have no idea, what else is there?! I'd really want to be able to join a dance crew or something, honestly! I think that's so cool. And I'd learn to play guitar. I wanna be in TUIB.
HC: How would your siblings describe you?
AH: They tell my parents that I'm a pretty good mentor and example. They said I set the bar really high, which I feel bad about, but success is defined differently for everyone.
HC: If you weren't going to go into EOD after college what else do you think you'd do?
AH: When I get back, part of me wants to go do something interesting with robots. Another part of me really wants to go do something outdoorsy and adrenaline-filled, like extreme sports, base jumping. As long as I don't have to be in New York.
HC: You have a serious issue with New York?
AH: It's just too fast. There are too many people moving too fast.
HC: If you could meet anyone dead or alive, who would it be?
AH: I would want to meet someone who changed the face of sports, like Muhammad Ali or Michael Jordan or Jesse Owens.
HC: Do you have any signature dance moves at Woads?
AH: No, I'm the worst- that's why I need to go join a dance crew!
HC: What has been your favorite class at Yale so far?
AH: I'm taking this class called Intelligent Robotics, its definitely been the most interesting class, but also the hardest. I'm just trying to pass it right now. We try to define what makes something intelligent, then analyze and create intelligent robotic architectures. 
HC: Do you have any favorite traditions at Yale or with any of the groups that you participate in? 
AH: The night before Ivy Championships, we always meet in the trophy room in the gym and all light candles. We all reflect on the season and also look forward to the meet, its very relaxing, all candlelit, in what I think is the coolest room at Yale.
HC: When are you happiest?
AH: When I have a handle on all of my work. Also when I'm outdoors, I love camping and hiking.
HC: What would be your perfect day?
AH: My favorite mornings are right after you've been camping somewhere and you wake up and make hot cocoa and you pack up the tent. Then just hike out of wherever you are. Then when you get back you go get ice cream and take a shower. And then watch a movie and go to bed. I'm a big fan of camping.
HC: Yale girls are the best because…
AH: Because they can all hold a conversation about something that they are genuinely passionate about, other than what they did on Saturday night. All girls here have something that they're passionate about. 
Name: Walker Owen
School: Alabama
Year: Senior
Major:  Criminal Justice
Relationship status: Single   
Hometown: Mountain Brook
Interests: Friends and working out
An interesting Fact: I've been to the Gettysburg Battlefield in Pennsylvania.
Tuscaloosa Involvement: ROTC, TCB Security
What song on your iPod is currently on repeat? "It's Been a While" by Stained
If people were to give you a superlative, what would it be? Most Likely To Be The Class Clown.
What is something people would be surprised to know about you? I have received the expert marksman badge at basic training for the Army.
What do you look for in a girl? Pretty eyes, pretty smile, athletic and outgoing.
What is the most confusing thing girls do? Well they are always pretty much confusing, but I don't understand why girls wear rain boots on an overcast day, or when it's sprinkling. 
Do you have a favorite pick up line? I don't really use pick up lines.
What is your idea of a perfect date? I cook her dinner and go for a walk by the river.
Would you rather have them make the first move, or would you make it? Personally, I'd rather them because it shows confidence.
What is your best memory of Alabama/Tuscaloosa and why? All three of Alabama's national championships. I was so glad that I could be attending the University during all three.
If you could only bring 3 things on a deserted island, what would they be? Water, a lady friend and a fishing rod.
Name: Jacques Poirier
School: Indiana U
Year: Sophomore
Age: 20
Single?  Oui
Major: International Studies with a minor in Business
Hometown: Bloomington
Describe yourself in three words: Sweet, Confident, Athletic
HCIU: How do you feel about being a Campus Cutie?
Jacques Porier: I am honored to be approached with this title.
HCIU: What are you involved in on campus?
JP: Captain of little 500 team, Army ROTC, my fraternatiy Phi Kappa Tau
HCIU: Best thing about IU?
JP: Little 500 race, I participate in it every year.
HCIU: What did you want to be when you were little?
JP: When I was seven years old, I wanted to be a Navy Seal.
HCIU: First thing you notice in a girl?
JP: Lips
HCIU: What are your hobbies?
JP: Scubadiving, rockclimbing, mountain biking, martial arts, alpine skiing
HCIU: Goals for the future?
Jacques: I hope to graduate at 22 and become a lieutenant in the Army. After I'll possibly move into contracting and foreign international advising.
HCIU: What are the three things you look for in a girl?
JP: Sincere, Beautiful, Intelligent
HCIU: What's an unknown fact about you?
JP: I am a strong supporting of helping those in need.
HCIU: Favorite music group?
JP: Deekline and Wizard
HCIU: Favorite movie?
JP: Man on Fire
HCIU: Biggest turn-off in a girl?
JP: Yellow teeth and excessive flirtation
HCIU: Best pick-up line?
JP: I don't use pick-up lines, instead I'd rather just approach a girl and be honest and tell her what I think.
HCIU: Celebrity Crush?
JP: Mila Kunis
HCIU: Do you have a man crush?
JP: Yes, Denzel Washington
HCIU: Most romantic thing you've ever done for a girl?
JP: I pulled flowers out of Dunn Meadow and delivered them to a girl.
HCIU: What is something people might not know about you?
JP: I don't have same stereotypical college guy mentality when approaching women, I like to know who I'm talking to.
HCIU: Who in your life do you look up to?
JP: My cousin in the Army has been a role model to me for most of my life. He has defined his own life in a positive light through his morals and beliefs.
HCIU: Do you have a life motto or words to live by?
JP: One man's motivation and determination can define his nation
Name: Zachary Van Meter
School: UNL
Year: Sophomore
Hometown: Hastings, NE
Major: Microbiology
Relationship Status: Single
Campus Involvement/Activities: FOCUS, ROTC, Intermural Flag Football

HC: What are some of your hobbies and interests?
Zach: Well this is gonna sound pretty vague, but…. hang out with friends, miles, pile crawl with pole vault friends, just anything that seems fun at the time.
HC: What qualities do you look for in a girl?
Zach: Confidence, I mean if a girl doesn't have confidence it makes it really hard to approach them. Obviously coming from the army I tend to look for someone who is trustworthy, if I can't trust someone it is impossible to be with them. And quirky, they have to have a good personality. If they aren't funny, you know, it's hard to get along with them. I like random and not boring people. Being spontaneous is ideal.
HC: What's your biggest dream?
Zach: First, to be a father then becoming a dentist.
HC: What pet peeves do you have about females?
Zach: I want a girl that knows she looks good and feels good about it. But if it's too much it can be annoying.
HC: What's your biggest fear?
Zach: To lose another friend in the war and not being a good father.
HC: Halloween is around the corner, do you have a costume?
Zach: If I would have a costume it would probably be Captain America.
HC: Now I must ask, what's your favorite part of being a Husker?
Zach: Oh, football for sure.
Okay, Think Fast!
Celeb Crush: Jessica Alba
Favorite Movie: The Notebook
Biggest Turnoff: People who chew obnoxiously loud
Three Words to Describe Yourself: Funny, courageous, and intelligent
Superpower: Fly 
We've arrived at the worst week here at the University of Michigan: the week after Spring Break. Whether you basked in the sun in Punta Cana or laid on the couch all week at home, coming back to school is always difficult. But the silver lining of this tragic week for some collegiettes is being reunited with your guy.  On the other hand, a lot of girls couldn't bear to be separated from their guys. Spring Break is a grey area in college life; it's universally known as a week of total insanity, a week that can break or make couples. For some perspective on this beloved week, we turn to our Campus Cutie.
Name: Steven Ball
School: University of Michigan
Major: Industrial & Operations Engineering
Interests: ROTC, snowboarding, kayaking
Relationship Status: In a relationship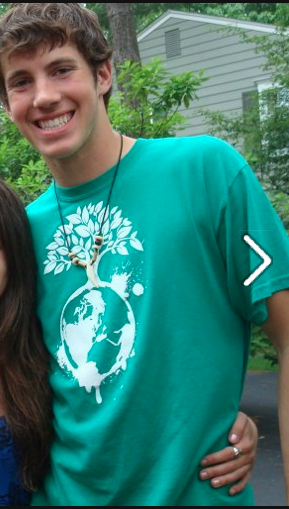 Should couple always go on Spring Break together? What are the pros/cons?
No, not always. Pros of going on spring break together are having the chance for a change of pace from your weekly routine, which is a good thing, and also the chance to create some really fun memories. The big con of going on spring break together is getting an overdose of that person and/or fights, which of course can be fueled by the excess of drinking, partying, etc. Another issue would be each others' friends: which set of friends do you go on the trip with, the girl's or the guy's, and who gets stuck being the one who looks like they can't be apart from their significant other for more than 5 minutes.
 
What ways do you reassure your girl when you two are apart? 
Communication is the key for any kind of trying time in a relationship. In terms of spring break time, your girlfriend is going to be in a new place, with a lot of new people, with a lot of booze and partying (most likely), so stay in contact. Show that you care, but don't be overbearing, e.g., "How are you doing?" instead of "What are you doing?"
What's the best part about going on vacation with your girl?
The best part is getting to do things you've never had the chance to do before together. Going on vacation with her can be a great way to relax and let loose, and you can carry those good feelings back into your normal life once the vacation is over.