I, like most people I know, have always had a special place in my heart for Taylor Swift. From when she was a wild-haired country girl to now, when she's transformed into a bold feminist with a cropped cut and winged liner for days. However, no matter how much time has passed and how she looks, T-Swift has always been about positivity and being downright nice. 
Getting the Look
The first step I took towards living like Taylor for a week was taking a page out of her book in the wardrobe department. I decided to take 1989-esque polaroids of accessories and outfits I wore during the week that were inspired by things she wore.
I ended up wearing hats almost every day, which was something I've never felt confident enough to do. From beanies to berets to brimmed hats, I tried them all and have gotten used to how I look in them.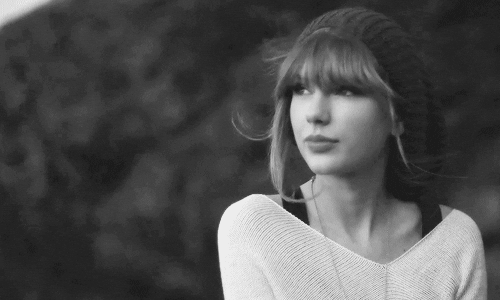 I already like to dress in lots of layers with sweaters and scarves, so that was something that I didn't have to change during the week. It was appropriate for the winter, and I felt like I was hiding under cozy blankets during the day, which is always a bonus.
I usually stick to my same pair of combat boots or moccasins, but this past week I went with tall black leather boots and suede Chelsea boots. I felt a lot taller with the 3-inch heels, which sometimes made me uncomfortable, but that's all part of the T-Swift package!
Another part of nailing Taylor's look is the classic winged eyeliner and red lipstick. I'm used to doing a simple wing everyday, but that's about as far as I go. The first few days of wearing a bold lip like Taylor was super weird, and definitely took some practice to eat and drink with, but I feel like any girl can rock a bold lip with some confidence.
Lucky Number 13
If you know Taylor Swift, you know that she believes in luck when it comes to the number 13. I'm not as superstitious, but I decided to take on this idea and write "13" on my arm like Taylor does to carry some luck with her.
Whether it was the lucky number or just a coincidence, the week was a successful one for me! Although, it could have been because I was striving to be as cheerful and kind as T-Swift the whole week, I had a lot of great things happen to me and nothing seemed to rain on my parade.
Cat Obsession
Before I was trying to be the ray of sunshine that is Taylor Swift, I was already a bit of a crazy cat lady when it came to my own two cats. It was very easy for me to show the love for my feline friends like she does on social media and IRL. 
Letting the Haters Hate
A big part of Taylor's personality is her ability to let the haters hate and to do whatever she wants to (like dancing her heart out at award shows). I admire this about her, and it was a little hard to bring myself to try this harder part of the week-long task, but I was up for the challenge. 
I figured the best way to approach this was to just simply do whatever I wanted and not filter my actions by considering what other people would think. Whenever I went out in public, if there was a song on in the store I liked, I would hum along and dance. If I saw a girl with a cute sweater on, I went up to her and told her I thought it was adorable. If I wanted to wear my t-shirt with the lame pun on it, I did without a second thought. It was an eye-opening experience and it taught me that not worrying about embarrassing yourself makes you an approachable and fun person!
Overall, the biggest challenge that came up during my week of living how Taylor Swift would wasn't picking out the quirkiest sweater or scrubbing "13" off my arm every night. It was stretching out of my comfort zone and trying to become someone who knows who she is and doesn't constantly base decisions off of others' opinions. That way of life is something that Taylor promotes everyday, and it's a great characteristic that everyone should be inspired by. 
So, thank you, Taylor, for being a good role model and trying to get us all to live a carefree life full of happiness, cats, bold makeup, and warm hats.
If we all tried living like Taylor Swift, even just by shaking off the haters, I think we'd all be a lot happier. It worked for me—are you up for the challenge, collegiettes?