December is a time for making resolutions and looking ahead with optimism. It's also a good time to relax. So with those two ideas in mind, we propose that you plan your relaxation for 2016 over the coming holiday season, and we'd like to suggest that you start with the king of entertainment, the movies. Here's a guide to what fun you can expect on the silver screen in the new year.  
1. Pride and Prejudice and Zombies
What a title! This upcoming film offers a modern twist on the early 19th century classic, "Pride and Prejudice" by Jane Austen. The concept for this film was taken from the book of the same name written by Seth-Grahame Smith, which is a parody of the original. The big difference: there are zombies galore in this version. Plus, it's safe to say that there will be plenty of badass women absolutely killing it, no pun intended!
2. Zoolander 2
Derek Zoolander (Ben Stiller) and Hansel (Owen Wilson) return in this comedy to continue modeling... but things don't go as planned after a rival company tries to put an end to their careers for good. If you've seen the the first film in this series, you'll definitely want to catch this sequel when it comes out in early February!
3. How to Be Single
Shout out to all the single ladies... this one's for you! No hate against those in relationships though, we promise you'll enjoy this one too. Based on the book of the same name by Liz Tullicco, this modern tale features young people trying to navigate finding relationships in New York City, the city of love. Starring Rebel Wilson and Dakota Johnson (coming off of her success with Fifty Shades of Grey) we have a feeling this film won't disappoint in the comedy department.
4. The Divergent Series: Allegiant
In the third installment of the Divergent trilogy, Beatrice "Tris" Prior (Shailene Woodley) and Tobias "Four" Eaton (Theo James) attempt to survey what remains outside of the fence in Chicago, with great trepidation.
Bonus: Heartthrobs Theo James and Ansel Elgort will both be returning to play their respective roles.
5. Batman v. Superman: Dawn of Justice
In this follow-up to 2013's Man of Steel, Batman and Superman will be joining forces to combat crime as another threat emerges. While Henry Cavill will reprise his role as Superman, Ben Affleck will be playing the sought-after role of Batman, as announced earlier this year. We'll have to wait and see whether he can fill the shoes left by Christian Bale. Bonus: Gal Gadot will be joining the cast in the iconic role of Wonder Woman.
6. My Big Fat Greek Wedding 2
After waiting nearly twelve years to get confirmation about a possible sequel to the first film, we are finally going to be able to see the follow-up now, two years later. If you haven't seen the first film, you'd best watch it before the sequel comes out in March—it seriously won't disappoint. 
7. The Jungle Book
One of your all-time favorite children's movies is getting adapted to the big screen again, but this time it'll be produced as a feature film. Because it's a live-action film and most of the locations will be computer generated, it seems like it'll do a fantastic job of bringing the world created by Rudyard Kipling, the author of the book, to life on the silver screen.
8. Alice Through the Looking Glass
Adapted from the book Through the Looking Glass by Lewis Caroll, this film is a sequel to the 2010 film Alice in Wonderland, based on the fantasy novel of the same name. Mia Wasikowska, Johnny Depp, and Helena Bonham Carter will return for their respective roles as Alice, the Mad Hatter, and the evil White Queen.
9. Finding Dory
This animated film will definitely be a huge hit at theaters next summer! It's a spin-off of the hugely popular movie Finding Nemo, which we were introduced to in 2003. The difference is that it will be told from the perspective of Dory, and will follow her as she goes on a journey to be reunited with her family. Although it has been over ten years since the release of the first film, the events in this film will pick up a year or so after what occurred at the end of the first one. Bonus: Ellen Degeneres will return to voice Dory as will Albert Brooks, voicing the character of Marlin.
10. Ghostbusters
In this reboot of the Ghostbuster franchise, funny ladies Kristen Wiig, Melissa McCarthy, Kate Mckinnon, and Leslie Jones battle ghosts after they invade Manhattan. What could be better than seeing actresses like these who are at the top of their game kicking (ghost) butt? Nothing, which is why we are so excited to see this remake when it is released over the summer. While the story is framed differently than the original films, it does follow the same concept, so fans of the first two films will definitely catch onto this one quickly despite its modern touch.
11. Suicide Squad
Compared to other superhero films, here we get to witness notorious super villains saving the day, as opposed to their hero counterparts. With an all-star cast of Jared Leto, Will Smith, Margot Robbie, Jai Courtney, and British newcomer Cara Delevingne among others, it'll definitely be one to watch. While it will be a treat to see how the whole cast performs, it will be particularly interesting to see Jared Leto's metamorphosis into the wicked Joker.
12. Fantastic Beasts and Where to Find Them
With the conclusion of the Harry Potter series, fans needed to see another world brought to life by J.K. Rowling in order to make the withdrawal easier, which is where this book comes in. Want to know the best part? This story is, in a sense, a prequel to the Harry Potter saga as it reveals information about magical creatures and their world—all before Harry comes along. Hold tight a little bit longer because the official announcement for the trailer will be released on Dec. 15!
13. Moana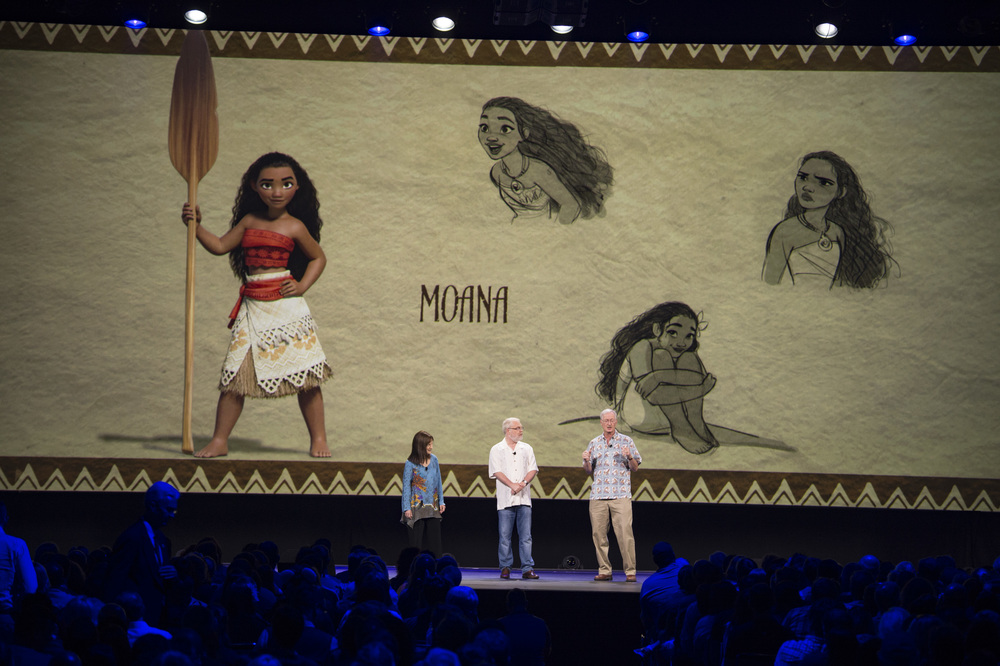 At this year's DP3 Expo, the world was introduced to Moana, the first princess of Polynesian descent to appear in a Walt Disney Company production. In contrast to other Disney films featuring a princess, Moana will have an original plot of its own and won't be adapted from an existing story.
Which film are you most looking forward to seeing, collegiettes?