With a hit show, a super successful movie and an Emmy under her belt, Amy Schumer is one of the busiest women working in the entertainment industry today. But that doesn't make her any less relatable. Here are 15 times Amy was ALL of us.
1. When she made us feel less makeup-challenged
Any girl who can help you out with that tricky smokey eye is a pal for life.
2. When she proved she was just as confused about her relationship status as we are about ours
Seriously, how ARE we single? Then again, how is she single? If Schumer and Bradley Cooper can't make it work, no one can.
3. When she made Kimye extremely uncomfortable and the world cheered her on
That is one brave woman.
4. When she made our sweatpants seem not only wearable but downright luxurious 
Sweatpants = life itself.
5. When she helped us believe that we shouldn't actually feel guilty about our guilty pleasures
And we like Real Housewives, too. Oh, wait…is that not as cool when we say it?
6. When she said aloud the very thought that fills our minds 24/7
We can all agree that doing nothing is the dream, right?
7. When she just chilled on the couch eating noodles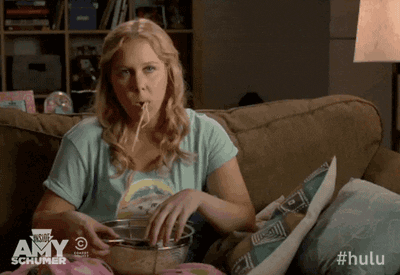 There's honestly no telling what types of old food would come out of our couch if we removed the cushions.
8. When she taught us the importance of pregaming
What? College is all about multitasking.
9. When she admitted that literally no one understands guys
Like, guys don't even understand why they do the things that they do.
10. When contouring tried to take her spirit
Oy vey, what ever happened to a little mascara and some lip gloss?
11. When she explained the magic that is Magic Mike
Only Amy could get away with this joke.
12. When she made the same face we make every time the morning sun assaults us
Been there, sista.
13. When she refused to believe beauty has to be painful
You go, girl! You stand up to that straightener and show it who's boss.
14. When she let loose and danced like no one was watching…
…with the BFF of our dreams, Jennifer Lawrence, no less.
15. When she laid down the law
PREACH.