Adele basically stopped the world when she released "Hello" this past October. The hugely successful single was followed by the release her latest album 25, which (not surprisingly) made music sales history and sold 3.38 million copies in the U.S. in just one week.​ Everybody loves the songstress––her music makes us feel all the feels.
Every single Adele song has this weird way of taking us over, and sometimes even lead us to make bad decisions. Read below for an extensive list of all of the Adele-inspired bad decisions we're guilty of making: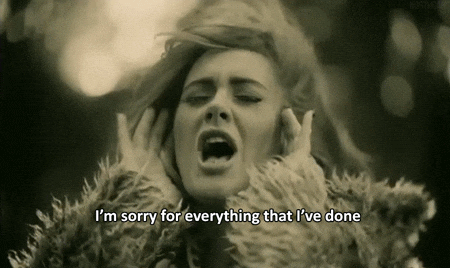 1. Text our ex.
2. Call our ex.
3. Hang out with our ex.
4. Get back together with our ex.
5. Rethink every past relationship we've ever had and where we went wrong.
6. Feel a deep burning sadness inside us.
7. But somehow it feels good, too?
8. Miss somebody we met one time.
9. Miss somebody we don't even know.
10. Use the lyrics to make some emotional Tweets, Facebook statuses and Instagram captions that we'll definitely regret down the road.
11. Cry and cry and cry.
12. Scream out the lyrics at the most inappropriate times.
13. Reclude into our dark bedrooms to analyze every aspect of life.
14. Try to mend all the broken relationships in our lives––even the ones we absolutely shouldn't.
15. Did we mention cry?
16. Wish we gave that one person a second chance. 
17. *Dials old friend* "Hello, it's me..."
18. Feel sentimental about even the most irrelevant moments. 
19. "I should have cherished that milkshake more..." *Bursts into tears*
20. Wonder where it all went wrong...
21. Attempt to write an album about our own age––and fail miserably.
22. Probably cry.
23. Binge listen to every Adele album in existence on repeat.
24. Feel hopeless about ever finding your one true love.
25. Make you think a f**kboy is the one that got away.
26. Contemplate why *insert childhood crush's name here* broke your heart back in fifth grade.
27. Cry.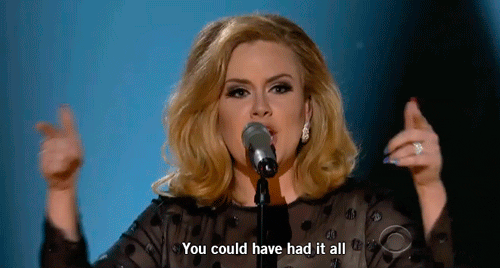 Thank you, Adele. We love you.