The feminism versus fashion debate has been a hot topic of discussion, with many claiming that the concept of fashion is inherently anti-feminist or that you can't be a feminist if you're too into what you're wearing. Well, these brands are defying that notion. Check out these super cool, pro-women brands that show you can absolutely be both a feminist and a fashionista.
1. Thinx Underwear
When you realize there's a company out there selling period-proof underwear (yes, you heard that right), it's really no wonder their entire product line is almost entirely sold out online. Miki Agrawal, her twin sister Radha and their friend Antonia are the geniuses that bring you THINX, a company that sells specially designed underwear that prevents period leaks on your clothes and keeps you totally dry (yes, it is also that company whose advertisements made headlines because they were nearly deemed too inappropriate for the NYC subway). 
The underwear—available in thong ($24), cheeky ($29), sport ($32) and hip hugger ($34) styles—uses patented THINX QuadTECH® technology to create a series of micro-layers on the base of the underwear. The result is a pair of panties with a special lining that combats bacteria, prevents leaks and is completely moisture-wicking. Oh, and did we mention that the underwear alone can hold up to the equivalent of two tampons?
The women behind THINX aren't just helping the 80 percent of American women who claim they experience period-related accidents. They are also working to empower women throughout the world. According to the THINX website, around 100 million girls across the globe do not have access to period supplies and because of that end up missing significant amounts of school. In fact, they state, a staggering 94 percent of Ugandan girls experience period-related issues in regards to their education and many eventually drop out. With their mission of helping to create a sustainable ecosystem for women around the globe, THINX has partnered with, and gives a portion of proceeds to, a Ugandan social business called AFRIpads that employs women to create reusable period supplies.
2. Neon Moon
Neon Moon is a UK-based feminist lingerie brand founded in 2014 and marketed towards women and LGBTQ+ persons of all ages.
The company was founded by 25-year-old Hayat Rachi, a London native who had some serious issues with what she found to be a shameful and objectifying lingerie industry. Rachi created the company in 2014 and it grew significantly after a successful Kickstarter campaign in 2015. The lingerie is designed in London and handmade in the UK.
This brand is totally empowering. It promotes body positivity and has a zero-tolerance attitude towards body shaming, sexualization or objectification of women of any kind. Unlike basically any ad you would see for underwear or bras today, the images for Neon Moon are completely unretouched—and embrace the typically "offensive" parts of the female body, such as body hair and stretch marks. Plus, the brand's models represent a wide array of looks, sizes and backgrounds. The bras and briefs range in price from £20 to £40, but don't worry, they ship internationally!
Neon Moon describes itself as "a safe haven for all to feel confident in their own skin and remain positive when life might seem pressurising and not inclusive," on its Facebook page, and works towards fostering an environment that supports and celebrates those of all races, shapes, sizes and identities who often are excluded from society's ideal of beauty.
3. Title A
English model, actress, singer and now-fashion designer Agyness Deyn released her feminist fashion line Title A last spring along with fellow founders Emily Deyn and Tracy Moore. By the time the first collection was out in fall of 2014, people were totally buzzing about it.
Comprised of boxy silhouettes, simplistic pinstripes and your totally unique, must-have closet staples, much of the minimalist Title A line is menswear-inspired, but many pieces include a feminine twist. Unique business wear collides with floral tees and plain t-shirt dresses as well as mid length dresses reminiscent of '90s fashion. The brand is global and pieces are available online at Net-A-Porter (although not at very collegiette-friendly prices!).
Deyn views her brand as feminist in nature. The line's clothes scream body positivity, embracing femininity and masculinity and empowering women to take on their own unique style.
4. Me and You
BFFs Mayan Toledano and Julia Baylis studied fashion together at Parsons School of Design. From there, a beautiful fashion line (and a beyond beautiful Instagram feed) were born.
Unlike some feminist brands that prefer to stay away from overly girly designs and styles in their products, instead sticking to more basic and neutral looks, Toledano and Baylis have embraced all things girly to the fullest extent. According to their website the brand "celebrates the nostalgia of being a girl" and we can definitely see why. Pictures of unicorns, colorful stickers (official Me and You sticker packs are available on the website!) and plastic beads fill up their Instagram feed while the models celebrating all types of figures and races are shown wearing insanely comfortable-looking sweaters with pink cursive typography for $55, printed t-shirts warning 'Don't touch" for $45 and underwear patterned with lipstick kisses on the front and the word "Feminism" on the back (recently back in stock and just $25!).
Me and You empowers women and encourages us to embrace and celebrate femininity. The brand has a pretty loyal following, and one look at their perfectly curated social media and website will show you why.
5. Wicked Clothes
Described as "a collection of shirts, shoes, sweaters, socks, and stuff from across the 'Net," Wicked Clothes is a small apparel business from Charlotte, North Carolina. Wicked Clothes has (amongst the equally as cool Harry Potter and Star Wars-inspired clothes and accessories) a great selection of pro-women and pro-feminism apparel that can help you make a statement.
With unisex graphic tees with the phrases "If you are neutral in situations of injustice you have chosen the side of the oppressor" and "Feminism is the radical notion that women are people," Wicked Clothes' totally-empowering tees are absolute must-haves. Plus, many of the tees they sell want to start a conversation on the concept of feminism—on their website they say, "Let's talk about that dirty F-word that people like to avoid: 'feminism.' But why? There's nothing wrong with being a feminist! Feminism is founded on a belief of equality, it's as easy as that. Why run from it?"
Our personal favorite look includes the ultra-clever phrase, "A woman's place is in the house and the senate" printed on Wicked Clothes' tees, tanks and sweaters. About 19 percent of the U.S. Congress is comprised of women—Wicked Clothes want us to take a stand and make a statement showing our support for women in politics.
The tees and tanks are priced at $23.99 while the sweaters are $34.99—both perfect gift ideas for your BFF, roomie or sorority sister!
6. Feminist Apparel
Feminist Apparel is a non-profit online store aiming to debunk the myths and misinterpretations surrounding feminism. Feminist Apparel's clothing is for all genders and incorporates images, phrases and graphics—many created by "Feminist Creatives" who submit and get paid for their designs—that the organization hopes will help people start conversations and get thinking about feminism. Their graphic tees are priced at $29.95.
Feminist Apparel experienced significant backlash last year as a campaign using the hashtag #NotBuyingFA began, urging people to refrain from buying from or donating to the company. Many reported being suspicious of the brand, having seen the slogans used on the brand's t-shirts originally used elsewhere. People also expressed that the view that intersectional feminism, defined as the view that women from diverse backgrounds experience oppression in varying configurations and in varying degrees of intensity, wasn't supported by Feminist Apparel—thus suggesting the company (run by a cis, male-identifying white man) doesn't truly get to the root of feminism.
Feminist Apparel continues to produce clothing, and explicitly expresses the view that they "don't claim to be rebranding feminism or offering academic insight into the movement." Here's to hoping they become more inclusive, fast!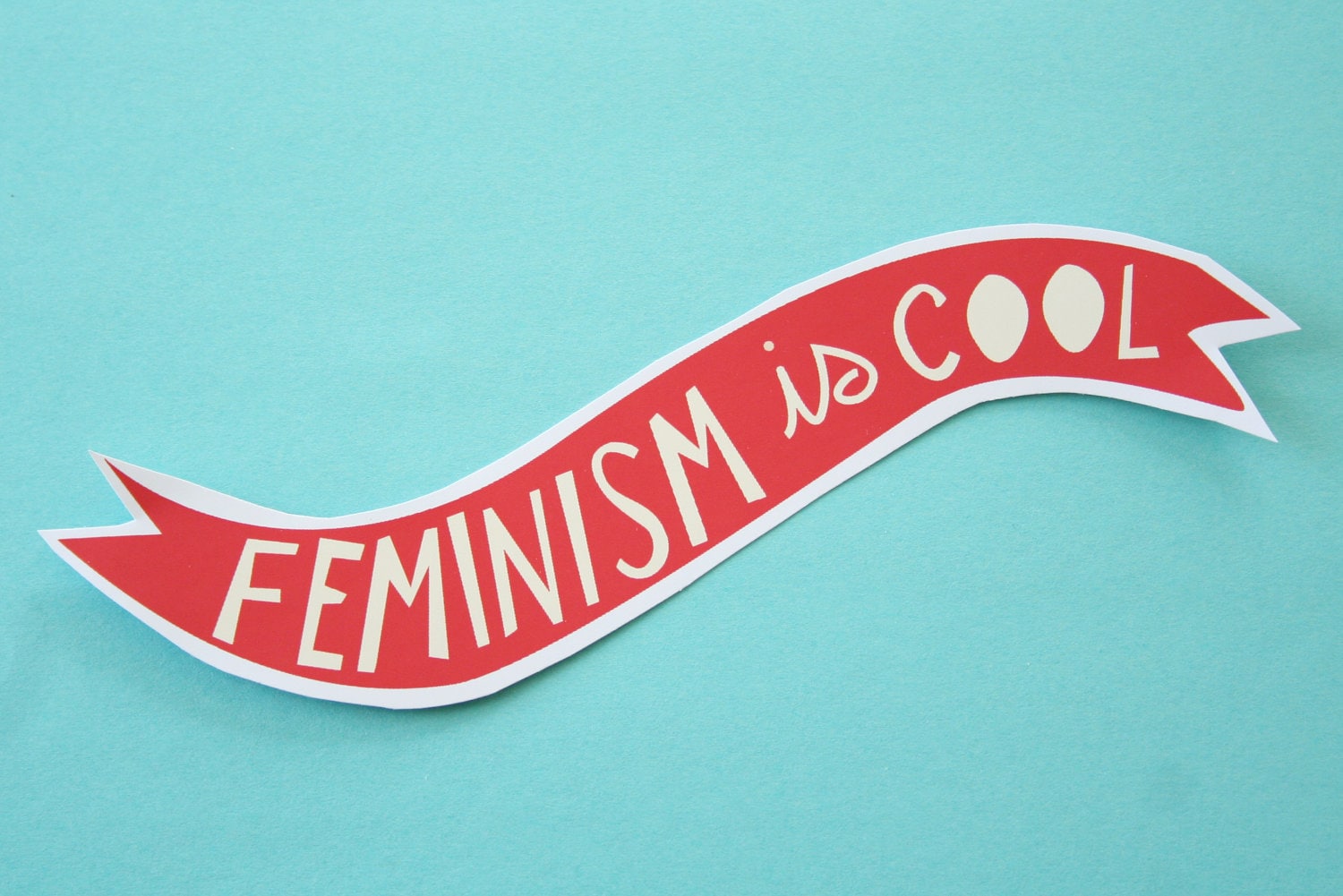 The feminism vs. fashion debate may not be over yet and controversy still exists, but there's one thing that's clear: these empowering brands aren't going anywhere just yet.