Tuesday brought great wins and terrible losses, not to mention some questionable uniform choices. The US women's hockey team had a record-shattering win, Canada's moguls champion Alex Bilodeau took gold (again!) and the Netherlands swept men's speed skating. Between all of this and more, it was definitely a busy and exciting day in Sochi! Keep reading for a complete recap of Tuesday's Winter Olympic headlines. 
USA women's hockey sets record, beats Switzerland
Breaking an Olympic record, the USA women's hockey team scored three goals in just 55 seconds during their match against Switzerland on Monday! The final score of the preliminary round match was 9-0. The team will face archrival Canada on Wednesday in a game that's sure to keep viewers on the edge of their seats. We'll have to wait until later in the Games to see if the team wins a medal.The USA women's hockey team has medaled in every Olympics since 1998.
Olga Graf forgot that she wasn't wearing anything under her uniform
Talk about a plunging neckline! Team Russia's Olga Graf had a major uniform malfunction after completing her run in the women's 3,000-meter speed skating event. Graf told The Associated Press that after the race she wanted to cool down but she forgot that she wasn't wearing anything underneath her uniform. Overheated, she unzipped her suit, though she quickly zipped it back up after realizing her mistake. Graf won bronze for her performance on the ice.
Men's speed skating's timing error, Holland sweeps
The Dutch took gold, silver and bronze at the 500-meter men's speed skating event. Twin brothers Michel Mulder and Ronald Mulder won gold and bronze, respectively. The Mudler brothers are the first set of twins to medal in the same event since the 1984 Summer Olympics. Jan Smeekens, who took silver, thought he won the gold when the scoreboard flashed a "1" next to his name. Smeekens saw this and celebrated. However, Smeekens hadn't won gold; the scoreboard was showing a timing error. When officials quickly changed the board to reflect his second-place standing, Smeekens saw this and cried in dismay.
Charles Hamelin wins men's 1,500-meter short track speed skating 
Sports and romance: a combo everyone can be happy with! After winning the gold at the men's 1,500-meter short track race, Team Canada's Charles Hamelin kissed his girlfriend, Marianne St. Gelais. In the 2010 Winter Olympics, Hamelin and St. Gelais smooched after Hamelin won the 500-meter race. A photograph of the kiss instantly became an iconic image of the Games. The couple claims that this year's kiss was spontaneous. St. Gelais, a speed skater herself, won two silver medals in Vancouver and is also competing in Sochi.
Alex Bilodeau wins another gold medal in men's moguls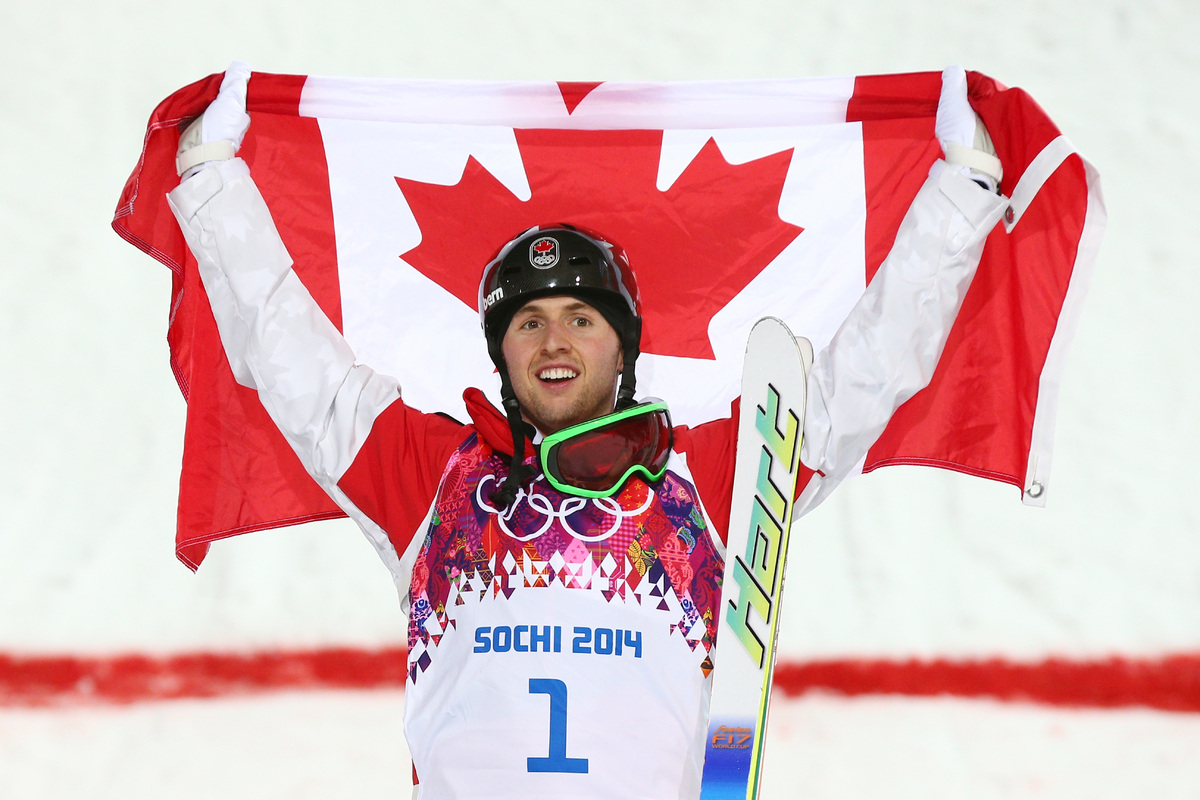 Team Canada's Alex Bilodeau won gold (again!) at the men's moguls final. Bilodeau completed his run with a score of 26.31. Bilodeau won gold for the same event during the Vancouver Olympics in 2010. Bilodeau's Sochi win makes him the first freestyle skiier to win back-to-back gold medals. Canada has been dominating this event. On Saturday, Canadian sisters Justine and Chloe Dufour-Lapointe received gold and silver during the women's moguls.
Julia Mancuso wins bronze medal in skiing super-combined
Team USA's Julia Mancusco took the bronze medal during the women's super-combined slalom event. The win makes Mancusco an Olympic champion; her Olympic medal count has now grown from three to four. She is the first American female alpine skier to win more than two medals. Maria Hoefl-Riesch of Germany took gold. Hoefl-Riesch is a hopeful for the upcoming downhill event. If she wins, she could have four Olympic gold medals to her name, an alpine Olympic record.
Snowboarders think the Olympic halfpipe is dangerous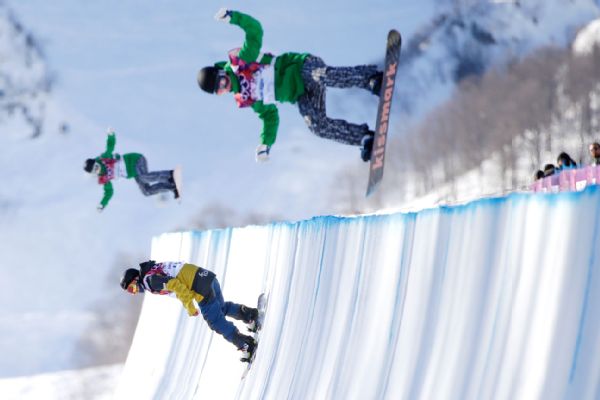 Olympic snowboarders complained that the Sochi halfpipe was dangerous; snowboarders who have been training on the pipe noticed problems with it right away. Athletes said that it was too bumpy and too steep in places that it shouldn't be. Officials tried to fix the halfpipe on Monday afternoon, but Danny Davis, an American snowboarder, told the The Associated Press that conditions were still not ideal. Olympic champion Shaun White will be competing in the halfpipe event on Tuesday for his third gold medal.
Norway versus Russia for most stylish pants

In an unexpected Olympic showdown, we have Russia versus Norway in the competition of who has the most outrageous pants! Norway's men's curling team debuted another wacky pair of pants on Monday at the Ice Cube Curling Center. There, they faced Team USA, ultimately winning. The final score was 7-4, and if this was a best pants competition, they'd probably win that, too. However, Russia might prove to be a serious competitor. The Russian team showed off a crazy red print on their pants on Monday against Great Britain. What's with curling and silly pants?
France wins first gold in men's biathlon
Martin Fourcade won the men's 12.5-kilometer biathlon event, which combines both cross-country skiing and rifle shooting. He finished with a time of 33:48.6. Fourcade took the gold, while fellow Frenchman Jean-Guillaume Beatrix took bronze. The double win officially put France in the medals race. Ondrej Moravec from the Czech Republic was awarded the silver medal.
Johnny Quinn got stuck again.
No one is going to believe this but we just got stuck in an elevator. Ask @BOBSLEDR and @Crippsee who were there... pic.twitter.com/Rwg57CBbUU

— Johnny Quinn (@JohnnyQuinnUSA) February 10, 2014
 This time,  the bobsledder got stuck in an elevator. That's all.
Medal count as of Monday night: top five countries
Canada: three gold, three silver, one bronze = seven total
Netherlands: three gold, two silver, two bronze = seven total
Norway: two gold, one silver, four bronze = seven total
United States: two gold, zero silver, three bronze = five total
Germany: two gold, zero silver, zero bronze = two total
To see a full list of the current medal count, click here.
Which event did you find most exciting? Tell us in the comments below then come back tomorrow for another Sochi Scoop Olympic recap!