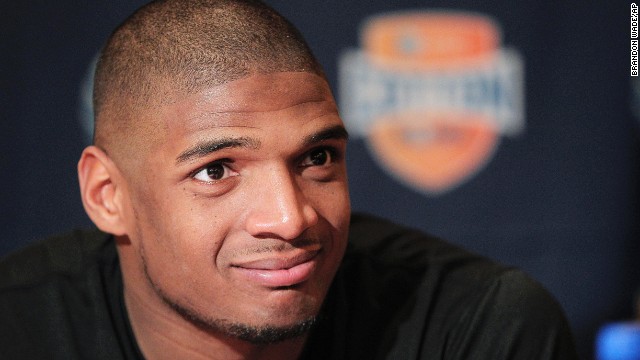 Michael Sam, a University of Missouri football player and top NFL prospect, announced that he is gay in an interview with ESPN on Sunday. Sam would be the first openly gay player in professional football, if his NFL dreams come true.
"I just want to make sure I could tell my story the way I want to tell it," he told The New York Times. "I just want to own my truth." Sam came out to his teammates last August, but chose to keep his sexuality hidden from the public until now. "I was kind of scared, even though they already knew. Just to see their reaction was awesome. They supported me from Day One. I couldn't have better teammates. ... I'm telling you what: I wouldn't have the strength to do this today if I didn't know how much support they'd given me this past semester," he told ESPN.
Sam made the announcement two weeks before the annual NFL scouting combine, and is expected to be drafted to the NFL in May, regardless of his coming out. ""I think, if anything, teams will look at it and see a guy who was honest and upfront instead of waiting until after the draft to potentially make his announcement,"said his agent Joe Barkett.
So far, he has received positive responses from both his coach and the NFL. "We're really happy for Michael that he's made the decision to announce this, and we're proud of him and how he represents Mizzou," said University of Missouri coach Gary Pinkel. "Michael is a great example of just how important it is to be respectful of others, he's taught a lot of people here first-hand that it doesn't matter what your background is, or your personal orientation, we're all on the same team and we all support each other."
The NFL said in a statement on Twitter, ""We admire Michael Sam's honesty and courage. Michael is a football player. Any player with ability and determination can succeed in the N.F.L. We look forward to welcoming and supporting Michael Sam in 2014."