College: the land of late night pizza and unlimited meal plans. While you're super stoked to have an all-you-can-eat buffet every meal, chances are, you'll get sick of the same foods after a while. Having a mini fridge could be your saving grace. However, just because you have three shelves worth of personal food storage, doesn't mean you should stock it with Lunchables and Hot Pockets. Here are our how-tos for stocking a mini fridge—the healthy way.
What to put in your mini fridge:
Produce:
Fruits and vegetables are one of the best things to keep in your mini fridge! Fruit makes a fantastic on-the-go breakfast, a great afternoon snack or a nutritious late night bite when you are staying up to study!
"Cherry tomatoes are always my go-to snack if I need something quick, because they keep long in the fridge, and they're a bit sweet and crunchy!" says Mollie McKinley, a junior at High Point University. Cherry tomatoes, grapes and sliced fruits are space efficient and easily stacked in containers. Apples and oranges have long shelf lives and can be stored for weeks before they expire.
Veggies are also great study snacks, providing you with the energy you need to keep working throughout those late nights in your floor lounge! Collegiettes Iris Goldsztajn, a senior at the University of California, Los Angeles, and Reagan Neviska, a junior at Kenyon College, recommend baby carrots and hummus as a cost effective study snack. "Dips make vegetables a little more 'fun' to eat," says Reagan. Like apples and oranges, carrots and celery also have long shelf lives and can be stored for numerous weeks in your fridge.
If your fridge comes with a freezer, then frozen fruit is also a wonderful option! Frozen fruit does not expire quickly and is a healthy alternative to popsicles. Reagan suggests making ice cream out of bananas in order to enjoy a frozen treat without the calories. If you have access to a blender, blend—or alternatively, mash—bananas and pour them into a bowl or mug. You can enjoy it on its own, or add nuts, granola, fruit or other healthy toppings before freezing. Reagan also recommends adding a bit of milk before freezing to get the consistency you desire.  
Our top picks for produce:
Bell peppers 
Cherry tomatoes
Grapes
Apples
Oranges
Carrots
Celery
Bananas
Edamame
Protein: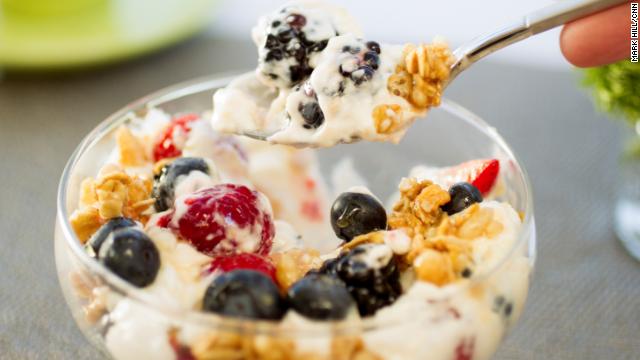 String cheese is a quick and easy way to get protein! Slice it up and eat it with crackers for a delicious snack, or eat it on its own while you're walking to class. String cheese is also very easy to store in your fridge because of its compact size and individually wrapped packaging.
Many collegiettes, including Mollie and Iris, keep their fridges stocked with Greek yogurt, which is an easy way to add healthy protein into your diet. Greek yogurt with granola is a healthy, protein-rich breakfast option that will keep you fuller longer. Additionally, individual packaged yogurt is stackable and does not take up much space in your fridge.
Lunch meat is a great addition to any mini fridge due to its versatility. Roll it up with cheese or keep some bread in your room to make easy sandwiches.  Other options for protein pick-me-ups include peanut or almond butter and edamame. Make a peanut or almond butter sandwich or eat it with apples, and try adding edamame to your lunch meat roll-ups for easy, protein-filled meals. These can be eaten on the go or while studying in your dorm!
Our top picks for protein:
String cheese
Greek yogurt
Lunch meat
Peanut or almond butter
Hummus
Drinks:
While it is important to stay hydrated, you shouldn't bother buying bottled water to keep in your fridge. Most dorms and sorority houses will have a hydration station available to you where you can fill up a reusable water bottle whenever you need to. However, that doesn't mean that you can't use your fridge to store other drinks!
Fruit and vegetable juices are great pick-me-ups and can satisfy a late night craving for a sweet drink. While coffee is delicious, you'll regret drinking it at midnight when you have an 8:00 am class the next day. Natural juice, such as Santa Cruz Organic, Simply Orange or Whole Foods 365 brand juices, can be a late night treat or an early morning drink, without caffeine or added sugars contained in coffee and soda.
Whether it is dairy, soy, almond or coconut, milk is an awesome and healthy addition to any mini fridge. You can drink it on its own, have it with cereal for breakfast, or even use it in your coffee whenever you need a caffeinated pick-me-up!
Coconut water is also a great addition to any mini fridge due to its electrolytes and refreshing taste. Although some people do not like the flavor, it can also come infused with fruit juices, such as peach and pineapple, to make for a very tropical tasting drink.
Many of these drinks are also available in small, portable bottles that are ideal for storing in your mini fridge.
Our top picks for drinks:
Natural fruit and vegetable juice: Santa Cruz Organic, Simply Orange, Whole Foods 365
Milk: dairy, almond, soy or coconut
Coconut water
How to budget your grocery shopping:
So you're on your way home from class and you want to buy a yogurt parfait from the campus market…resist! Unless you're trying to spend all of your dining dollars as fast as you can, you should probably steer clear of doing your grocery shopping at on-campus markets and convenience stores. Instead, check out grocery stores and local farmer's markets! Grocery stores usually have sales each week, and there are coupons for certain products available online.
One way to keep track of what food you have to buy and eat is to create a shopping list and then hang it on your fridge after you get back from the grocery store. This way, you know what snacks you have before you even open your fridge, and it serves as a constant visible reminder to eat your food before it expires! Various apps, such as Wunderlist and Grocery IQ, which are available for iPhone and Android, allow you to keep a digital grocery list that is always at your fingertips.
Costco and Sam's Club are great places to purchase food in bulk. If you or your friends have memberships to either of these stores, you can split the cost (and the groceries) among each of you and store it in each of your fridges to be space and cost efficient.  Trader Joe's has healthy snack options and great prices on produce for collegiettes on a budget and local farmer's markets often offer produce at a lower price than grocery stores.
Additionally, your dining hall is filled with fruit, and most dining halls allow students to take at least one piece of fruit home with them after each meal. Samantha Burke, a senior at Siena College, says, "I take as many ingredients for this stuff from the dining hall as I can!"
Whether you are a freshman or a student living in dorms or a sorority house, use these tips and tricks to your advantage when purchasing products for your mini fridge. At the end of the day, you'll be craving healthy snacks—and you won't have any regrets when eating these late night bites!