After what felt like the longest summer hiatus we've ever experienced, Shondaland is back with a whole new offering of #TGIT television. If you're already a fan of Grey's Anatomy, Scandal, or How to Get Away with Murder—or all three!—you know how excited we are to get this thing rolling. Here's why we've been crying ourselves to sleep, desperately longing for #TGIT to come back into our lives.
1. Our essential weekly drama fix cannot be ignored.
Sure, there was summer TV. But nobody does heart-wrenching drama like Shonda Rhimes and her troop of flawed yet fierce women. We're talking murder, hook-ups and lots of tense moments. It's like going home for Thanksgiving; but it happens once a week, and we're not always scarred on such a personal level.
2. We've got to find out who killed Rebecca.
At the end of How to Get Away with Murder's first season, we thought we could let our guard down. We'd solved Sam's murder, and there was nothing else to hide. Until one-time "hey, we think you killed Lila" suspect/Wes's girlfriend, Rebecca, turned out to be dead, too. Who did it? Annalise? Frank? We guess it's time to rename the show How to Get Away with Murders.
3. Meredith has to find (at least a little) happiness.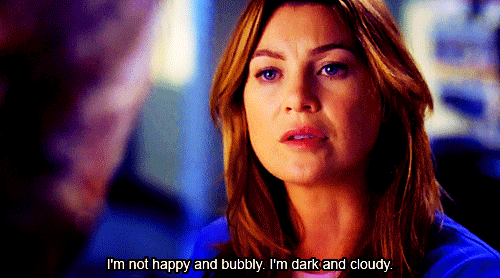 The previous season of Grey's Anatomy put Meredith—and us—through the ringer. So can we see that lighter tone the show's supposed to be trying out this year? Meredith has lost nearly everybody she cares about, but she needs a little happiness in her life. We'll be looking for a more independent and lively—too soon, McDreamy fans?—Meredith in the coming episodes.
4. We have to know what a Fitz and Olivia relationship looks like.
It's happening. Olitz is finally a thing, after four seasons of tumultuous shenanigans. And how can we die happy having never known that this couple actually gave it a go? Maybe we're in for a total disaster. But we're certain it'll be compelling to watch play out.
5. We miss our female powerhouses.
Tell us you've never summoned your inner Olivia Pope, and we're calling you a liar. Strong female characters like these ladies were lacking for so long on network television, and we could definitely still use more. But thanks to Shondaland we can add Annalise, Olivia and Meredith to the list of complex, tough women occupying our TV screens.
6. We need something to do on Thursday nights.
At last, our excuse to be glued to the couch for a full three hours while consuming copious amounts of wine has returned! Need we say more?
Will you be joining in on the #TGIT action, collegiettes?