Reese Witherspoon teased all of Twitter on Thursday by posting a photo of herself with a Walt Disney guest pass. Accompanying the pic was a not-so-subtle nod to her secret project with the studio.
Working on a #SecretProject..... Can't wait to share it with y'all.... pic.twitter.com/ZBxO6sGY9k

— Reese Witherspoon (@RWitherspoon) September 3, 2015
So being the HUGE Disney fans that we are, we brainstormed 7 things we think (or rather, hope!) her collaboration could be.
1. Tink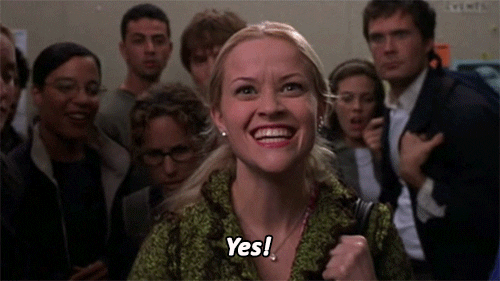 This is the most probable option. Reese was reportedly attached to the upcoming live action Peter Pan offshoot. But if that is the project she's referring to, it's one of the worst kept secrets in Hollywood.
2. A Marvel movie of some sort
Make this woman a superhero already! We can so imagine Reese stepping in to save the world with the Avengers scattered and turmoil brewing. Plus, Marvel has long been criticized for its lack of female-driven films. They'll need a celebrity powerhouse to carry it to success and solidify that girls can kick butt, too.
3. The voice of a new Disney princess, perhaps
No doubt, Reese is princess material. We know she's got the pipes and the perky persona to be Disney's next can't-help-but-love-her royal. Moana is already on the books, and given the points that the studio earned for her Polynesian heritage, it's unlikely they'd whitewash her voice. But we also have a feeling the next princess is in development as we speculate.
4. A role in Alice Through the Looking Glass
Could Reese be playing a top-secret part in the Alice in Wonderland sequel? She seems to be a perfect fit for that wondrous world, and there are plenty of quirky characters for her to play. And since the major parts have already been cast, they could be creating one just for her.
5. Portraying one of Pixar's fearless females
We've loved seeing strong women like Amy Poehler, Mindy Kaling, and Ellen DeGeneres voice Pixar characters. Reese could be attached to a Pixar project that hasn't even been announced yet, and you're not really somebody until you've been computer-animated, right?
6. A Legally Blonde + Disney Channel mash-up
Sure, Elle Woods was old enough to go to law school, but she could totally inspire today's youth in her own Disney Channel series. Reese's production company might be overseeing this Legally Blonde reboot for Disney, and her mini-me daughter Ava could definitely play her mom's character!
7. An original project that we'd never guess
It's also completely plausible that Reese is working on something original that has nothing to do with her past work or Disney's track record. That's why we'll just have to keep our eyes peeled for more clues.
What do you think Reese's not-so-secret Disney project could be, collegiettes?