Sexual harassment on college campuses is making headlines once again, this time at Old Dominion University. Administrators have suspended the school's chapter of the Sigma Nu fraternity for allegedly hanging offensive, misogynistic banners to "welcome" freshman girls to their orientation. New students were greeted by banners reading "Freshman Daughter Drop Off," "Go Ahead and Drop Off Mom Too…" and "Rowdy and Fun, Hope Your Baby Girl is Ready for a Good Time." ...Just what every girl wants to see when she's coming to a new and entirely unfamiliar place on her own for the first time.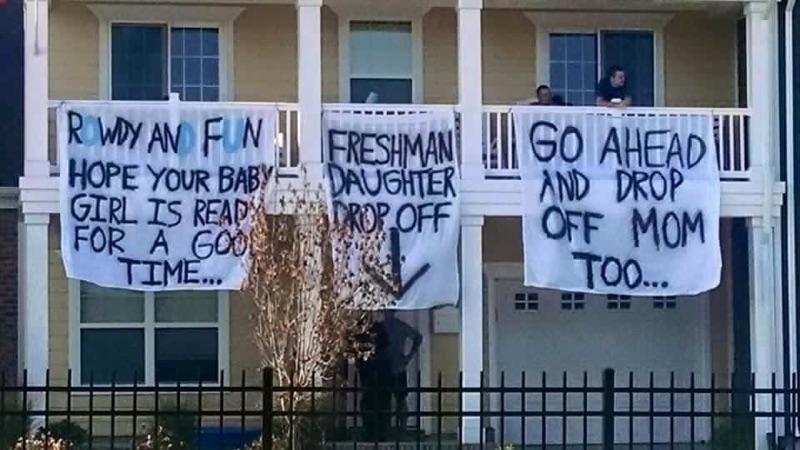 After other ODU students expressed their disgust and protested the banners on social media, administrators had them removed and are now investigating the incident. University President, John R. Broderick, then released a statement. "There is zero tolerance on this campus for sexual assault and sexual harassment," he said. "This incident will be reviewed immediately by those on campus empowered to do so. Any student found to have violated the code of conduct will be subject to disciplinary action." In the statement, he recalled that one female student he talked to seriously thought about going home after seeing the banners. Instead, though, she took pride in seeing her fellow ODU students protest the action of one small group that "did not reflect the Old Dominion she has come to love."
In response to the banners, student leaders at ODU created a video reinforcing their commitment to ending sexual harassment on campus. "While we constantly educate students, faculty and staff about sexual assault and sexual harassment, this incident confirms our collective efforts are still failing to register with some," Broderick also said. It's true--we have a long way to go before we eradicate the ever-present issue of rape culture on campus. But at the very least, it's heartening to see so many students committed to continuing the fight.