New beauty trends are exciting to follow—we've done every smoky eye there is, have already mastered contouring and have been trying our hand at strobing. But every now and then, there comes a trend that has us raising a (perfectly groomed) brow.
The world has long been fascinated by Kylie Jenner's over-drawn lips, and many have gone to many lengths to achieve the look, whether it be through some strategically-placed lip liner... or via that pretty painful-looking Kylie Jenner Lip Challenge that took social media by storm earlier this year. Apparently, neither option has sufficed; now, those striving for a fuller lip are spending thousands to have them tattooed on. Yep.
So, what are lip liner tattoos? They're precisely outlined lips, created with a light pink ink injected with a needle. The look should last up to ten years, and the procedure is actually offered at most of the same salons that also do tattooed eyebrows. Though these tattoos are totally safe, it only outlines the lips, which means if the color isn't an exact match to your natural color, you'll need to apply and reapply lipstick all day, every day.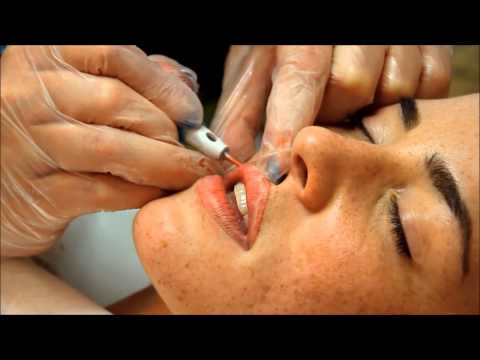 We're obviously not surprised that the Jenner sisters have inspired many a beauty trend as of late—but this phenomenon might have gone just a step too far.