That special day always comes up quickly after the holidays, and you may be stressing about what to get your man. If he's a fresh love interest, what kind of Valentine's Day present should you steer clear of so you don't do too much too soon? But how do you make sure you don't play it too safe and you end up appearing uncaring and indifferent toward the relationship? You're frantically trying to figure out what you're apparently expected to already know, and you're on the verge of a pink-and-red-themed meltdown. Don't sweat it; we have all the answers right here for you.
If You've Been Official for…
…One Week: Make Him a DIY Box of Candy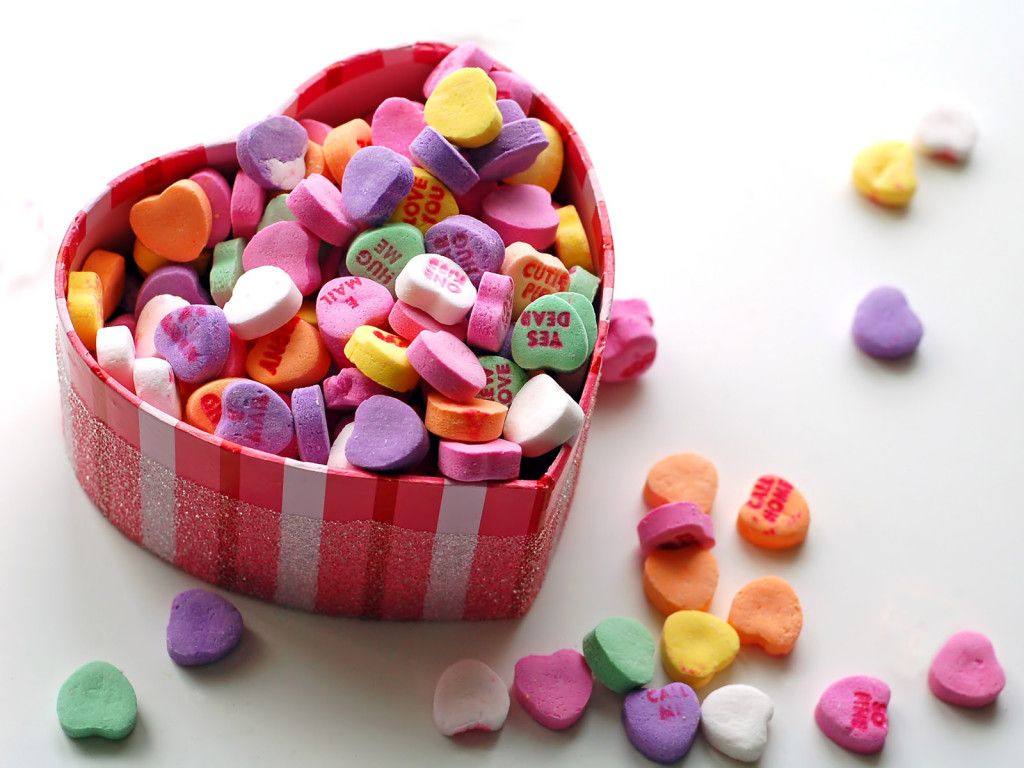 You can't go wrong with a small box of candy. It shows that you care, but you're not overbearing. If you don't want go for the typical candy hearts, buy your own candy mix (be sure to ask him what his favorite type of candy is in advance) and place them in a small, heart-shaped box or a plastic bag with a red ribbon tie. It's best to keep it simple for a new relationship.
Cute note to top it off: "Happy Valentine's Day! I hope this makes your day a little sweeter. J" 
…One Month: Get Him a Coffee Mug Full of Sweet Treats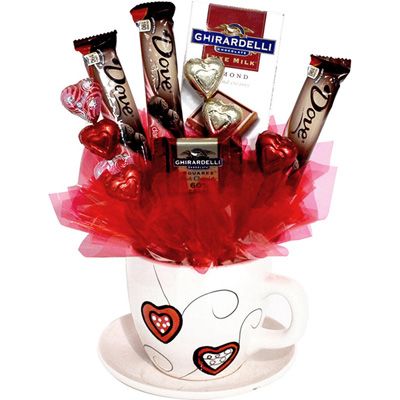 Think of it as the first gift, but a little more elaborate. Get him a coffee mug with a college logo on it (either the one he attends or his favorite college sports team's logo) and fill it with all of the sweets he loves. If he doesn't drink coffee or tea, that's okay; put a couple of packets of hot chocolate in there and a small bag of marshmallows. The mug and sweets make an adorable gift but are far from overkill.
Cute card to top it off: Make a homemade V-Day card for him, and include quirky and cute cartoon drawings. On the inside, write "Happy Valentine's Day! It's been a month and I still think you're awesome. ;) Can't wait to see what else is in store for us!"
…Six Months: Get Him a Picture Frame and Chocolates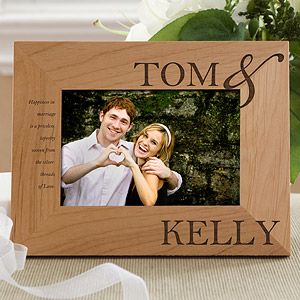 A personalized picture frame is perfect for the six-month mark, because it's sweet but doesn't go overboard. The pic above is an example from PersonalizationMall.com, an website that specializes in personalized gifts. Click "Frames & Canvas Prints" under the Valentine's Day tab to find some cute frames. He'll love the thoughtful present! Grab a box of chocolates to go with your picture frame and you'll be golden.
Sweet card to top it off: After six months, it's okay to go gooey. Get a romantic cards and write something personal and sentimental inside. If you're worried about him melting into a pile of V-Day-induced slop, include an inside joke to get him laughing.
…One Year and Beyond: Make Him aScrapbook, a Homemade CD and His Favorite Dinner
It's been a year, so now you can really amp up the mushiness. This is the total package: First, create a scrapbook that consists of your favorite memories from the past year. Then, make a CD of both of your favorite songs (and FYI, they don't all have to be like the Titanic theme song; include tunes you've belted out in the car together or danced awkwardly to). Lastly, cook him his favorite dinner—after all, the way to a man's heart is through his stomach (true fact). If you need recipe ideas, check out how to cook a romantic Valentine's Day dinner. If he's stuck with you for a year or more, going the extra mile on V-Day is so worth the effort.
Romantic card to top it off: You can go all out here. Buy a pretty, romantic card, and on the inside, describe how much the past year with him has meant to you. Try not to stain it with your sappy tears.
Remember, collegiettes, Valentine's Day doesn't have to be stressful. Oh, and don't forget to add a little splash of you to his gift—after all, it's you he fell for in the first place.