We know we're not the only ones that are obsessed with Chipotle. Sure, that carnitas shortage that happened earlier this year was about as heartbreaking as knowing that guac is extra but we're almost positive we weren't the only ones feeling a little blessed when we woke up today just to find out that there's a chance that we can win free Chipotle burritos for up to a year.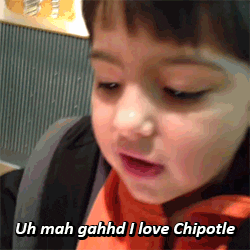 That's right - on July 21, Chipotle is launching an interactive experience called "Friend or Faux," a game in which users and burrito-lovers alike are schooled on the differences between Chipotle's ingredients and those of other fast food restaurants. Anyone who completes the game will receive a special buy-one-get-one-free offer and will be entered into a national sweepstakes. 50 lucky grand prize winners will be drawn from the sweepstakes and will then be awarded (along with a friend) 365 days of free burritos. 100 grand prize winners will receive a Chipotle-catered party for 20 people. 
If, by any chance, you care to know what's in your Chicken McNuggets (or if you could use a Chipotle coupon), feel free to check out the game when it launches on Tuesday.