Madonna may be 65 years old, but she can still shake it.  
While the careers of some artists are short-lived, Madonna is proof that it's possible to have a successful career which spans across decades. The pop singer has been whipping out catchy tunes and controversial moments since the '80s. In an effort to stay relevant with the current music scene, Madge released the music video for her latest song, "B---h I'm Madonna." The video includes neon colors, leopard print, alcohol, and slightly inappropriate dancing—everything you'd expect from a party scene involving the biggest names in the music industry.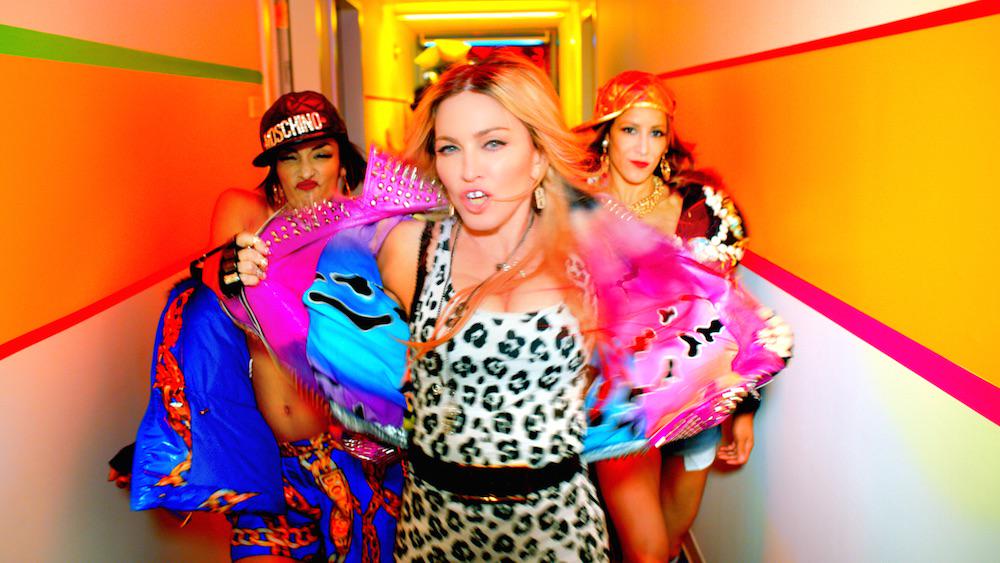 Within the first half of the music video, you can catch cameos from Diplo, Rita Ora, Chris Rock, and Alexander Wang. But that's not all! As Madonna moves through the party, the video cuts to a close-up of a glittery Miley Cyrus, flipping off the camera (classic Miley). Next, you can see Beyoncé striking a pose as if there's nothing to it, followed by Katy Perry showing off a few moves of her own. You can also spot an unusually enthusiastic Kanye West, before Nicki Minaj throws down her rap verse.
While some may be quick to accuse Madonna of trying to top Taylor Swift's "Bad Blood" music video, it seems highly unlikely. Working around the busy schedules of A-list celebs is no easy feat, and the concept for the video was probably developed long before Taylor even dropped her music video. 
To witness the craziness that ensues, check out the video for "B---h I'm Madonna" below!