If you've been hoping to spice up your style, why not incorporate one of the trendiest prints in fashion into your wardrobe? Whether you're an animal-print newbie or a loyal leopard-print enthusiast, this article will give you some new ideas to try.
To learn more about how to work with leopard print, we turned to Colin McDonald, a fashion consultant and the blogger behind Style Source, a style blog that emphasizes the importance of image and confidence in creating your personal style. Being bold with fashion is a fun way to show off your personality, and leopard print is a really chic way to take that next step.
For the Beginners:
Start With a Scarf
Clockwise from top left:
Basic Leopard Infinity Scarf, Windsor, $12.90
White Leopard Print Infinity Scarf, Windsor, $12.90
Scrunchy Leopard Scarf, 2b, $10
Safari Infinity Scarf, DailyLook, $14.99
If you're new to or unsure about wearing leopard print, start small! "I suggest testing the trend out with a scarf or pair of flats first," McDonald says. "Then, if you really like it, splurge on a bag or jacket."
Since winter isn't usually a time for bright colors, incorporating a pop of this bold print in a scarf will help make your outfit stand out in a crowd of neutrals.
"Whether around my neck, in my hair or tied to my purse, scarves are definitely one of my favorite ways to wear leopard print," says Michelle Pieklo, a junior at Messiah College, saying that the print adds some personality to her wardrobe.
Once you've picked out your favorite leopard-print scarf, you can pair it with burgundy or white pants and a neutral top. You can also try pairing it with a cozy sweater dress in a neutral color for the perfect fashionable yet comfy outfit.
If you own a chambray shirt, try wearing it with red pants and a leopard-print scarf to stay comfortable and fashionable.
Paint the Town Leopard
A very basic way to wear leopard print is to bedazzle your fingertips with the stylish print! The ways in which you can incorporate leopard print into your nail art are endless.
Try painting your nails red or a neutral color with a leopard-print accent nail. For a more daring look, try the opposite by painting all of your nails with a leopard-print design, and then adding a red or neutral accent nail. You can also mix it up by adding colors to your leopard-print design, such as blue, purple or pink.
To create your own leopard-print nail art, start off by painting your nails with a base color of your choice. Then, paint irregularly shaped blobs onto your nails in various sizes. Remember that the smaller the blob, the more detailed your design will have to be. After creating the blobs, paint "U" and "C" shapes around the blobs with a darker color, and fill in the empty spaces with little dots and lines in your darker color.
For an easier way to have leopard-print nails, try the Sally Hansen Salon Effects Real Nail Polish Strips in "Kitty, Kitty" for no-fuss nail art.
Mix it With Neutrals
Dress: Topshop, $40
Shoes: Charlotte Russe, $32.50
Belt: Dorothy Perkins, $9
Even though there are a variety of different colors you can wear with leopard print, pairing the print with basic tones works well for leopard newbies. McDonald loves "leopard paired with neutral colors or hues like black, white and khaki," which will ensure your look stays elegant and chic.
To do this, try wearing a top that has small accents of leopard print in it, such as on a pocket or on the sleeves, with a tan skirt or another neutral bottom. You can also wear a fully neutral outfit with a touch of leopard print somewhere, whether it's with a belt, a necklace or a clutch.
For the Adventurous Experts:
Pair Leopard With Red
Dress: MANGO, $21
Shoes: Charlotte Russe, $32.50
Clutch:Charlotte Russe, $18.50
When you rock this timeless, chic duo, you'll be sure to turn heads across campus. Red is a warm color, which McDonald says works best with leopard print. Since both red and leopard print are both bold statement-makers, they're hard to beat when combined.
One way to combine red and leopard print is to sport a fitted red dress with a pair of leopard-print flats or heels for a flawless going-out look. If you want to let the print take center stage, you can reverse this idea by rocking a leopard-print dress with red heels and red lipstick—instant bombshell! A leopard-print top combined with red pants or shorts and neutral shoes also works for the days when you want to stay a bit more casual.
Try Leopard Pants
For the brave collegiette looking to take her style to the next level, go for a more extreme look with leopard-print pants such as these from Forever 21 ($14.80). Since such a large part of your outfit will be dominated by the print, keep the rest of your look simple with neutral colors and gold accessories.
One idea is to wear a loose black top with a simple gold necklace in combination with classic leopard-print pants. If you opt for a pair of colored leopard-print pants, such as ones that include the print but are red or gray, stick with a white top and minimal accessories.
Combine Leopard With Other Prints
If you're feeling bold and ready to experiment, try combining leopard print with a different on-trend print. McDonald recommends pairing leopard print with polka dots, which looks stylish and well put-together.
After you've tried that combination, mix it up with other unique patterns to see what works best with the prints you already own. Some other patterns that work well are floral or chevron designs. Prints that may not work as well are other animal prints, such as zebra or giraffe print, since too much animal print in one outfit can be overwhelming. Color plays into these decisions as well; the colors of your complementing patterns shouldn't clash too much with the leopard print.
Rock a Bold Blazer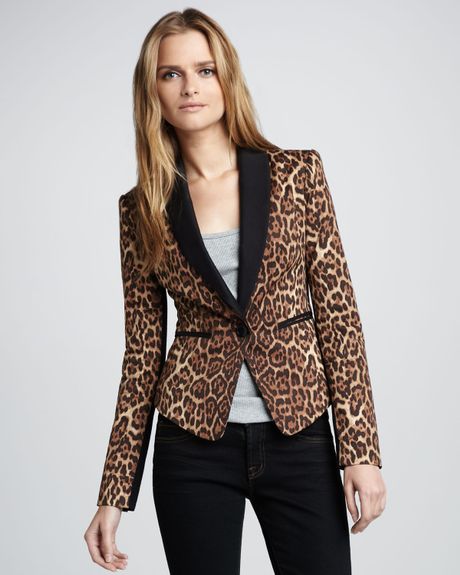 Animal Cheetah Stretch Blazer, Tibi, $168
Tired of the traditional black or neutral-toned blazer? Switch it up with a fitted, leopard-print blazer. The looks you can create with this type of blazer will be sharp and defined.
You can pair this piece with your favorite little black dress and a touch of red for girls' night out. You can also try it with a fitted white blouse and denim or red pants for a look that is still stylish, but a little more casual.
No matter which look you try, try not to go overboard with multiple leopard-print pieces.
"Don't overdo it!" McDonald says. "Accessorize with just one piece throughout your entire look. You don't need a leopard bag with leopard shoes, a scarf and a belt. Think just a pop of leopard. It is a bold print, so have fun with it!"
With so many different ideas to try, you're sure to become a leopard-print lover in no time Which one are you most looking forward to trying? Sound off in the comments below!