It's all fun and games until the super cute bra doesn't come in your size. Oh, your cup size is a triple A? Sorry, out of luck—until now. With these brands below, you don't have to sacrifice a cute design for a well-fitting bra. Check out these great finds:
1. Lula Lu
Small-chested girls everywhere have come to a consensus—Lula Lu has the best array of options for girls without ample assets. Not only does the brand offer cup sizes as small as AAA, they do it in style. Additionally, the site offers a great comprehensive guide of how to fit a bra correctly to help you figure out which size will work for you.
Well, this brand is certainly direct. The mission of the brand is right in the title: to offer an amazing array of bras in smaller sizes. Also, they are committed to finding you the perfect fit; the 30-day exchange/refund policy allows you to really try before you commit.
This brand strives to offer only the best selection for those of us who are proud members of the itty bitty committee. The website offers sizes from AA to B that they promise will not "gap, pucker, or slip."
4. Wacoal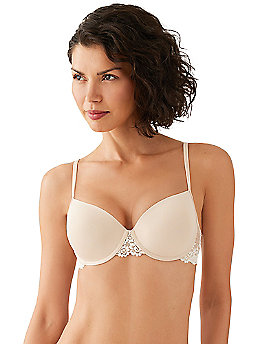 Although not specifically a brand for only small sizes, Wacoal offers an incredibly wide range of bra sizes, in some styles as small as AA. Check out their petite section for the smaller sizes!