Sick of frying your hair with a blow dryer and straightener? Summer calls for carefree days of bouncy, beachy locks. Air-drying your hair is a perfect, natural way to achieve that covetable effortless look! Here are 5 products that can help:
1. Leave-in conditioner
Aussie Scrunch Hair Mousse + Leave in Conditioner ($3.43) is a leave-in/mousse hybrid. It's great for curly hair, giving you a sleek, volumized look.
2. Wet Brush
The Wet Brush ($8.99) is perfect for detangling your wet locks and letting them dry naturally. It won't cause breakage and it's great for every hair type!
3. Sea Salt Spray
Sea salt spray adds some beachy texture to your hair as it flows in the breeze. We like Not Your Mother's Beach Babe Texturizing Sea Salt Spray ($6.19).
3. Ultra Absorbant Towel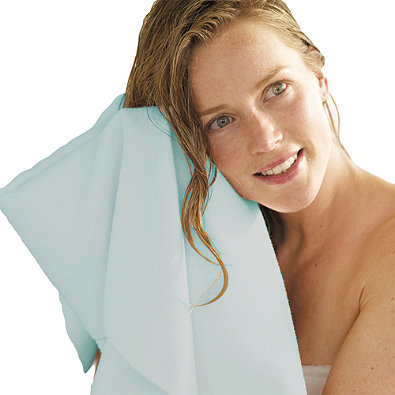 This towel from Aquis ($21.99) is specially designed to dry wet hair. It even comes in an extra long size for long hair!
5. Styling Serum
Finish off your hair by conditioning and nourishing with Kerastase Elixir Ultime ($28). This luxurious formula will lock shine in your hair while keeping it healthy.
How do you air dry your hair, collegiettes?