Remember when we used to come home from school, grab a snack and plant ourselves in front of the TV for hours? Those were the days. Not only did we have basically no responsibilities whatsoever, but we also had the absolute best selection of shows to pick from. Whether it was teen dramas, Disney and Nickelodeon sitcoms or rich-girl reality TV, whatever happened to be playing was perfectly fine with us. Here are our picks for our most missed shows from the 2000s.
1. One Tree Hill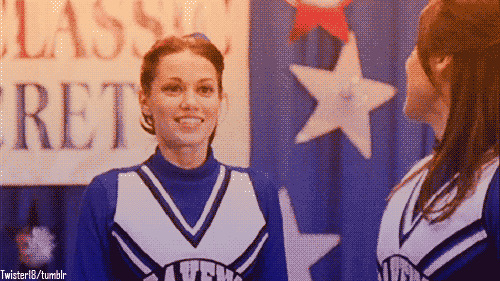 We rarely saw a parent or a sheet of homework on screen, but that still doesn't stop us from loving our favorite small-town high schoolers.
2. Gilmore Girls
Lorelai Gilmore, summing up seven years of perfection for us.
3. Lizzie McGuire
Have we ever related to anyone more in our lives? (Oh, and she DEFINITELY made us want a cartoon version of ourselves.)
4. What I Like About You
And the award for best natural comedic timing EVER goes to: Amanda Bynes.
5. Lost
Is anyone remotely concerned that we spent six years watching a group of people unsuccessfully try to get off an island?
6. Zoey 101
Admit it: You googled PCA to see how you could attend, too.
7. The Hills
Probably the most scripted "reality" show to ever air on TV, but we all still believed it was improvised.
8. Malcolm in the Middle
...Back when we all had crushes on Frankie Muniz.
9. Freaks and Geeks
Adolescent Jason Segel, Linda Cardellini, James Franco AND Seth Rogen. This is a cancellation that will never be forgiven.
10. The Simple Life
The BFFs you loved to hate and hated to love.
11. Drake & Josh
*Something bad happens*
"...MEGAN."
12. My Super Sweet 16
For some reason, watching the brattiest kids in America get all of their dreams come true was so exciting.
13. The O.C.
The modern-day soap opera that made us cry more times than there are episodes.
14. Veronica Mars
Only Veronica could have time to make friends, be in extracurriculars, have a love life AND fight neighborhood crime in time to finish her homework.
15. Unfabulous
Vintage Emma Roberts understood our angst... and our struggles with braces. #neverforget
16. Ned's Declassified School Survival Guide
The only way we made it through middle school.
17. 8 Simple Rules
A.K.A., the most relatable family in sitcom history.