Single ladies, this one's for you! Instead of stressing about your relationship status or watching The Notebook with a box of tissues, make a date with your couch and one (or all) of these feel-good chick flicks this Valentine's Day. 
1. Pretty Woman (1990)
This film has all of the ingredients of a modern-day fairy tale, and we never get tired of watching Julia Roberts get the princess treatment from Richard Gere.  
Memorable quote:  "I want the fairy tale."
2. Easy A (2010)
As the ever-sassy and hilarious Olive Penderghast, Emma Stone reminds us why we love her so much. It's The Scarlet Letter for the 21st century (but, unlike in your English class, you'll actually pay attention this time around!).
Memorable quote: "I want John Cusack holding a boom box outside my window. I wanna ride off on a lawn mower with Patrick Dempsey. I want Jake from Sixteen Candles waiting outside the church for me. I want Judd Nelson thrusting his fist into the air because he knows he got me. Just once I want my life to be like an '80s movie, preferably one with a really awesome musical number for no apparent reason."
3. Clueless (1995)
Clueless isn't just a '90s chick flick; it's the'90s chick flick. Fabulous outfits? Check. Witty dialogue? Check. Adorable, young Paul Rudd? Check. 
Memorable quote: "Searching for a boy in high school is as useless as searching for meaning in a Pauly Shore movie."
4. Breakfast at Tiffany's (1961)
When all else fails, we can always turn to this classic Audrey Hepburn film that makes us want to be a glamorous New York City socialite.  
Memorable quote: "People do fall in love, people do belong to each other, because that's the only chance anybody's got for real happiness."
5. The Princess Diaries (2001)
If only we could all find out that we're secretly the princess of a foreign country! Plus, this film has one of the greatest makeovers of all time.
Memorable quote: "Because you saw me when I was invisible." 
6. 27 Dresses (2008) 
If you've been in love with someone who doesn't know you exist or had to listen to a friend gush about a guy while you're feeling like you're going to be #foreveralone, you can definitely sympathize with Katherine Heigl's character!
Memorable quote: "Get over here."
7. Pitch Perfect (2012)
Everything about the movie is an ultimate mood-booster! It's the perfect blend of funny and heartwarming.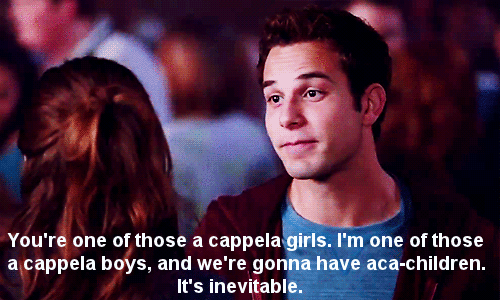 Memorable quote: "Even though some of you are pretty thin, I think that you all have fat hearts."
8. Crazy, Stupid, Love (2011) 
Ryan Gosling. SHIRTLESS Ryan Gosling. Need we say anything else?
Memorable quote: "I will never stop trying, because when you find the one, you never give up."
9. 13 Going on 30 (2004)
It's hard to not want to get up and dance along with Jennifer Garner to "Thriller," and the '80s flashbacks are priceless.
Memorable quote: "Love is a battlefield."
10. She's the Man (2006)
Amanda Bynes kills it as a dude in this hilarious movie, which features a hot, soccer-playing Channing Tatum. Yes, please!
Memorable quote: "Heels are a male invention designed to make a woman's butt look smaller. And to make it harder for them to run away."
11. Bridesmaids (2011) 
With Kristen Wiig, Melissa McCarthy and Maya Rudolph, this movie is guaranteed to have you cracking up from beginning to end.
Memorable quote: "I don't associate with people that blame the world for their problems. Because you're your problem, and you're also your solution."
12. John Tucker Must Die (2006) 
You have to love a movie about three scheming girls getting sweet revenge on the guy who cheated on all of them. And props to Penn Badgley for somehow still looking good while rocking that hairdo!
Memorable quote: "I wish it could be simple, like a retro pop song: 'I want you to want me.' Boom, end of story, we all live happily ever after."
13. Mean Girls (2004) 
No chick flick list would be complete without Mean Girls, our generation's favorite movie to quote. How many times have we watched pre-rehab LiLo take on the Plastics? THE LIMIT DOES NOT EXIST.
Memorable quote: "Calling somebody else fat won't make you any skinnier. Calling someone stupid doesn't make you any smarter."