The clock reads 11:59 p.m. and the 10-second countdown begins.
"Ten!" You look over to the cute guy you've been talking and sitting with all night.
"Nine!" He looks at you.
"Eight!" Your heart flutters as he turns to you.
"Seven… six… five!" "So…" he says quietly.
"Four… three… two… one!" You both lean in very slowly until your lips touch.
"HAPPY NEW YEAR!"
And just like that… the kiss is over. He turns away from you to give his boys a bro fist bump to ring in the New Year. It was so short and not all that memorable, and now you're wishing it never happened in the first place. Was that guy for real?
We've all heard that kissing someone on midnight on New Year's Day will bring you good luck in the relationship department for the upcoming year. However, is the peck to bring dating prosperity worth it at all? Here are a few reasons why it's probably best to opt out of a midnight make-out during the upcoming New Year's festivities!
1. A kiss is just a kiss
A lot of people, including our very own Real Live College Guy Dale Lavine, think that there's no point in a NYE kiss because it's only a kiss! "For me, a kiss is a kiss," says Dale. "Whether it's when I get off work or on Christmas morning or when the clock strikes 12, people should find that kiss as magical as any other kiss, especially if it's with someone they love."
Jasmine Leach, a collegiette at Kean University, agrees with Dale. "If you have been in a relationship for a long time, there is no difference between having a regular kiss with your significant other compared to a New Year's one," she says.
Dale also says that a kiss on New Year's is just as silly as Valentine's Day, saying that you should show your love every day, not just on one day in particular. "Why does this particular kiss represent anything more than your average, everyday kiss should represent?" he said.
He certainly has a point! If you're fortunate enough to have someone to kiss, kissing that person on New Year's Day shouldn't be any different than kissing them on St. Patrick's Day or on a Tuesday in July.
2. It's forgettable
You're out with your friends and enjoying the final hours of the old year to ring in the new one. A few drinks would definitely liven up the party! If you're all poppin' bottles to ring in the New Year, tipsiness is inevitable. If you find that special someone to plant a smooch on, do you really think you'll remember all the details?
New Year's kisses are forgettable, especially if you plan on celebrating with drinks!
All that alcohol in your system during a normal party can make you forget what you've done throughout the night, so the same amount will surely make you forget a midnight kiss that lasts only a few seconds at best. What's the point of getting so excited about something that is sure to be another flash in the pan within a few weeks? Regardless, make sure you don't overdo it with the drinks, though—better safe than sorry!
3. A kiss doesn't lead to anything
You read it here first—New Year's kisses don't really lead to anything. They're just a traditional tease to get all of our hormones in a tizzy!
In some respects, females are like males—we crave much more that kissing. However, when you're at a populated party and making out with a random guy, that's really all you're going to be able to do.
Face it: there are way too many people around for you to get all hot and heavy with your lucky guy, so "getting a room" is off the list. To make matters worse, all that jungle juice in your system will probably bring your friskiness levels to maximum capacity. Ultimate frustration.
Jasmine suggests that kissing someone on NYE can toy with your make-out partner's emotions. "Kissing stirs up feelings of affection and [a] deep connection. Why would you want to just play with someone's feelings for one night?" she says. "What if the person you decide to kiss really likes you? He would probably have his or her heart broken if they find out you just used them."
However, it may be the best thing that New Year's kissing doesn't lead to anything else! There are other opportunities for holiday hook-up sessions, but a populated party is definitely not the place. Taking a step back on New Year's Eve and just enjoying yourself with good company is the way to go.
4. They're awkward
From kissing a random guy you've never met to watching other people kiss, New Year's kisses are awkward for everyone involved. Do you really want that drunk guy from your high school to smooch you at your best friend's party? He's been throwing out some terribly cheesy pick-up lines all night! Do you want to see your ex making out with a random girl at your party? You want to start the New Year off fresh, not being stuck in a totally awkward situation!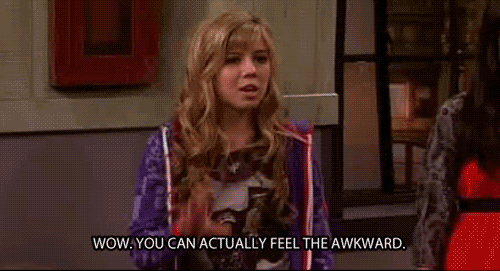 "I would think that the moment would be cute if they're together as a couple," says Danielle Gittleman, a senior at Rider University. "But if they are getting really into it, then yeah, I'd feel kind of weird being there!"
It would be best to deflect the awkward this year by just opting out of a kiss on the mouth and trying something new. Maybe give all of your single friends a kiss on the cheek. It's awkwardness-free and super adorable! You're never alone when you're with friends.
New Year's kisses may be traditional and the idea is pretty adorable, but when you put it all in perspective, they're so overrated. Maybe when the clock strikes midnight on January 1st, 2015, you and your friends can come up with a tradition of your own to do instead. Whether you're spending a night with your beau or you're out with your gal pals living up your single girl swag, don't waste your time worrying about a silly kiss!