We all know you've been searching high and low (and under the bed, in graveyards, and at butcher shops, we presume) for the s-c-c-c-ariest Halloween-inspired shoes this month. Stop! Don't waste your time digging through sketchy piles of garage sale heels—fungus, anyone?—we have you covered. The scariest shoes around? Check 'em out. Don't blame us if you can't turn out your lights tonight.
1. Skull-king Around
Shoes, TOMS, $85
Do some good while getting your BOO! on in these TOMS flats. Okay, these are heavy on the pretty and light on the scary—we're easing you in, we swear.  
2. Phone Home Flats
Flats, Iron Fist, $30
Make all the extraterrestrial friends you could ever want in these out-of-this-world flats. Martians will know you're an ally (victim) upon first glance. Fair warning: if you get sucked up into space, it's not our fault. We assume zero responsibility for acts of abduction from this planet. Sorry, guys. 
3. Hell on Heels
Heels, Hades, $160
The words "heels" and "torture" are most often thrown together around 2 a.m. on a Saturday evening (morning?), but these bad boys give a whole new meaning to the word "pain" in regards to your feet. Literally nobody will cross you when you have these on. Try it and send us your results. We await them with impatience. 
4. Man Eater
Heels, ModCloth, $65
Food is scary, too! Haven't you ever seen Super Size Me? Not only are these shoes a pretty stellar conversation starter, they're also your midnight snack. (As long as they don't eat you, first.)
5. Skele-Ten Toes
Shoes, Funtasma, $30
It's an anatomy lesson and a pair of shoes all in one! How fun! But seriously, who doesn't love a good exposed phalange? 
6. Hoofin' It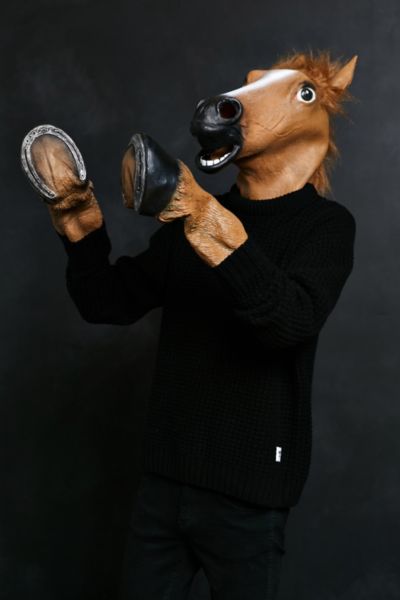 Hooves, Urban Outfitters, $35
FINE! So these aren't technically shoes. But try to tell us that seeing someone walk into a party with these on their limbs wouldn't be absolutely terrifying. Accessorizing with hooves is some next-level ish. Just tell everyone your name is Mr. Tumnus and watch them squirm. Isn't this entertaining? 
7. Don't Fall Now, Pumpkin
Heels, ZooShoo, $33
For a festive flair without diving too far into the gory or distrubing, these pumpkin-hued pumps are perfect for the Halloween season. The scariest part about them is, well, trying not to fall over (at 5.5 inches, we're impressed with you if you can parade gracefully in their care). 
Do you love these horror-inducing heels? Which are your faves?