Most of us know these amazing celeb women for their singing, acting and more. But there is much more to look up to them for, because each of these women has fought and survived breast cancer. They've used their inspiring experiences with this disease to not only spread awareness, but to teach women the importance of early detection. In honor of October being Breast Cancer Awareness Month, we want to highlight the inspiring stories of these women in Hollywood and the efforts they've put toward the fight to end breast cancer.
1. Giuliana Rancic
In 2011, when she was 37 years old, our favorite E! News anchor was diagnosed with an early-stage breast cancer. Her doctors made the discovery while she and her husband Bill were trying to get pregnant through in vitro fertilization. She had a double lumpectomy as treatment for the cancer, and she then made the serious decision to undergo a double mastectomy.
In an interview with the Todayshow during which she revealed her diagnosis, Rancic said, "I wasn't prepared to get a mammogram until I was 40 years old, like I'd been told. I never in my wildest dreams expected anything to be wrong. I think a lot of us think we're invincible. But we have to start putting ourselves on the to-do list. I just want women out there to know if you can just find it early, you'll be okay. I found it early." 
2. Robin Roberts
Good Morning America anchor Robin Roberts was diagnosed with an early-stage breast cancer in 2007. She had surgery, went through eight chemotherapy treatments and then underwent 6 1/2 weeks of radiation treatment. She remains cancer-free today!
In 2011, Roberts spoke to Prevention magazine about her battle with breast cancer. "[Being fit] was part of the reason I almost didn't go public with my diagnosis - I was embarrassed," she said. "I felt, 'Oh, I've always talked about exercising. And I got cancer.' And then I realized it's a great example of showing that cancer can hit anyone at any time."
3. Cynthia Nixon
Widely known for her role as Miranda Hobbes in Sex and the City, Cynthia Nixon is a survivor of breast cancer as well as an active spokesperson for breast cancer awareness. She was diagnosed in October 2006 during a routine mammogram and underwent surgery and radiation to treat the cancer.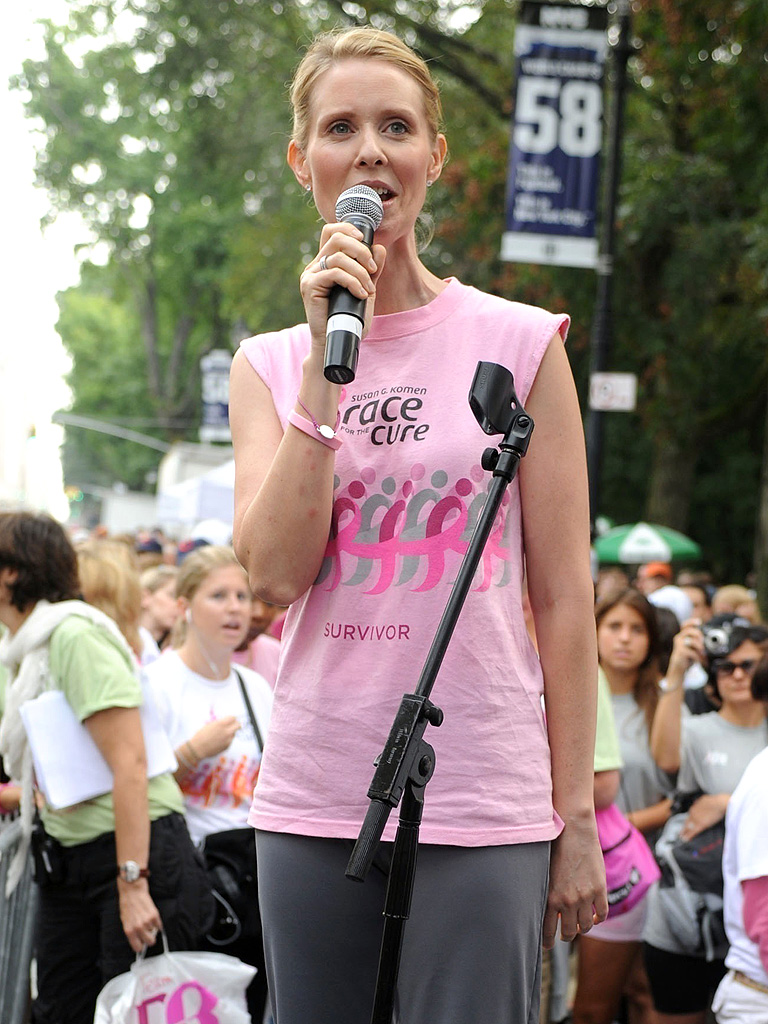 "I go in for my completely routine mammogram, and then I get a call from my gynecologist,"Nixon told Nightline. "And she says, 'Well, I have some - it's not such great news, but here it is, but it's very small and we're just going to get in there and take it right out, right away, and then you'll probably have radiation.' I felt scared ... [but I thought] if it's going to happen, this is the best way for it to happen, that it's found so early and we can just get right on it."
4. Hoda Kotb
This hilarious cohost of Kathie Lee & Hoda on the Today show has been cancer-free since undergoing an mastectomy and reconstructive surgery in 2007. She is now an advocate for breast cancer awareness. Hoda made the decision to keep her battle in the spotlight when she allowed cameras at Today to record her experience with breast cancer, inspiring viewers with her story.
Kotb told Cosmo, "I'm an optimist, so I think everything can be worked out and fixed. But from having cancer, I learned that even if you're even an optimist, sometimes you just have to face the facts that certain things are broken."
Kotb has said, "If you have a friend or family member with breast cancer, try not to look at her with 'sad eyes.' Treat her like you always did; just show a little extra love."
5. Christina Applegate
The beautiful actress known for Anchorman and SamanthaWho? was diagnosed in 2008 with an early-stage breast cancer in one breast. Because it was found early, it wasn't life-threatening. She made the decision to have a double mastectomy and made a full recovery.
Following her mastectomy in 2008, Applegate opened up to Oprah Winfrey. She said, "It doesn't feel the same, and it's hard to carry your purse. I cry at least once a day about it, because it's hard to overlook it when you're standing there in the mirror. When you look down, it's the first thing you see... So you're reminded constantly of this thing - this cancer that you had. [But] I have taken a very progressive stance in the rest of my life. For that, I'm really grateful. I am a 36-year-old person with breast cancer, and not many people know that that happens to women my age or women in their 20s. This is my opportunity now to go out and fight as hard as I can for early detection."
6. Wanda Sykes
Hilarious comedienne Wanda Sykes was getting a breast reduction when her doctor came across breast cancer in her pathology. She was lucky to find it early enough, and Wanda's doctor gave her the choice of getting regular checkups or having surgery to remove it. Because she had a family history of breast cancer, Wanda decided to have a bilateral mastectomy, and she is now cancer-free.
Wanda went on Ellen to announce her battle with breast cancer. In the interview, she shared, "I have a lot of breast cancer history on my mother's side of the family, which I didn't know about. That's important. Talk to your family. It's not a secret; it's not anything that you should hide. If you have it, let your family know so they know what to look out for. [I made the decision] to have a bilateral mastectomy. I had both breasts removed, because now I have zero chance of having breast cancer. It sounds scary up front, but what do you want? Do you want to wait and not be as fortunate when it comes back and it's too late?"
7. Sheryl Crow
"Soak Up The Sun" singer Sheryl Crow was diagnosed in 2006 with breast cancer. She had a successful lumpectomy to treat it, followed by radiation therapy. Sheryl is now cancer-free and an advocate for breast cancer awareness.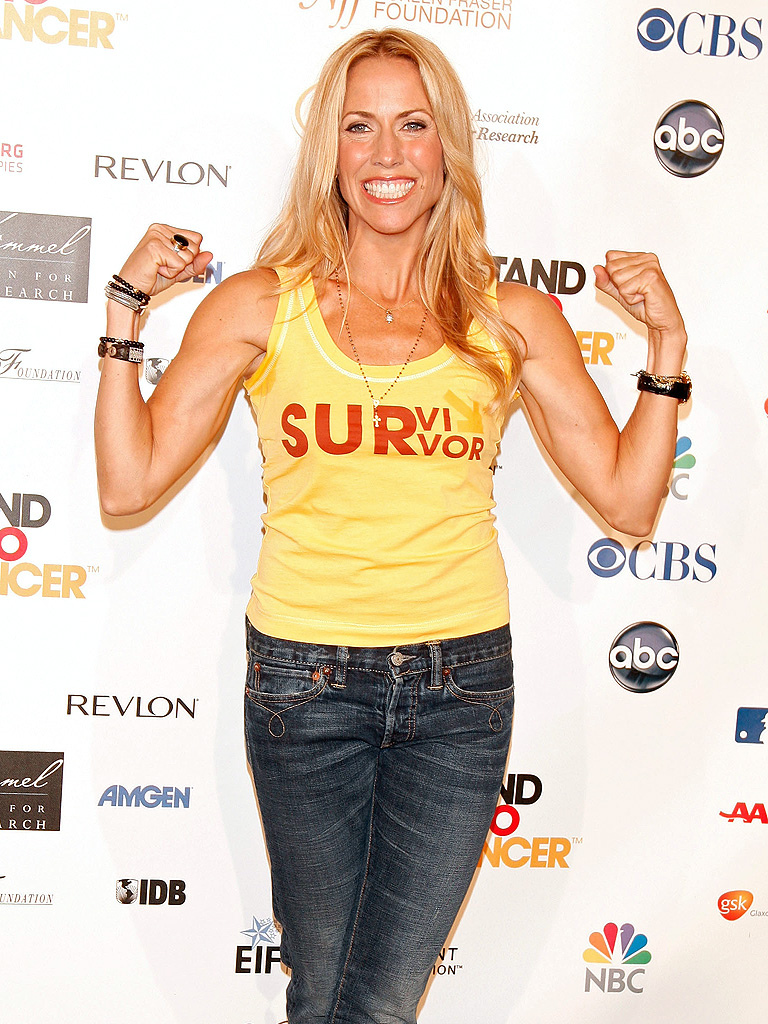 Crow was on the cover of Bloomingdale's Pink Book in 2011, part of the store's campaign to raise breast cancer awareness in October. She shared in the interview, "Someone like me shouldn't be diagnosed with breast cancer, that's what was going through my mind. I wasn't thinking about a diagnosis. I was just doing what I was supposed to do, which was staying on top of my mammograms. It was a shock."She said to ABC, "People go through challenging moments of losing people and of having their life threatened from illness and real grief. But they get through it. And that's the testament to the human spirit ... we are fragile, but we are also divine."
This October, help support those affected by breast cancer. Visit the National Breast Cancer Foundation's website for more information.