The fall semester is right around the corner, and it's time to gather the campus essentials: a backpack, a laptop and yes, a face mask. As pandemic pandemonium ensues, college students nationwide adjust to the thought of trading spa night facial masks for medical masks, and standing six feet apart instead of huddled around in a dorm room.
The new normal may evoke feelings of anxiety, sadness and confusion but luckily Susan Hassig, DrPH, MPH, an infectious disease epidemiologist and associate professor at Tulane University, has the go-to guide for safe travels back to your oh-so-missed college campus.
Social Distance Is the New Social Scene
Social distancing in the biggest social community of them all seems like a difficult feat. The urge to give your best friend a hug after never-ending "I miss you" texts is undoubtedly strong, but it is still important, more than ever, to adhere to social distancing guidelines. 
"No campus is going to be safe in that there is no risk for infection," Hassig says. "The point of all the restrictions and recommendations is to try to make it as safe as possible so that some semblance of a new normal can be implemented." But this doesn't mean you can't see your gal pals. Hassig recommends going on six-feet-apart walks or finding a picnic spot instead of getting together indoors, since time outdoors facilitates the dispersion and dissipation of the potential virus present.
Hassig explains that the nation has been incredibly lucky with the #BlackLivesMatter protest activities that have been ongoing, as wearing masks outside has not been shown as a primary catalyst in increasing cases. "I think that's a great testament to the value of outside activity compared to indoor activity," she adds.
"I would say you can't be sitting right next to each other on the couch," Hassig continues. "If there's a lounge available and that's a fairly spacious room where you can be six feet apart, that's better, but even then, I would recommend that you wear masks."
Relay Concerns to Your Roommate
Listen, roommate problems are inevitable (trust me, I've been there), but with COVID-19, effective communication with the person you're living with is key. 
"Roommates have to have a really frank discussion and it needs to come down to shared responsibility for your behavior — not just in the room but outside too," Hassig says. "This is far more than talking about who is doing the dishes and cleaning the floors because you will be sharing the same environment during a pandemic."
Whether you're in a shared dorm or apartment or you have an off-campus house, setting safe boundaries is a good idea. You should tell your roommate that you would be uncomfortable if they strolled around campus without a face mask. Have an in-person conversation and get it all out in the open.
"As unpleasant as it is to think about, when you return to campus you really need to keep physical distance between yourself and other students," Hassig says. "Masking is going to be really important and whenever large numbers of people gather, the potential that one person is infected is substantial."
In addition, having *the talk* about visitors coming in and out the door is another housekeeping item to take care of (no pun intended). Hassig advises no visitors in the first few weeks of college, allowing both roommates to assimilate into the current climate. If your roommate wants to have someone over in a separate living area, that is certainly a lesser risk of infection. However, if you are bringing someone into your shared space, you still should be cognizant of the risk a third person may pose to your roommate.
"It's an immensely complex social network that you have to navigate, and it is very challenging," she adds. "There is a greater risk of contracting COVID-19 just by living with someone, so you have to be really careful."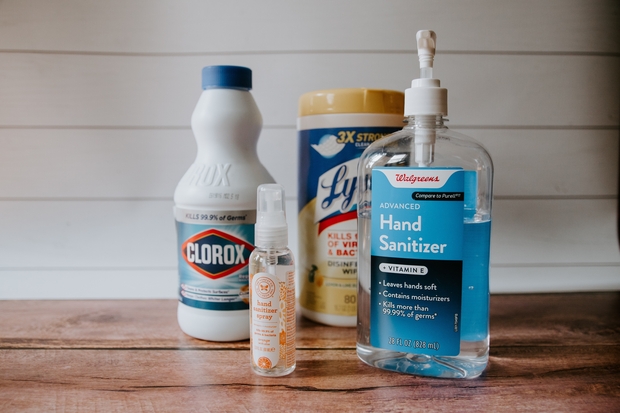 Be *Extra* Cautious with Hookups
The pandemic certainly can make it feel as though love is on lockdown (trust me, I've been 🤯🤯🤯 about it), but there are practices to adopt to make a partner encounter enjoyable. Hassig highlights her recommendations — on par with those she had during the HIV and AIDS epidemic of the '80s.
"I think you need to be very careful," she says. "It's really important you trust the person that you're going to be dating. Whether you're sitting together at a restaurant eating dinner, you're not going to be wearing your masks and going to be closer than six feet apart. And you're going to be having dinner with everyone that person has been around in the last two weeks."
Hassig notes that it is natural to prioritize your romantic affairs, and this also adds to the need for open communication. 
"If this is an old relationship you are reestablishing physically, you have a history with that person — that changes the dynamic — but the question still needs to be asked, she explains. "With someone brand new, it most definitely needs to be asked. I would argue that this is a time to go a little slower and if they can't do it with you, they can't do it without you."
As curbside, quarantine and distancing are the most-used-trio in your new vocabulary, it's understandable that online dating apps have boomed (not to mention, many of the sites implemented a new video feature). 
"Check out their social media, see what they've been posting and what they've been doing in the last two weeks," Hassig adds. "If they've been out at a bar without wearing a mask or around people that haven't been wearing a mask, I'd say, 'Listen, if we're going to have a date — if I'm going to come over your apartment — we both need to be careful for at least a week (preferably two weeks) before we start that kind of activity."
And, Hassig strongly advises against hookup culture. The whole "my body, my choice" thing is probably backed by official health guidelines.
Clean Your Communal Bathroom
Alright ladies, we already know sharing a bathroom where people leave their socks in the shower and toothpaste in the sink is nasty, but this setting during the coronavirus is a recipe for disaster. To make sure you and your hallmates are healthy and safe, Hassig recommends carrying around disinfectant wipes and cleaning alcohol in a spray bottle to clean after yourself. And be extra careful with doorknobs, faucet handles and toilet flushers, especially. 
Hassig believes wearing gloves is somewhat counterintuitive in maintaining good hygienic practices. She mentions that most people use them incorrectly and don't dispose of them properly, so extra germs are living on what is supposed to be a pandemic protectant.
"I think gloves give people a false sense of security," Hassig says. "But the reality is, gloves really have to be changed all the time. And you're supposed to clean your hands in between gloves, so why bother with gloves? Just try not to touch your face."
Make sure to wash your hands for at least 20 seconds (sing "Happy Birthday" an *extra* time to combat Miss Corona). Basic soap and water are ideal and can help denature the virus more so than gloves, according to Hassig.
Prioritize Self-Care
This unprecedented time certainly can spur moments of sitting in your room and wondering when life will go back to normal. For some, strong feelings of anxiety, depression and OCD can restrain them from going back to college at all, as well as students with underlying health conditions. It's completely normal for these feelings to emerge but setting aside time to really slow down and redefine self care is important.
"There's nothing about COVID-19 that says you can't go for a run or a brisk walk," Hassig says. "Physical activity is a tremendous benefit to help modulate anxiety." 
But exercising isn't everyone's cup of tea (although MadFit's YouTube dance workouts have been my absolute favorite). If you like to sing or listen to music, devote an hour to finding new music and making a Spotify playlist. Hassig recommends setting aside this treasured time for yourself and engaging in mild and moderate socialization. Consider lightening your extracurriculars and taking a lesser credit load once the semester starts, if possible. Extra units during untraditional learning only elevates pressure for deadlines, papers and assignments.
"If you start to feel like you're not able to handle your worries, reach out for help because the universities are all aware that it's going to be stressful and are gearing up to try to help."
Care About Your Campus Community
Yes, college students are missing moments going to the library cafe, frolicking to football games and walking to and fro. Take this appreciation with you upon your return — there is still a beacon of hope to make the best of this new experience. Hassig firmly believes that a shared community attitude is what every college student needs to adopt ASAP.
"Just because you're young doesn't mean you can't get sick," Hassig says. "It is less likely to happen than someone who is 70 and has hypertension, but you can still end up in the hospital and even ICU. It's all about a matter of risk-perception and risk tolerance, but it is still something that should not be taken lightly."
Thinking of college means thinking of all the social gatherings that come along with it —parties, sports practices and the like — but Hassig's primary concern is the congregation of students at parties, especially if state guidelines start loosening restrictions.
"Parties are not situations that foster distancing among participants and there is generally alcohol present which has a detrimental impact on decision-making as the evening goes on," Hassig adds. "I'm really concerned."
Hassig emphasizes that this type of behavior can lead to campuses shutting down altogether. One person can certainly ruin it for the rest of the community, so be a smart team player to avoid the spread of infection. Hassig notes that universities are employing safety protocols for reducing student capacity in dining halls and throughout campus to avoid a spike in cases.
"We're all in this together and if there are too many bad actors who aren't wearing masks or aren't staying distant, it ruins it for all of us and that's why we can't have nice things," Hassig says. "That's the reality."