Gel manicure kits have become a game-changer for broke college students, and they feel even more relevant now following the spread of COVID-19 in the U.S. Many cities and states have told residents to practice social distancing and retailers have closed in response — so it's very possible that your go-to nail salon has been impacted as well. 
Good news: an at-home gel kit on Amazon is only about $40. Yes, you heard me correctly. And the kit includes a variety of nail polish shades, a UV lamp, and the tools needed for prepping your nailsall included for the price of one salon visit. So let's chat all things at-home manicures and why you should start this beauty hack, because it's my new favorite way to self-care while stuck indoors.
How to apply a gel manicure
1. Paint your nails with the base coat.
Apply a very thin layer of gel base coat onto your nails. Cure it under a UV lamp for however long the package specifies. Curing times can vary, so be sure to read the instructions. Most average at around 45 seconds. 
2. Apply first coat of gel polish as thinly as you can.
After painting on the first layer of colored polish, cure the polish again under the UV lamp, checking your kit's instructions for the proper amount of time. Do not polish the nail all the way down to the cuticle because this will make the polish peel faster. Apply the second coat, and then let it set again under the lamp. Follow up with more coats if you need them depending on the opacity of your shade. 
3. Apply topcoat.
Once you've applied the top coat and let it set, you're almost to the end! Remember to cure it—skipping that step is an error.
4. Rub a cotton pad soaked in alcohol over each finished nail.
This last step in applying smooths everything out, literally. Don't worry about the alcohol messing up the polish, because the rubbing alcohol only removes tacky residue left over on the surface of your nails.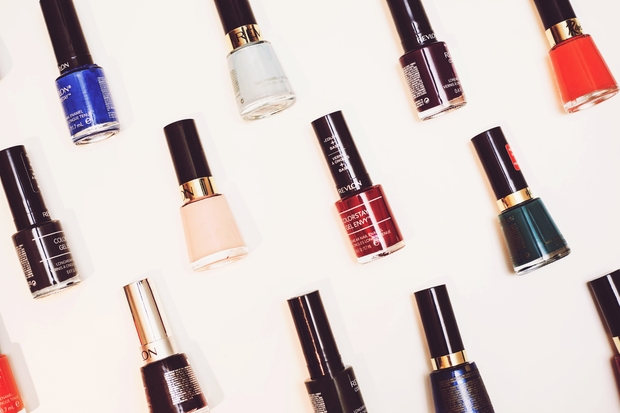 How to remove gel polish at home
1. Soak cotton pads in acetone.
You're going to buff the top of each of your nails with a nail buffer block, then use the cotton pads to cover each nail and essentially soak the polish off. To hold it in place, you can use aluminum foil just like at the salon. You'll want to wait about 15 minutes to let the polish soak off, which is the perfect time to catch up on some Netflix while you wait.
2. Scrape off the gel polish with a steel cuticle remover and scraper.
The polish should lift off easily. If not, continue to soak your nails with the cotton pads a little longer until the polish loosens.
3. Apply cuticle remover liquid and massage into cuticles.
Press back the cuticles and remove the remainder of the polish. Then, use a cuticle clipper to trim the cuticles from your nail bed, if that's something you regularly prefer to do.
4. Cut and shape your nails.
Cut down nails to desired length with a nail clipper, file to your ideal shape, and use the nail buffer block to buff your nail bed. This step is important because the buffer block shaves away the top layer of nail to ensure that the gel polish will stick.
5. Rinse your hands without using soap to remove excess dead skin and use a towel to dry.
Follow up with the pH bond, included in most kits, which helps cleanse and prepare nails for application of gel polish. This step will ensure that the polish sticks to the nail bed. Be sure to apply this to your nails once they've been thoroughly towel-dried.
My favorite nail kits
Vishine Gel Nail Polish Starter Kit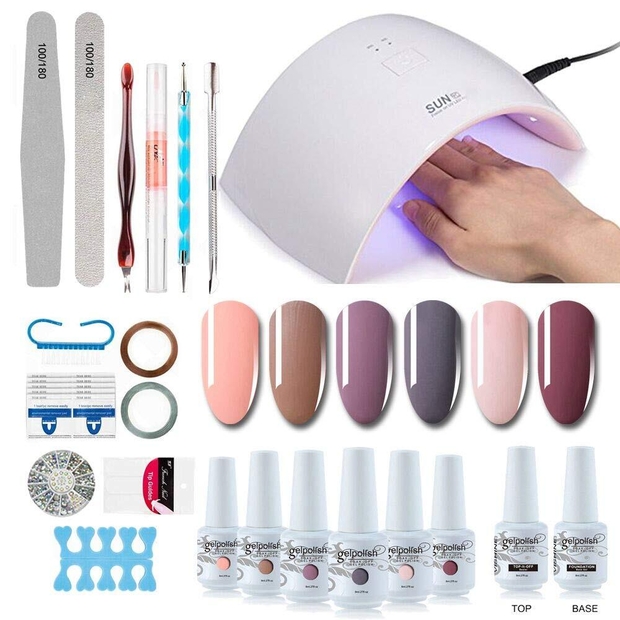 Amazon, $40; shop now
This kit includes a curing LED lamp, top and base coat, and handy nail tools that most starter kits do not include. Plus, it comes with six gel polish shades to choose from. You'll definitely be getting bang for your buck with this one.
Sally Hansen Salon Gel Polish Starter Kit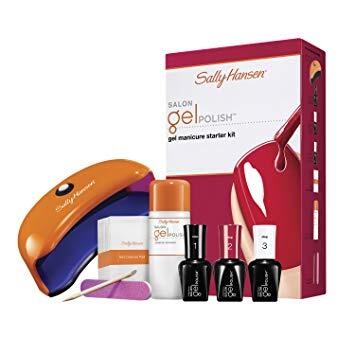 Ulta Beauty, $60; shop now
This at-home kit comes with an LED light, base and top coats, cleansing pads, polish remover, cuticle stick, buffer block, and three gel polishes. It makes the perfect starter kit.
An at-home manicure might seem challenging at first, but with practice you'll find a routine that works for you. After all, when you do something yourself, it is always more rewarding.