It started as a way to save money after my first year of college (because let's be honest, nothing else besides being basically broke or experiencing an existential crisis could stop me from shopping). I spent the year focusing on school, only working (read: making money) over winter break, and spending almost the entirety of my already low checking account balance.
Heading into a summer of interning and working only part-time, I decided that I needed to cut back my shopping in a big way. Not that I was an extravagant spender to begin with—I shopped at affordable stores and usually never bought anything unless it was on sale, but all my small purchases added up surprisingly quickly.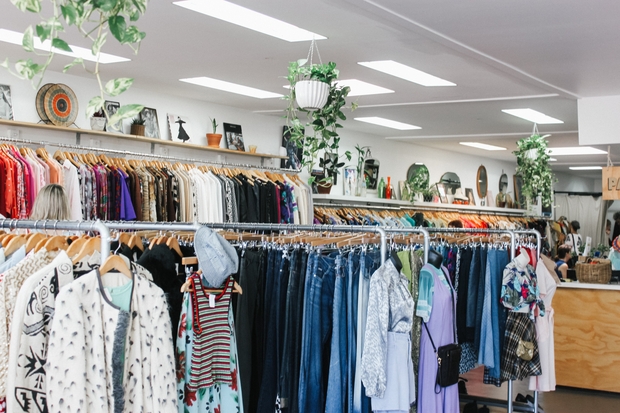 Near the end of February, I made a pact with myself that I wouldn't spend any more money on clothes until my bank account reached what I considered to be sufficiently far enough from broke. It's been five months, and although that may seem like a minuscule amount of time to some people, it feels like a pretty long time for someone who consumes fashion like it's air.
It wasn't as hard as I thought it would be, although I still tortured myself by filling up online shopping carts only to abandon them, and I actually learned a lot about my personal style. Since my bank account has just barely reached an amount I consider acceptable, it's time to start shopping again. But the truth is, I don't know if I will.
Here's what I learned from my shopping fast, and why I probably (hopefully) won't go back to spending like I did before.
1. Layering can make you feel like you have an entirely new wardrobe.
It's a good thing my body temperature runs pretty cold because I really took advantage of the wonders that layering can do for an outfit. Layering shirts and sweaters and combining patterns and fabrics added some much-needed excitement to my older, over-worn clothes.
Once I started to look at the contents of my closet not as individual pieces but as things that can be infinitely layered on top of each other, the size of my closet doubled – not literally, but you know what I mean. Thinking about layering a blouse under a sweater, a turtleneck under a button-down, or a t-shirt under a dress can instantly change your perspective on the potential outfits your closet holds. (Like how the same pair of statement pants can make two completely different outfits. See: below and above.)
2. You have way more to wear than you think.
My closet is far from small. When I came back from school, I didn't even have room for all the things I'd accumulated throughout the year (another validation that I had been spending too much). So obviously I have a lot to wear, but who doesn't always think to themselves "I have nothing to wear" at least a few days a week?
Without a semi-constant flow of new clothes, I rediscovered things in my closet that I had forgotten about, things like my favorite dress from last summer, a pair of the most comfortable sandals ever and a t-shirt I never knew I had. It was a boatload of new (old) clothes at the ready for me to experiment with. Since what's in has changed a lot since a year ago, I was able to style the old clothes in new ways, making them a lot more exciting to wear.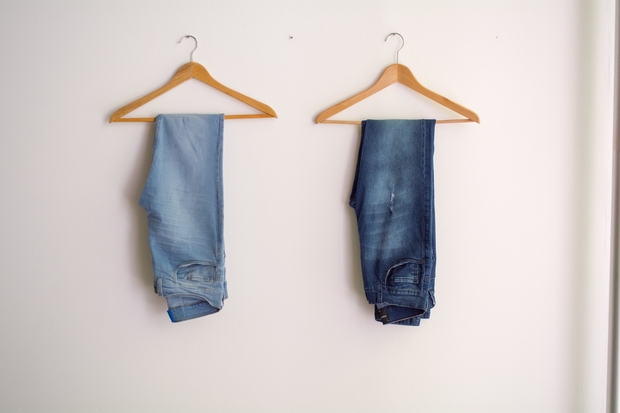 ​
3. My personal style is not what I thought it was. 
By wearing the clothes I've had for a long time, rather than shelling out money on the latest and trendiest styles (clothes that I didn't actually like and never felt like me), I learned what I actually enjoy wearing and what makes me feel the best.
In the past, whenever I went shopping, I would pick clothes that emulated what I saw on Instagram and other people. I usually only wore those piece once or twice, but never more than that, because it turns out that I didn't really like them all that much. Without those items to distract me, I began wearing (and re-wearing) the same clothes over and over. I always reached for the same few button-down blouses, the same comfortable pants and the same sandals when I needed something to wear—which was really telling. I was wearing what I liked instead of what I thought I should like.
Without the pressure to wear the uncomfortable, trendy styles, I wore what I wanted and felt more like myself than I had before. 
Why I won't be spending the same way again:
I'm not going to lie and say I'm never going to buy new clothes again (I already have a cart full on H&M and a shopping date planned for next weekend), but I'll be spending a lot differently than I did before.
I refuse to be a fast-fashion sheep and buy things that I don't love. I'll still keep up with the trends, the influencers and the runway shows because I love them so much, but I just won't look like them. I'll try to keep my personal style (the one that took me so painfully long to discover) in-tact, and when I get dressed in the morning, I'll remember that I actually do have something to wear.