When applying for jobs and freelance gigs, everyone fusses anxiously over great resumes and cover letters and crafting the perfect email, and while they're the first step in catching somebody's eye, there's only so much those can do to showcase your actual ability and skills. That's why everyone should consider creating a digital portfolio. 
You might have been lucky enough to have a class in college about how to create a digital portfolio, but chances are you've only ever heard about it in passing, or at some presentation where they don't actually talk about how to do it. But digital portfolios are an amazing way to show yourself off to potential employers or clients and land your dream job. A portfolio not only allows you to have all of your best work in one place, but it also shows that you can work on your own to create websites and digital content, which is a skill in and of itself. So, here are 8 tips to help you out when you sit down to build your perfect digital portfolio.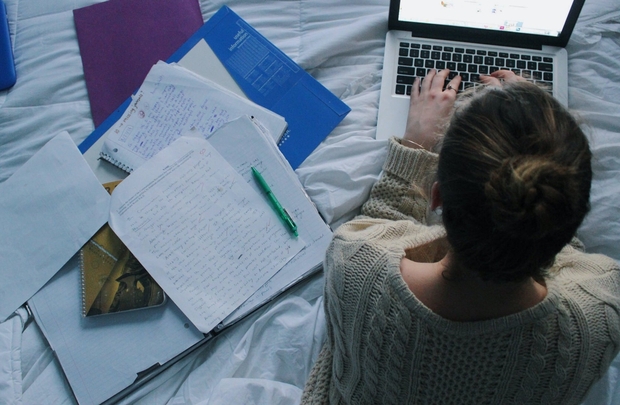 1. Consider first if you even need a digital portfolio
Digital portfolios are an amazing way to show off your work—if you have work to show. They're great for anyone in a creative field or career where you work events often. You should definitely make a digital portfolio if you're a writer, designer, photographer, wedding planner or event coordinator, and it can even be a great tool for a teacher or caregiver. But, if you want to work in a more traditional setting, like an administrative role, it might not be worth your time to create one.
2. If yes, what should you include?
Your digital portfolio should include everything related to you and your work. Obviously, you should be selecting pieces that really showcase your skill in your field–writers and other creatives should include samples of your work–but you should also be thinking about including links to your social media, client testimonials, and links to your profiles on job sites like LinkedIn and Glassdoor. It's important to ensure that you are highlighting everything a potential client or employer would want to see. For example, as an event planner, you could include reviews from past customers and photos of events you have coordinated. Marketing professionals could also use client testimonials, but should consider detailing any special projects you may have collaborated on or led, whereas teachers could include sample lesson plans and special projects.
Writing samples are excellent pieces to include in your portfolio even if you're not a writer, since it's such a vital skill to have. Senior Account Executive at MML PR Rachel Petty (James Madison University, class of 2017) says, "I had a portfolio of clips from my school newspaper and some magazines and other websites/blogs I wrote for, and it actually helped me land my first job in PR! My boss continues to talk about it to this day (I've been at the company two years now). She said it really caused me to stand out among some other candidates." 
3. Organize your portfolio
There are a million ways to get creative with how you structure your portfolio, but some elements are a must. Your home page should be simple, with an easy-to-see menu that allows you to quickly navigate between pages. Your home page is the first things visitors will see and is a great way to give people a window into what it is you do and why you love to do it, so a picture, links to your social media sites, and a short paragraph about what it is that you do are also good to include.
Your site should also include content that describes you and your mission in more depth. Extra information about you, why you got started in your field and what you do currently should be listed in the form of an 'About Me' page. This allows people to get to know you better, and you're more likely to be trusted if people understand who you are. You should also have a contact page to make it easy for potential clients or recruiters to reach you. Some web hosts offer a direct messaging feature, and on others you can link directly to your email address.
4. Decide which web-host is right for you
You don't have to be a coding genius to create a beautiful portfolio, and you don't have to break the bank, either. Platforms like Wix and Wordpress make it easy to build sites for any kind of creative portfolio and offer free options to showcase your work, start a blog and so much more. They also offer upgrades for more in-depth tools. Paid building tools like Squarespace and Bluehost are also very simple to use, offering templates and easy to plug-in additions including social media feeds, blogs, photo galleries, music streaming services and so much more. 
It really is all about preference. Millersville University student, Erika Stewart, (class of 2020) chose Wix over others because "you have the option to make your own from scratch or answer some questions and (have) Wix create one for you. The websites you build are really aesthetically pleasing." But some prefer Wordpress for its basic layouts and plugins. It's all about what you need and how savvy you are with site-building. Alyssa Dicker, another Millersville University student (class of 2020) says, "I like Wordpress because I'm really not tech-savvy and they make it super easy for beginners like me." It all depends on you! 
5. Keep your site simple
You don't need to overdo it. It's tempting to add every single app and plug-in there is to offer, but you should only be adding the ones that mean something to your work. If you're a writer, it's a good idea to add a blog with posts about your chosen niche—it's probably not a good idea to have a million pictures of your dog. 
The design should also be simple. If you're a graphic designer it's great to use your designs across the site, but too much on one page can look busy, and leave viewers dizzy. Choose a layout that is easy on the eyes and simple to navigate. It will be better for you when adding and editing things, and for potential clients. This will also make it easier for people to contact you; when your site is easily navigated and offers quick access to the contact page, you're more likely to have people reaching out to you. 
6. Look at the mobile view of your portfolio
Everyone works on their phones now, so it's crucial to have a good-looking mobile site. Most of the site-building platforms have the option to switch to manipulating a mobile site so you can know how it looks when potential employers are looking at it from their phone. When editing the site, make sure your homepage is easy to scroll through without getting the content jumbled or out of place, that the blog posts are easy to find and read, and that you feel like it represents you just as well as the desktop site does. 
7. Create a logo
Personal branding is a huge part of the digital portfolio, and good or bad, your logo can stick in somebody's mind. You want to come across as put together, and you want it to be positively associated with your skills. If you're a graphic designer or illustrator, it makes sense to create your own logo–in fact, it's just another way to show off what you can do–but you may want to consider paying for a professional to create your logo if you are not. While platforms like Canva make it really easy to create beautiful designs, you don't want to run the risk of infringing by pulling fonts or images online. This is an area where you really want to consider spending some money to be on the safe side. 
8. Think about SEO
The idea of Search Engine Optimization, or SEO, is becoming more and more common in the minds of the public. Good SEO content is what makes your website rank higher on Google, so that when job recruiters or potential clients are looking for the service you provide—design, content writing, party planning, etc.—your site will be one of the first. It's simple keyword researching and learning to write SEO-friendly content for your site. This should be in your mind when writing content on the homepage, contact page and your 'About Me' page. 
While SEO can be useful for everyone, it's not as important as having great material on your site. Your portfolio will get most of its views through potential employers after you submit an application. However, for anyone in journalism, public relations, or any other field heavy in digital marketing or media, SEO is an essential tool. You can learn everything there is to know about SEO techniques on sites like Moz and Hubspot.
There are definitely ways to impress in an interview or on a resume, and those things shouldn't be thrown out the window. Rather, they should be built upon. A functional digital portfolio is a perfect way to back up your resume and cover letters, and show off your capabilities to potential employers and clients. Happy job hunting!