Thanks to all the beauty gurus and makeup bloggers out there absolutely slaying Instagram and YouTube, it's easy to learn the latest tips, hacks, and trends in all things beauty. With such power at my literal fingertips, I can step outside looking like I just spent hours with a professional makeup artist. Although there are tons of YouTube and Instagram tutorials out there, I can't help but wonder if there are beauty hacks that we're missing out on. So, I rounded up a few college women to share some tips and tricks that may not have exactly gone viral, but are definitely 'gram-worthy.
1. Use Visine to help with redness and dark circles.
Yep, apparently eye drops do more than just fix red eyes! While there are plenty of makeup tutorials out there featuring color correcting makeup, a cheaper alternative may already be sitting in your medicine cabinet.
"My mom has a lot of funky makeup hacks, and putting Visine on her face is one of them," says Kaelyn Scull, a senior at Carthage College. "Visine works as a quick fix for darkness under your eyes by minimizing the blood vessels, and it can even reduce the redness from a breakout."
So while many beauty gurus turn to concealer for contouring, hiding dark circles from a late night out or to mask that pesky pimple, Visine is certainly a less-costly alternative—perfect for in-a-pinch fixes or a quick run to the store.
2. Use leftover conditioner as shaving cream.
If you were to take a look in your shower right now, what would the shampoo to conditioner bottle ratio be? For some odd reason, shampoo bottles seem to run out way faster than conditioner bottles do, leaving us with half-full conditioners all over the place as we switch between haircare brands. So how can you put all that leftover conditioner to use? Tessa McKenna, a junior at Carthage College, has an idea.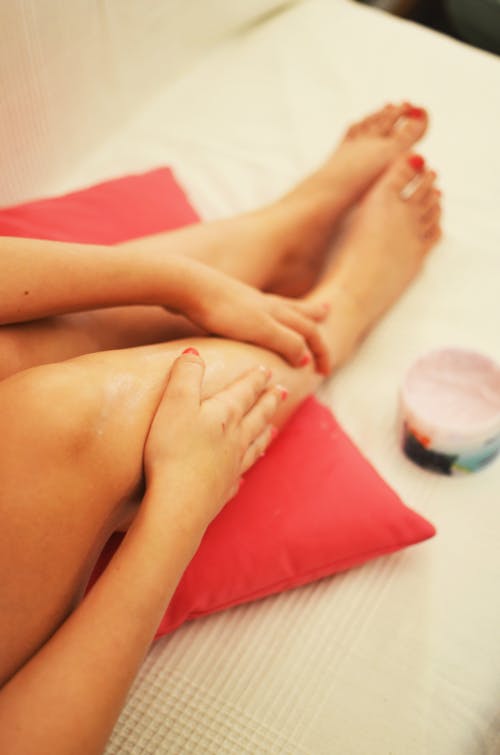 "My hair stylist once told me that a great way to get rid of conditioner once the shampoo has run out is to use it as shaving cream on your legs! It's nice because I feel like the conditioner makes your legs feel soft like it would do to your hair, and it spreads as easy and coats your legs like regular shaving cream would," says Tessa.
Although putting conditioner on your legs wouldn't be an immediate thought, it's a great hack to save money and knock out two birds with one stone! Throw some conditioner on your ends and let it sit for a few while you get to work on your legs the next time you decide to shave (if that's your thing, of course).
3. Apply eyeliner to your eyelash curler.
It's the ultimate lazy-girl hack that you probably haven't seen on social media lately. If you use an eyelash curler, glide an eyeliner pencil along the top piece of the tool that touches your eyelashes and lid, and voila. Your eyes are lined and ready for a fresh coat of mascara.
"I value sleeping-in a lot, so I'll do whatever I can to get ready for class in the morning as quickly as possible," says Tessa. "If I'm running late for class, this is a great hack to cut-down on the time spent on my eyes. Plus, the eyeliner doesn't appear as harsh as it would be drawn on." So, have no fear next time ya hit the snooze button—you still have time to look fabulous.
4. Extend your nose contour up to your eyebrows.
Thanks to the Kardashians, facial contouring is all the rage these days. However, while most beauty tutorials show the artists drawing delicate lines on the bridge of their nose, Taylor recommends extending the chiseled look up to your eyebrows—especially if you rock a pair of glasses like her. "Because I wear glasses, when I contour my nose, I take my contour up through the curve of my nose by my eyes to the eyebrows," says Taylor. "Not dramatically of course, but it adds extra depth to my face and helps add a little more drama to my nose contour (which gets hidden when I put my glasses on)."
There's nothin' wrong with a little more drama sometimes, so while it's great to see so many tutorials out there showing an everyday contour look, it's also nice to have this trick up your sleeve when you want your contour to be a little more noticable.
While we could all practically list Beauty 101 as a class on our transcripts thanks to sites like YouTube and Instagram, there are just some tips and tricks out there that don't make their rounds as much as the others. With these four hacks up your sleeve, you'll be slaying the beauty game in no time.