We've seen some stunning looks come down the Spring/Summer 2015 runways at New York Fashion Week and are already adding on to our wish lists (still dreaming of Lela Rose's gowns)—but the trends don't stop at the clothing. Fashion Week is also about the upcoming season's beauty trends, so as NYFW starts coming to a close, we're bringing you our favorite hairstyles—including step-by-step instructions, so you can test them out, now.
1. The Classic Ponytail - Alexander Wang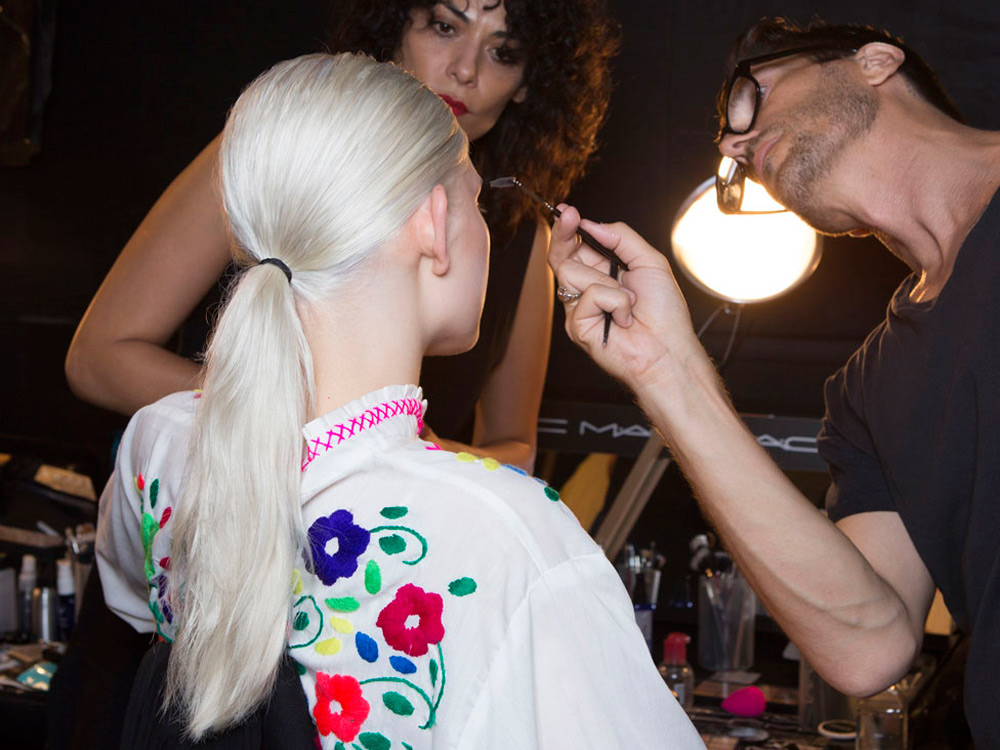 Just as classic as the treasured LBD or the everlasting white shirt, the ponytail will come back every season—but always with a new twist.  This time around, models sported a low ponytail with slicked-back, wet roots, and and a dry tail.
To get the look, massage a mousse, such as TRESemmé's 24 Hour Body Amplifying Mousse ($4.99), throughout your hair for subtle volume in the ponytail. Then, use your fingers to push your hair back into a low ponytail. For the wet look, finish with Redken's Hardwear 16 Super Strong Sculpting Gel ($12.96) from your roots to the beginning of your tail to rock the look.
2. Glossy and Wet - Thakoon
"I got out of the shower like this" is the new "I woke up like this"—just us? Either way, the reality is, once most of us step out of the shower...our hair dries frizzy. So here's how to get the look:
You'll want to start off with dry hair (I know, this seems to defeat the point of a simple wet hair-do). Part your hair down the middle and apply an ample amount of a high-gloss top coat, such as Kerastase's K Gloss Appeal Instant Shine Top Coat ($34.00) before twisting the sides of your hair back to tie them into a knot. For the last step, apply a strong hairspray, like Kerastase's Laque Noire ($23.74), to set and keep your hair in place for the whole day, even against humidity. 
3. Double Trouble French Braids - Isabella Rose Taylor
Seeing two? You are not the only one! SS15 debuts a twist on the singular full-head French braid. This hair look is easy to do, and is so fresh and feminine. Paired with smokey eyes and rose lip, this hair look becomes very flirty. Plus, the next day waves are sure to be perfect.
To recreate this look, use an anti-frizz serum, like Garnier Fructis Sleek and Shine ($5.99) on towel dried hair. Part your hair down the center. Start from the innermost side of the part and French braid all the way down! Voila!
4. Revival of the '60s - Lisa Perry
A blast from the past with a modern edge! This hair style pretty much has the best of both worlds: Slick and straight in the front with a some volume in the back. That combined with super straight and glossy hair creates a wonderful runway to real way hairstyle. 
To get this look, start with dry hair and create a deep, short side part. To make everything stay and create texture, use René Furterer Volumea Volumizing Conditioning Spray ($24.49) from roots to end until damp. Next, blowdry your hair with a round brush to create a sleek finish. Use a flatiron as necessary. Part your hair at the crown and start teasing each the base, using René Furterer Naturia Dry Shampoo ($24.60) for increased body. To finish, mist your hait with a finishing spray, like Paul Mitchell's Extra-Body Finishing Spray ($23), which will also add a little extra boost.
5. Spring Into Pastels - Badgley Mischka 
If you are not wearing pastels, is it really spring? The peek-a-boo pastel color is super adorable, and the effortless waves are just as cute! 
To get this look start off by sectioning off hair in the back, underside part of your head. Choose 2 to 4 pieces to color with a temporary dye, such as Beyond The Zone Color Bombz Temporary Hair Color ($6.29) or UO Hair Chalk Rainbow Set ($14.00.) You can also use clip on extensions like Hairuwear Human Hair Color Strips Extensions ($10.00). Use AG Hair Cosmetics Curl Spray Gel Thermal Setting Spray ($18.00) on your hair before loosely wrapping your hair around a large curling wand to get the relaxed waves. Finish off the style with a finishing spray to keep the look together and to prevent the color from bleeding onto your clothes. 
Which trends are your favorites—and which ones would you rock on campus?