February is a time when we give black culture and black history its much-deserved spotlight, so what better way to show your support for your beautiful black sisters than sporting clothes and accessories designed by them! Here are five fashion brands owned by black women that you need to check out rn (and also the rest of the year because celebrating people shouldn't have a monthly limit).
Splendid Rain Co.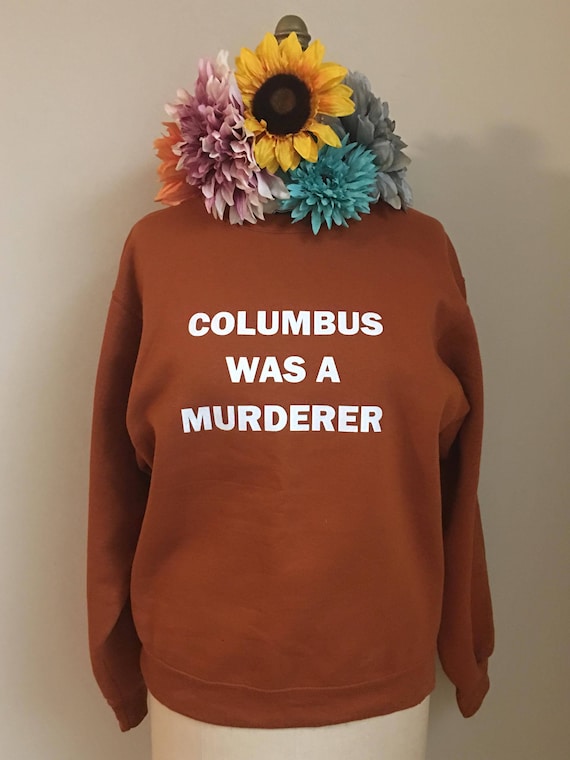 Unless you live under a rock, there's no way you haven't seen these unapologetically woke sweatshirts on social media. This buzzworthy "Columbus was a murderer" sweatshirt was designed by college student Olatiwa Karade. This was the first sweatshirt Olatiwa made herself, and after posting a pic of it on her Instagram, people were dying to know where she got it from. Seeing the clear demand for the blunt-yet-so-true sweatshirt, Olatiwa opened her own Etsy shop, Splendid Rain Co.
Splendid Rain Co. includes this sweatshirt along with others in different colors and many powerful messages like, "Your founding fathers owned slaves" and "Worthy of humanity." Olatiwa has amassed over a thousand sales within a matter of months, showing her potential in conquering the fashion market. Splendid Rain Co. came from nothing but a young college woman's bright inspiration to create clothing that kept our country's racist history on the real. Try this awesome brand out because woke looks good on everyone.   
Simply Cecily
Black History month obv means celebrating African culture, and this clothing brand does just that and more. Simply Cecily, founded by Cecily Habimana, creates show-stopping pieces that take the intricately bold patterns of African fashion and mix them with modern American style. The brand features stunning dresses and skirts with colorful designs that channel the beauty of African wear while keeping things casual. Simply Cecily's pieces are perfect gifts for the beautiful African-American sisters in your life who want to illuminate their rich heritage. 
After earning her MBA, Cecily stayed in Senegal, Africa to teach and fell in love with the culture as well as the elegant outfits that Senegalese women wear. Cecily's love for design and African heritage really translates into each piece, making her whole line a beautiful sight to behold (and buy, like ASAP).
HGC Apparel
HGC Apparel is arguably the most popular black-owned clothing brand on the market, withour queen Zendaya sporting one of their T-shirts on the HGC Apparel about page. Founded by Marcia Jones, HGC Apparel channels '90s black pride through its funky street-wear for both women and men.
HGC is best known for their color blocked T-shirts and sweatshirts with the empowering messages like, "Respect, protect, love the Black woman" and, "I'm an educated Black queen." The colorful yet simple graphics and designs on HGC's pieces make them both bold fashion statements but also accessible and perfect for everyday wear. Try HGC out for an outfit that shouts out your support.
Cierra Lynn Collection
Cierra Lynn Collection's apparel is the closest you'll get to wearing literal artwork on your body—it's that beautiful! Founder and designer Cierra Lynn used her fine arts degree to design a wide range of clothes and accessories with painting-like graphics that'll make your outfit get confused for a fine art piece. Cierra uses her own alternative paintings as the motifs on the dresses she sells, and also creates simpler tees with more inspiring words on them like "Love Yourself Facts" and many more. She also designs her own sunglasses with gorgeous sharp edges and colorfully patterned frames, as well as arty handbags.
The Cierra Lynn Collection is a true treasure trove of one-of-a-kind clothes and accessories, so go and discover all the wonderful items she has to offer and try them for yourself.
Kashmir.VIII
Celebrities like Spike Lee and Angela Bassett can't get enough of the black-owned brand Kashmir.VIII. Kashmir Thompson created her brand as an outlet for all her beloved art creations and expression of her love for black pop culture. Kashmir took all her passions to make extraordinary clothes, accessories, home decor, stationery and so much more. Her clutch purses are one of the most fun pieces to wear, with their hilarious images with a gorgeous pop art feel. Not to mention, she also sells Black Panther merch, so if you need to gear up for the Black Panther movie, go and snatch some of her Greetings from Wakanda T-shirts!
Kashmir's art is powerful and expressive while also fun and in your face, so if you want some real statement pieces that make both a fashion and social statement, definitely check out Kashmir.VIII.
These black women designers really poured their hearts into their work; all the details in their products show their talent and care for creating clothing that doesn't just look good, but also sends an important message about culture and the way our country writes the black narrative. This Black History Month, support women like these by picking up their gorgeous pieces and letting the world know you're there this month and all year round.