What better way to show clothing that's supposed to move than... well, in motion?
For her Spring/Summer 2015 collection, "Fundipendulous," VPL designer Victoria Bartlett displayed her clothing on aerialists who performed on a scaffolding in the back of the VPL space in Manhattan's Soho neighborhood. Victoria Bartlett began the line VPL (of course slang for "visible panty line") because she was fascinated with the concept of "bringing the inside out." Bartlett wanted to fill what she felt was a gap between sportswear and lingerie, and in 2006, her collection was born.
Her pieces are versatile and can be worn as, her site states, "underwear, outerwear, anywhere." Each piece in this collection had the bold straps and swatches of color that have become a VPL signature. We were treated this time to bright tomato reds, lavenders, charcoal greys and turquoise details, among others. The performers glided and bent their lithe bodies in the air and around the scaffolding held up by harnesses, and it was easy to see how the clothing was a great choice not only for exercise, but also for outerwear. It's easily one of the most innovative presentations I've been to since I've been going to Fashion Week, a visual treat not only for the performance, but also for the clothing itself. Alongside the performance, there was a screening of a film made especially for the presentation, featuring more aerialists performing in the clothing on bridges, in a quarry and in a barn, among other locations. Beautifully shot, it was a strong expression of how Bartlett wanted her collection to be viewed: the VPL woman is strong, stylish and fearless.
Makeup was minimal, just a swath of creamy gray/green eyeshadow in a cat-eye shape over the lid, designed by Dick Page for Shiseido. Hair was in a spiky updo courtesy of Hirofumi Kera, also for Shiseido.
Take a look at some snaps I took from the presentation here and below!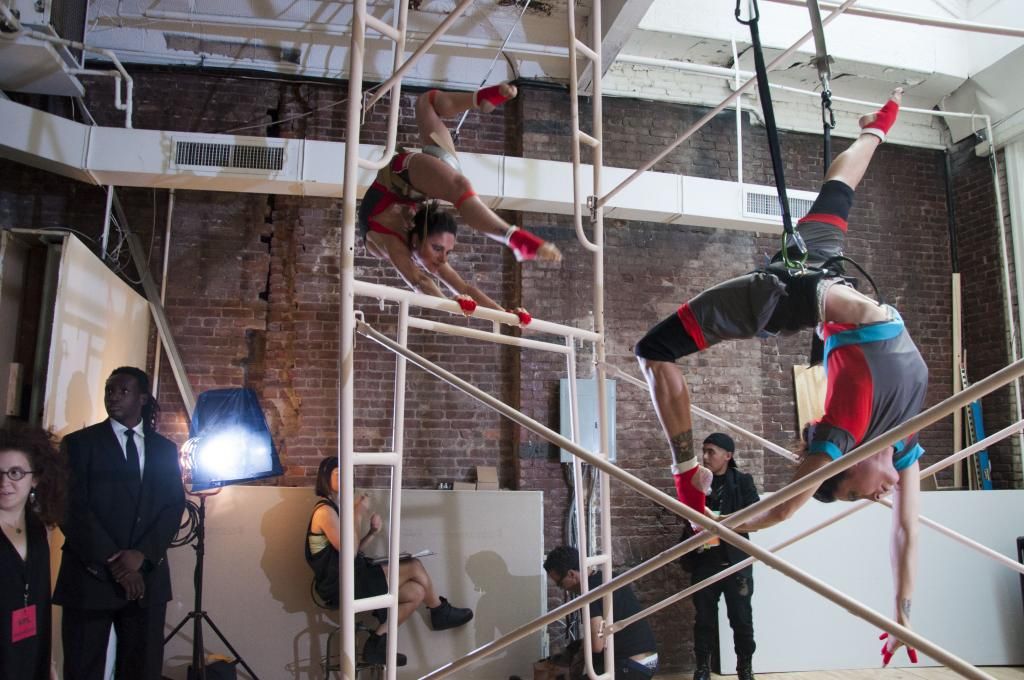 Stay tuned for more Her Campus coverage of New York Fashion Week, collegiettes!