2018, like every year, has produced its own unique collection of pop culture figures that have had everyone talking, from beloved movie characters to now iconic celebrities. And what better way to recall the most talked-about moments of the year than with a clever Halloween costume?
Maybe it's time to give your well-worn cat ears or witch's hat a break and opt for something a bit more contemporary. Here are our favorite people, characters and moments of 2018, reimagined as Halloween costumes that will have heads turning at your next spooky party.
1. Meghan Markle​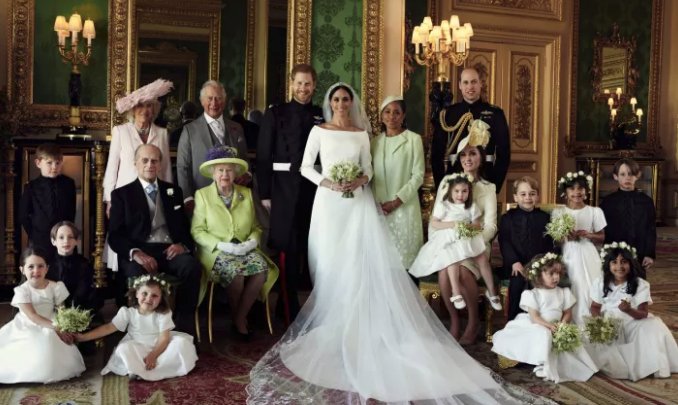 We can't start off this list without bringing up a truly historic moment: the Royal Wedding, which had us gushing about the Duchess of Sussex for weeks afterward. We couldn't be more thrilled to see Meghan Markle join the Royal Family.
Meghan is a style icon, but her most recognizable outfit is no doubt the Givenchy wedding dress she donned on the big day. Maybe it received some mixed opinions, but we thought it was beautiful.
If you're resourceful, try finding an affordable knockoff version of Meghan's white boatneck gown, or if not, go for another one of Meghan's polished looks, like this one from her first appearance as Duchess. A pencil skirt is a classic necessity that you probably already have in your closet, and that hat is totally wear-it-twice cute—plus, it's easy to find a dupe on Amazon! You can use a safety pin to attach her royal coat of arms to your outfit, and you're good to go—just make sure to practice your royal wave. Bonus points if you can convince your boyfriend to dress up as Prince Harry.
2. Young Donna from Mamma Mia!: Here We Go Again
This summer's Mamma Mia! sequel reminded us of our love for ABBA and reignited our deep-rooted desire to sail away to a remote Greek island and fall in love with three dreamy men. The standout shining star from this staple summer movie was Lily James, who portrayed the young version of inspiring badass Donna.
Donna's breezy, beautiful looks are the perfect way to celebrate '70s fashion, and the best part is that you probably already own some Donna-inspired pieces. If not, we recommend splurging on the overalls, which are probably the most recognizable of Donna's outfits—Meryl Streep wore overalls in the first Mamma Mia! film, after all! You can find a pair pretty easily at a store like Forever 21.
Just remember, costumes don't just involve your clothes; check out a hair tutorial to get Donna's beachy curls, and be sure to belt out some ABBA tunes whenever you walk into a room.
3. The women of Ocean's 8
This all-women reboot of the beloved film made headlines this summer, and we're all about a girl gang hitting up Halloween with style. Grab your seven partners-in-crime, an all-black outfit (depending on your character, this could range from a full-on evening gown to jeans and a leather jacket, so pick whatever suits your fancy), and a pair of sunglasses. Halloween has never been easier, or cooler.
4. A member of the Dora Milaje from Black Panther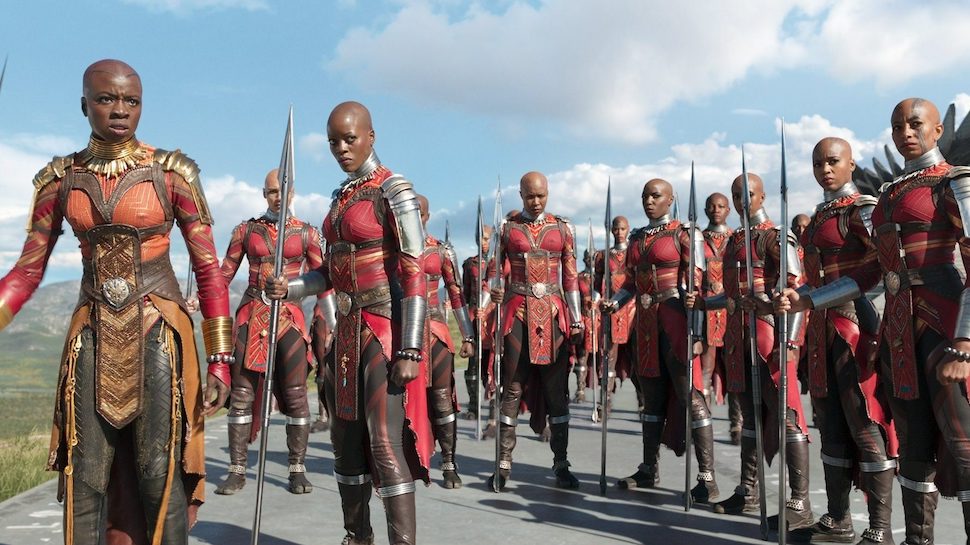 One of the biggest movie moments of this year was the premiere of Black Panther, which introduced us to the technologically advanced nation of Wakanda and Marvel's first black superhero. As much as we love T'Challa, the undisputed badass babes of the film were definitely the Dora Milaje, AKA a highly trained team of women who serve as warriors to protect their nation. Led by Danai Gurira's Okoye, they uphold the motto of "Wakanda forever"—and they have some pretty cool armor, too.
If you're more into DIY-ing, you can make a Dora Milaje costume from a red shirt and thick gold jewelry. Those of you who would rather buy a pre-made costume, however, are in luck: Target sells a Dora Milaje costume. This movie is a huge step forward in representation for black women, making it perfect for a group costume. Grab some friends to wear it with you—you'll definitely win the prize for best group costume.
5. Rose from Star Wars: The Last Jedi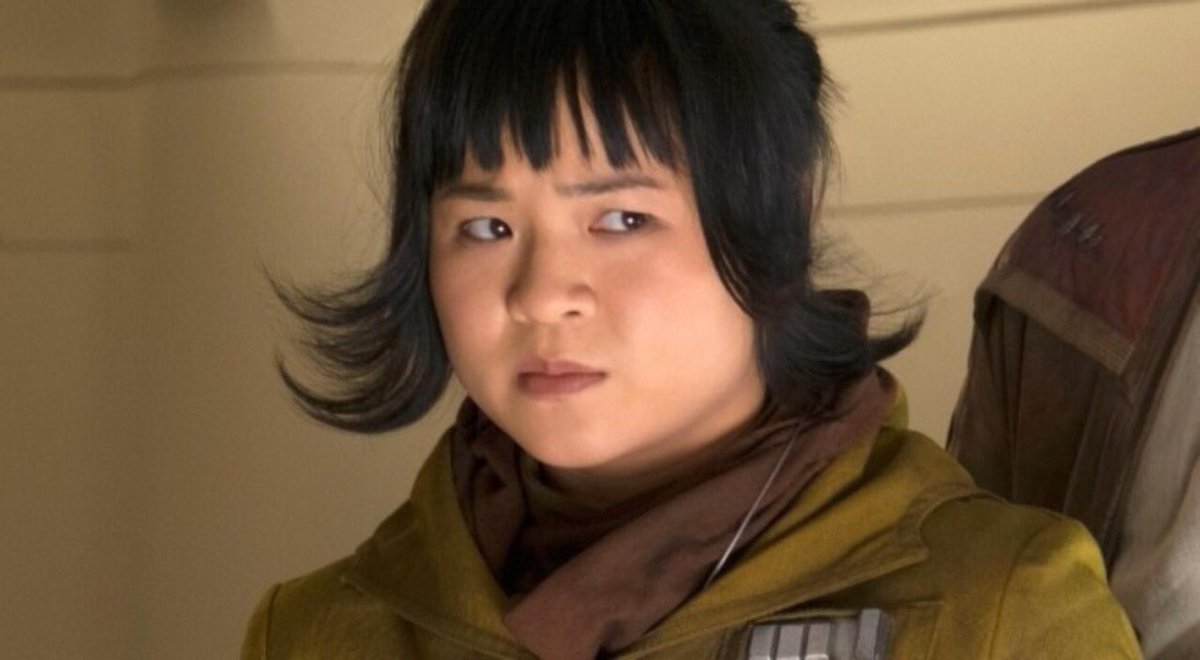 While the latest installment of the Star Wars movies was technically released in 2017, this is the first Halloween since the film came out, so we're adding this one to our list. The Last Jedi brought kindhearted maintenance tech Rose Tico, portrayed by Kelly Marie Tran, to the forefront, and cemented her as one of our favorites. After meeting Finn and going on her first big adventure, Rose becomes one of the heroes of the movie, continuing the trend of powerful female Star Wars characters, along with Daisy Ridley's Rey and of course, Carrie Fisher's iconic Princess Leia.
Getting Rose's look is easy enough, since she's all about the practical—get yourself a brown hoodie underneath a green military jacket to mimic her mechanic outfit. As for hair, tie half of it up in a haphazard ponytail and use a straightener to flip the ends of the rest out; bonus points if you fake some bangs (or already have them!). Rose is usually seen with a suspicious side-eye, too, so just practice that look a bit before you head out for the night.
6. The Carters in the "Apeshit" music video
You may not have the power to shut down the Louvre, but you can still show up looking fly with your SO as Bey and Jay in this iconic music video. All you need are matching, solid suits—one pink and one turquoise. They may not be as high-quality as the threads the Carters are rocking, but you know what they say: confidence is key.
7. Ariana Grande in the "God Is a Woman" music video
This music video was the subject of so much praise, and for good reason: Ariana's vocals are on point, the visuals are out of this world, and the lyrics are *chef kiss* amazing. Ariana rocked a bunch of different looks in this iconic vid, but the watercolor-ish, purple makeup look is the one that has beauty gurus filming recreation tutorials.
It's definitely going to require an artistic hand and quite a bit of patience, but you'll be the center of attention at your Halloween party for sure. If you're bold, you can wear nude clothing with your look, but a periwinkle or purple leotard and leggings will pass the test, too. Hey, maybe you'll even find your own Pete Davidson on Halloween night.
8. Lara Jean from To All the Boys I've Loved Before
Peter Kavinsky from To All the Boys I've Loved Before may have won all of our hearts, but it's Lana Condor's Lara Jean that remains the subject of our fashion envy. Anyone who loves a good '90s fashion throwback will be super into all of her looks, but we recommend going for her "first day of school" outfit: a plaid flannel, some tan shorts and high-knee socks are all necessities, but the real scene stealer is the rockin' pair of combat boots (seriously, how could Gen make fun of those?). Oh, and don't forget your iconic scrunchie, either! Just make sure your fake boyfriend doesn't take it from you once you get to your Halloween party, or else you'll never be seeing that thing again.
9. Edna Mode from The Incredibles 2
It's been far too long since we've seen the return of Edna Mode to the big screen, and boy, are we glad to have her back! Edna may be all about bold fashion, but getting her look is actually quite simple: find a plain black dress, a black bob wig and some round glasses (maybe you have a pair lying around from that time you dressed up as Harry Potter?). Easy-peasy!
10. Rachel from Crazy Rich Asians
You might think it's hard to emulate the glitz and glamor of Crazy Rich Asians in one costume, and we agree. But if you go for any look, Rachel's light blue gown at Colin's wedding is the way to go—and while you may not be crazy rich enough to buy a whole designer gown for Halloween, why not get a plain V-neck dress in the right color and then sew (or safety pin, if it's a low-effort job) on some extra blue fabric, fake flowers or even tissue paper; whatever you have within reach? To complete the look, put your hair in an elegant updo, and add a rhinestone crown (even though we're pretty sure the movie used real diamonds).
No matter which costume you choose to rock this Halloween, we have no doubt you're going to have a blast. Get planning—the spookiest night of the year is just around the corner!